Stardock Fences is an application that is capable of organizing desktop icons, improving the productivity, creating recognizable files, etc. However, it became proprietary after version 2. Here comes the need of Fences alternative. Well, MiniTool would share several free Stardock Fences alternatives with you in this post.
An Overview of Fences
Before talking about Fences alternatives, we would like to simply introduce Fences first. Fences is a Windows organizer, which enables you to sort the tabs on your desktop and create recognizable files. It contains many exciting tools and collects all your files, icons, folders in a shaded area.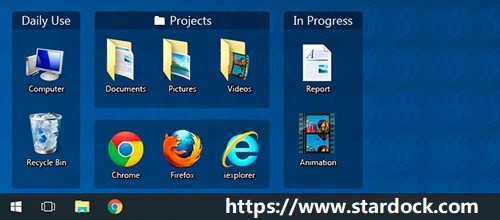 Fences is built for people who would like to create additional desktop space and allow to customize desktop with different stunning objects. You can drag the software to anywhere on the desktop, snap it to the sides, spread across multiple pages, roll up with the click of a mouse.
A range of core features of Fences make it a great solution for various computer users. Nevertheless, you need to pay for Fences since from version 2. Then, more and more people want to look for free alternative to Fences. Here, several Fence alternatives will be discussed.
Recommended reading: How to Clean up Your Computer? Top 8 Methods for You
Stardock Fences alternatives
In this section, top 4 Fence alternatives will be illustrated.
Nimi Places
Nimi Places is a Windows organizer that is similar to Fences. Differently, it organizes files in containers that show the folder contents in the form of grid icons or a multi-column list. You can drag and drop icons in and out of these containers, and manage their locations and themes.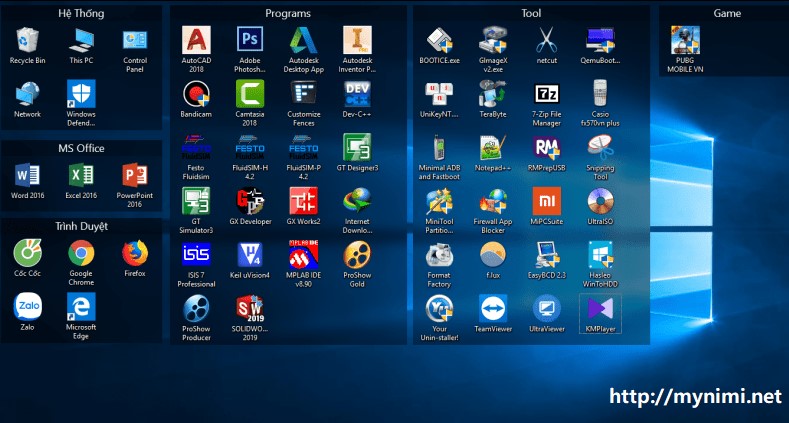 Nimi Places has a fence that can hold all the shortcuts to your important folders, which helps you move through different folders without navigating through File Explorer on Windows. It is considered as the most advanced alternative to Fences.
Tip:
To use Nimi Places on your laptop, you need to download and install it by clicking
here
. Another thing you need to note is that the minimum requirement.
XLaunchpad
XLaunchpad is a freeware that can manage your desktop icons, shortcuts, files, and folders. It works like a home screen in a Windows computer. Though Xlaunchpad doesn't precisely offer you containers and fences, it gives you a tablet-like experience in general.
Once you installed this program, it will take over your desktop and sorts through it. You can see all your apps by clicking the Rocket icon on your desktop. XLacunchpad categorizes certain items like different setting shortcuts and certain types of files into groups for easier management. It is useful for giving Windows computers Mac like functionality.
Besides, XLaunchpad is loaded with in-grained shortcuts like computers, music, and pictures. Based on that, it adds shortcuts for programs and folders, which makes it easy for you to access it in one go. In one word, it can bring you much benefit. The drawback of XLaunchpad is that you are required to access it through the icon in the Notification Tray each time you want to utilize it.
RocketDock
RocketDock is a minimal utility that offers you quick access and navigation on your system. Though it provides quick access to its users, it doesn't offer fences or groupings of icons and shortcuts. It is a user-friendly desktop manager. It can create a bar on the side of the screen. Then you can access it by simply hovering the mouse near it.
This utility is always available and doesn't occupy your screen because it can be hidden and only appear when required. It has drag-and-drop functionality and can be set to align on any side of the screen. It is an ideal option for people who want minimum screen overlay and quick navigation through shortcuts.
SideSlide
SideSlide provides shortcuts for quick navigation and containers. What makes it stand out is its built-in Really Simple Syndication (RSS) that can be utilized to read the latest news and blogs from a single place.
Tip: The quick-navigation window usually is hidden away in the corner of the screen and can be expanded from anywhere within Windows.
SideSlide is the most advanced portable variant. It is effective on the aspect of keeping the desktop fully clutter-free. An interesting fact of SideSlide is that it can work from the USB stick itself.