Summary :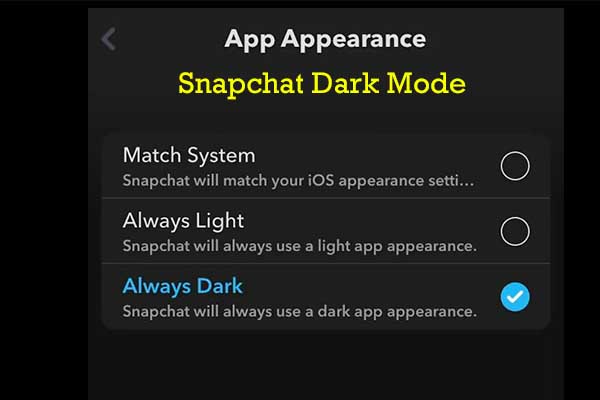 This post mainly tells you how to get dark mode on Snapchat on Android and iPhone devices. You can follow the corresponding steps to enable the dark mode Snapchat in this post of MiniTool.
An Overview of Snapchat Dark Mode 
Dark mode is also called night mode. It is a setting where the colour scheme of the app is changed to dark. Another term for dark mode is bedtime mode – a display setting if you want to stay up late. The dark mode can reduce eye strain and sometime save battery life.
Though dark mode is available on many applications, it is not available for Snapchat iOS before May of 2021. How to turn on dark mode on Snapchat? The section below tells you the detailed steps to enable Snapchat dark mode on Android and iOS respectively.
Also read: Turn off Dark Mode Chrome on Windows/Mac/Android/iPhone
How to Get Dark Mode on Snapchat
Now, most iPhone users can use Snapchat dark mode. Snapchat hasn't release dark mode for Android devices to the public. Even though, you can still get dark mode Snapchat on Android. But the process is a little complicated.
Steps for Getting Dark Mode Snapchat on Android
Here's the guide on how to make Snapchat dark mode on Android devices.
Step 1: Click Settings and then move to the Display menu.
Tip: On devices like Huawei, you can enable Snapchat dark mode by turning on the Dark Mode option under the Display & brightness section. For devices like Samsung or OnePlus, you need to execute additional steps as shown in the below.
Step 2: After toggling Dark Mode on, back to the Settings menu and scroll down to the About Phone section.
Step 3: Find the Build Information section under the Software Information submenu.
Step 4: Tap Build Information for 6 times to activate Developer Mode.
Step 5: Return to Settings menu again and choose the new Developer Options. Then set the status of Force Dark Mode to On and you can find that Snapchat runs in dark mode now.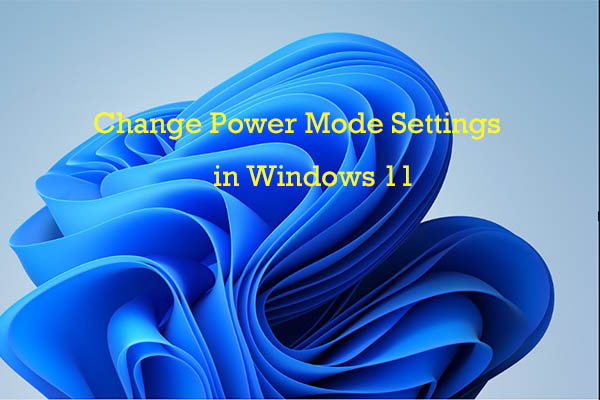 Why do you need to change power mode settings? How to do that on Windows 11? This post will focus on these questions and explore the answers.
Steps for Getting Dark Mode Snapchat on iOS
The following steps show you how to change Snapchat to dark mode on iOS devices.
Step 1: Open Snapchat on your iPhone and sign in if you are prompted to do that.
Step 2: Click on your profile picture at the upper left corner of the screen.
Step 3: Tap the gear icon at the upper right corner of the profile page.
Step 4: In the My Account section of the Settings menu, scroll down the content to find the App Appearance option.
Tip: If there's no App Appearance option, it means that you can't use dark mode Snapchat on this phone.
Step 5: Open the App Appearance menu and click Always Dark to enable the Snapchat dark mode. Certainly, you can select "Match System" to get the app sync with iPhone's settings so that the device can switch between light and dark throughout the day.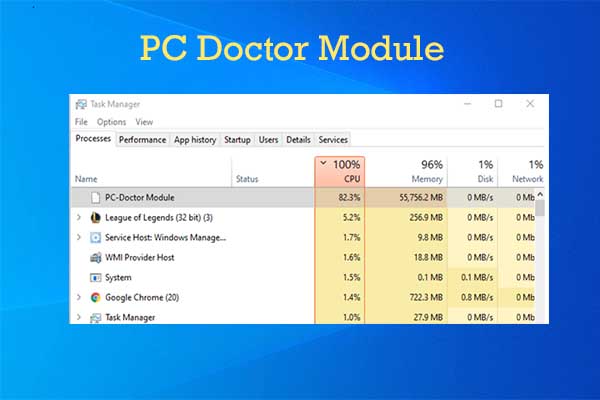 What is PC Doctor Module? Is it virus or malware? How to fix PC Doctor Module high CPU, memory, and disk usage? Well, you can find answers in this post.
Update Applications to Obtain the Dark Mode Feature
As mentioned before, not all iPhone and Android contain the dark mode Snapchat feature. If you want to get the dark mode feature, you need to update your applications. Here are steps for doing that on iOS and Android devices.
iOS
Open the App Store application.
Click on Today at the bottom of the screen.
Tap the profile picture at the top of the screen.
Scroll down to the Snapchat application to update it manually or click Update All.
Android
Open the Google Play Store
Click the three Options lines at the upper left of the screen.
Click My Apps & Games.
Scroll down to the Snapchat to update it or click Update All.
how to get dark mode on Snapchat
Wrap Up
To sum up, this post mainly focuses on Snapchat dark mode, including its basic information and enabling steps. Moreover, it also shows you how to get dark mode on Snapchat on unsupported apps.