Skyrim is a popular game that has a number of players. Recently, we have received many reports about Skyrim crashing on startup issue. According to the reports, Skyrim randomly crashes on startup without any error codes or messages. To help users resolve Skyrim random crashes issue effectively, we have developed this guide.
If you are bothered by the problem unfortunately, you can try the following workarounds one by one until your Skyrim works properly.
Fix 1: Verify Integrity of The Game Files
A game might get crashing when its files are missing or corrupted. If you are using Steam client to play and manage your games, verifying the integrity of the game files should be a good solution for you. Just follow the steps below:
Step 1: Open your Steam and click LIBRARY tab.
Step 2: Right-click your Skyrim and choose Properties.
Step 3: Under LOCAL FILES tab, click VERIFY INTEGRITY OF GAME FILES button.
After the process is completed, relaunch your Skyrim to check if it can work properly now.
Fix 2: Adjust Windows Sound Settings
Alternatively, you can also adjust the sound settings in your Windows 10 PC, which has helped some users fix the issue effectively. To do that, you need to:
Step 1: Right-click the speaker-like icon at the bottom right of the taskbar and choose Sounds.
Step 2: Under Playback tab, right-click your default device and select Properties.
Step 3: In the pop-up window, switch to Advanced tab, choose 24bit, 44100 Hz (Studio Quality) option from the drop-down list. Click Apply and OK to save the changes.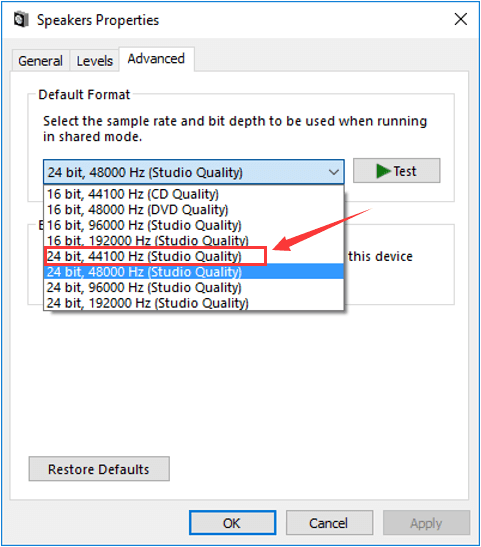 Now, you can launch your Skyrim and check if the issue has been resolved.
Fix 3: Disable the Touch Keyboard Service
Some players found that the Touch Keyboard service might interfere with Skyrim process and cause Skyrim random crashes issue. And the issue will disappear when the service is disabled. You can refer to the following steps to disable the service.
Step 1: Press Windows + R to open Run window.
Step 2: Input services.msc and click OK to open Services app.
Step 3: Find the Touch Keyboard and Handwriting Panel Service and double-click it to access its Properties.
Step 4: Choose Disabled from the drop-down menu of Startup type. If the service is running, click Stop button to stop it. Then, click Apply and OK to save changes.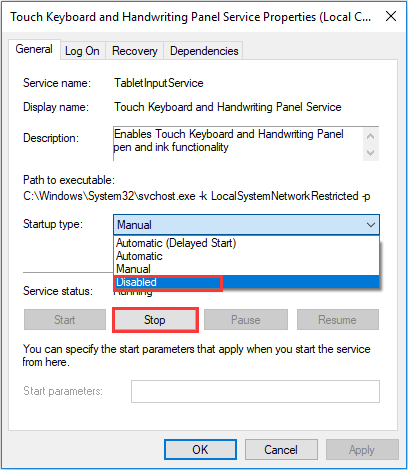 Fix 4: Update the Graphics Driver
If your graphics driver is outdated, the installed games on your computer are very likely to run into certain problems, including Skyrim random crashes issue in out case. So, you should keep your graphics drive updated.
To update graphics driver, you can download the latest version of your graphics driver from the manufacturer's website and install it manually. Alternatively, you can update it in Device manager.
Step 1: Right-click the Start button and choose Device Manager.
Step 2: Expand Display adapters category, right-click your graphics driver and choose Update driver.
Step 3: Click Search automatically for updated driver software and then follow the onscreen instruction to complete the process.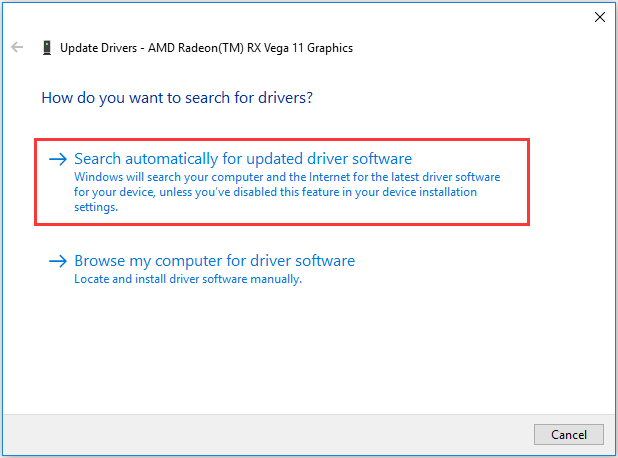 After updating your graphics driver, restart the computer and launch your Skyrim. You should be able to play the game without any problems now.
Fix 5: Reinstall Your Skyrim
Finally, if all the above methods fail to help you fix Skyrim crashing issue, perhaps there are some problems with the game itself. In this case, you might need to uninstall your Skyrim, download the latest version from the official website, and reinstall the game with the fresh installer.
Hopefully, you can get rid of the issue effectively and enjoy your Skyrim again.