Is there a shortcut to lock computer quickly? How to create a desktop shortcut to lock Windows computer? What to do if the lock computer shortcut not working? Now, let's explore the answers together with MiniTool.
Sometimes you may have to step away from your PC for a while, but you don't want to turn it off. In this case, it's important to lock computer screen for protecting the security and data privacy from wandering. Here comes a new question – how to lock computer screen quickly? The answer is "Keyboard Shortcut". Let's keep reading the content below to know more details.
Is There a Shortcut to Lock Computer
Is there a keyboard shortcut to lock computer quickly? Of course, yes! There are 2 simple ways to let keyboard shortcut lock computer.
Option 1. Ctrl + Alt + Delete Keyboard Shortcut to Lock Computer
The first and most common way is to use the Ctrl + Alt + Delete keyboard shortcut to lock Windows computer screen. To do so, you can press Ctrl + Alt + Delete keys at the same time to open the Options screen, and select the Lock option to lock Windows computer screen.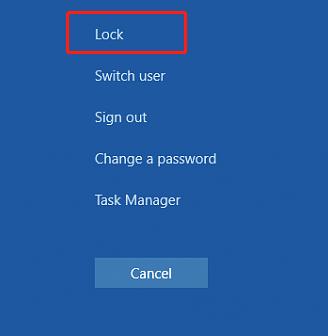 Option 2. Windows + L Keyboard Shortcut to Lock Computer
Another faster keyboard shortcut lock computer is to use the Windows + L keys. It is very simple and fast without selecting any other options. Just press the Win + L keys simultaneously and your computer screen will be locked instantly.
How to Create a Desktop Shortcut to Lock Windows Computer Quickly
In addition, you can create a desktop keyboard shortcut to lock computer quickly. If you don't know how to do that, follow the tutorial below.
Step 1. Right-click any empty space on your desktop and select New > Shortcut.
Step 2. In the Create Shortcut window, copy and paste the following command line in the text box and click Next.
Rundll32.exe user32.dll,LockWorkStation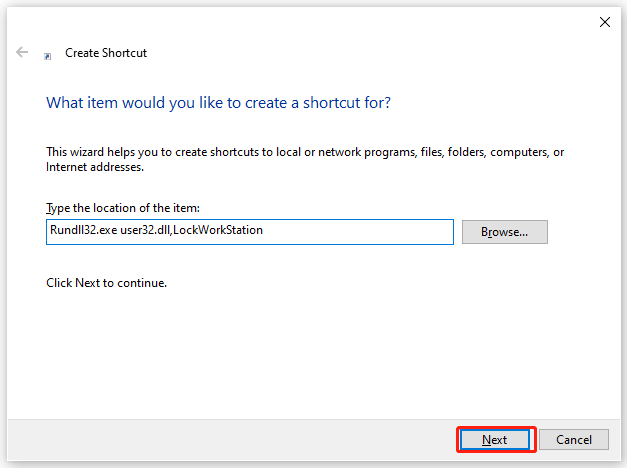 Step 3. Type a name for the shortcut like "Lock this PC" and click on Finish.
Now, you should have a desktop screen lock computer shortcut. To lock your computer, double-click it whenever you leave the desktop.
How to Fix If Lock Computer Shortcut Not Working
Sometimes, however, you may encounter some issues with the keyboard shortcut lock computer. For example, many users encounter the computer frozen and Control Alt Delete not working issue on Windows 10/8/7. How to fix it in this case? You can refer to the following command solutions.
# 1. Update the Keyboard Driver
Step 1. Press the Win + R keys to open the Run dialog box, and then type devmgmt.msc in the box and hit Enter.
Step 2. Expand the Keyboards category, and then right-click the device driver and select Update Driver.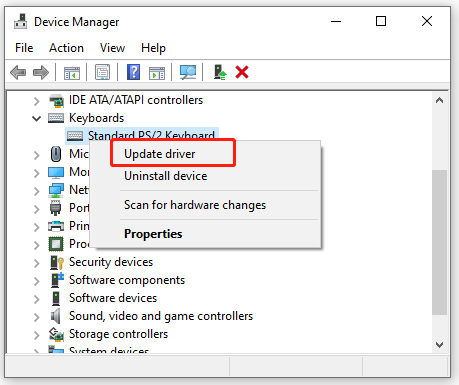 Step 3. Click on Search automatically for driver and Windows will detect and install the latest device driver automatically. Please follow the on-screen prompts to complete the update.
# 2. Check for Windows Updates
Step 1. Press Win + I keys together to open the Settings app and select Updates & Security.
Step 2. Click on Check for updates to start installing the Windows updates. Or, you can click View optional updates and install all available updates manually. After you install these updates, you can reboot your machine and check if the problem gets solved.
# 3. Perform a Clean Boot
In some cases, certain third-party software may interfere with the lock computer shortcut. To find what app is causing the conflict, we recommend you perform a clean boot. Then you can uninstall the conflicting software.
# 4. Run a Virus Scan
The Ctrl Alt Del not working problem may appear because of malware infection. So, we recommend you run a full system scan for viruses and malware. If you don't know how to do that, read this post "How to Run Windows Defender Full/Quick/Custom/Offline Scan".
# 5. Check Corrupted System Files
Corrupted or missing system files can trigger the frozen computer and shortcut keyboard not working as well. To repair the system files, you can perform an SFC scan by opening the elevated Command Prompt window and running the sfc /scannow command.
Further reading: Do you want to manage your partition and disk on Windows effectively? MiniTool Partition Wizard is a good choice that can help you extend/resize/delete partition, convert a disk to MBR/GPT, migrate OS, etc. Besides, it can help fix various problems such as C drive full, and corrupt file system. Perhaps you need such a tool.