You may run into the Roblox bad request 400 error when your computer is trying to communicate with one of the game servers. Do you know how to fix this error? Well, this post from MiniTool Partition Wizard provides some possible solutions. Just keep reading.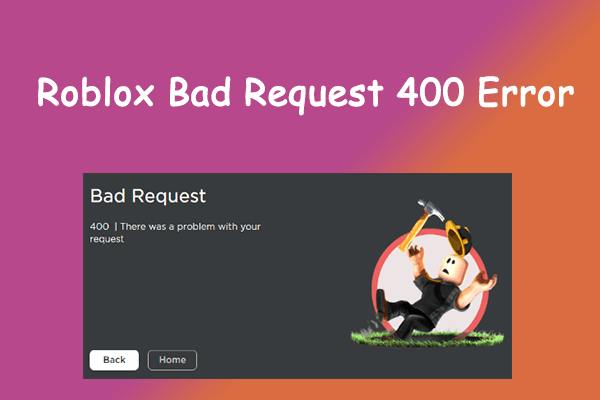 Roblox is an online game platform and game creation system that was developed by Roblox Corporation. On this platform, you can create your games or play games created by other users. It's a wonderful platform and is popular with millions of users around the world.
However, sometimes users may complain about the 400 bad request error while trying to connect to the Roblox servers. To solve this error, we summarize several troubleshooting fixes in the following content. If you are one of those who meet the error, you can try to fix it by these methods.
Method 1: Check the Status of the Roblox Servers
Any outages with Roblox servers may lead to the Roblox bad request 400 error. Therefore, once you encounter this error, you ought to visit the Roblox Status page and see if there is something wrong.
If certain problems are reported currently, you have nothing to do but wait until the developers repair them. If every server is running properly, then you should go on with other solutions.
Method 2: Reset Internet Options
You might be able to fix the bad request 400 Roblox error by resetting Internet Options. To do this, follow the steps below.
Step 1: Open Control Panel and then select Network and Internet.
Step 2: After that, select Internet Options.
Step 3: In the prompted window, go to the Advanced ab. Then click Reset.
Method 3: Clear Cache and Cookies in Your Browser
If some cache and cookies in your browser get corrupted, you may also experience the bad request 400 error Roblox. In this case, you can try erasing the cache and cookies to solve this error. To execute this operation, it's recommended that you follow this guide: How to Clear Cookies on Chrome, Firefox and Edge
Method 4: Temporarily Disable Antivirus
In some cases, the third-party antivirus software installed on your PC and Windows Firewall may recognize what you are trying to do as a threat and interfere with the process. As a result, the 400 bad request error on Roblox may occur. To bypass this error, you can try temporarily disabling the antivirus on your PC.
Note:
Viruses or malware may attack your system after you disable antivirus programs. Therefore, you'd better turn on them as soon as you solve the error.
Additionally, you can also try to avoid the bad request 400 error Roblox by allowing Roblox through Windows Defender Firewall. If you have no clue how to do this, you can read this post: How to Allow or Block a Program Through Firewall Windows 10
Method 5: Reinstall Roblox
If you don't get rid of the Roblox bad request 400 error successfully, you can try removing Roblox and then reinstalling it on your computer to see if it works. The following are the detailed steps for this operation.
Step 1: Press Windows + I to open Windows Settings. Then select Apps.
Step 2: In the Apps & features section, scroll down to find Roblox from the right side.
Step 3: Click Roblox and then select Uninstall.
Step 4: After you remove Roblox, go to the official website and install this program back.
Method 6: Contact Roblox Support
If the methods mentioned above don't help you fix the bad request 400 Roblox error, we recommend you contact Roblox Support to ask for help. Usually, you can receive some professional suggestions from the official.
When you are facing the Roblox bad request 400 error, you can try the above solutions one by one until you solve it. If you have any problems with this error, you can leave a message in our comment part below.
Are you interested in MiniTool Partition Wizard, a comprehensive third-party partition manager? If so, you can visit its official website to obtain more detailed information.