Have you ever noticed the rempl folder on your C drive? What is it? Can we disable it? This post from MiniTool will introduce you what rempl folder is and what Windows components it contains.
If you open the Program Files folder on your C drive, you may notice there is a folder called rempl. When you open it, you will find there are some executables inside this folder such as disktoast.exe, rempl.exe, remsh.exe, WaaSMedic.exe, Sedlauncher.exe, Sedsvc.exe, and osrrsb, etc.
Why are there so many executable files? Are they virus? Is rempl folder safe? You must have so many questions to ask about the rempl folder. Well, if you want to learn more detailed information about this folder, please keep on reading.
What is Rempl Folder?
Rempl folder is located in C:Program Filesrempl. The folder contains several executables which are able to improve Windows Update Service components in your machine and make sure your Windows Update run smoothly.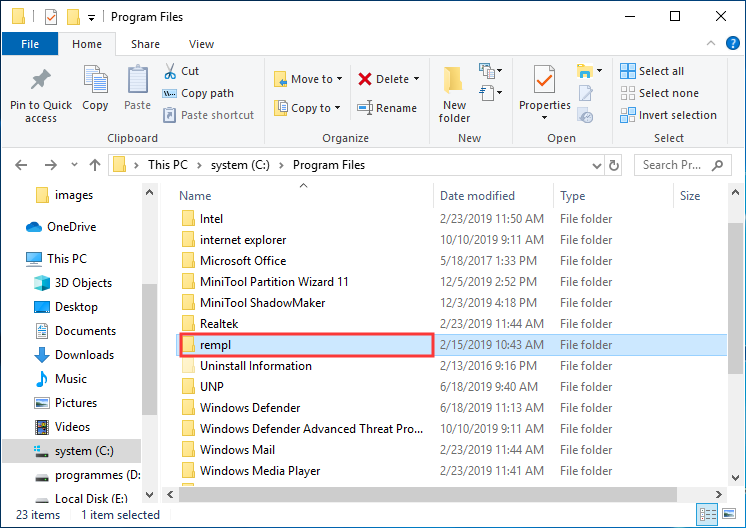 Among them, the Remsh.exe executable is a special Windows update that includes reliability improvements to Windows Update Service components in older versions of Windows 10. This folder can also be viewed as an update troubleshooting tool.
If you encounter any issues when updating to the latest version of Windows 10, a special package will be downloaded by Windows 10, and it will troubleshoot the issue and fix them.
Is Rempl a Virus
After reading above, you should know that the rempl is not a malware or virus. It is a part of a reliability update from Microsoft and it is also an automated troubleshooting tool which is deployed to determine and report the Windows update issues.
It is not a virus. If you don't believe and suspect that your computer is infected with virus, you can perform a virus scan.
Can I Delete the Rempl Folder?
You can delete the rempl folder if you like, as deleting the folder won't cause any harm to your Windows OS. If you want to delete the rempl folder, you can follow the detailed instructions below to delete it.
To delete the rempl folder Windows 10 via Task Scheduler: type Task Scheduler in Windows search box and click the best match to open it; then click Microsoft > Windows > rempl to open the folder; in right side of the pane, click Delete Folder button to delete it.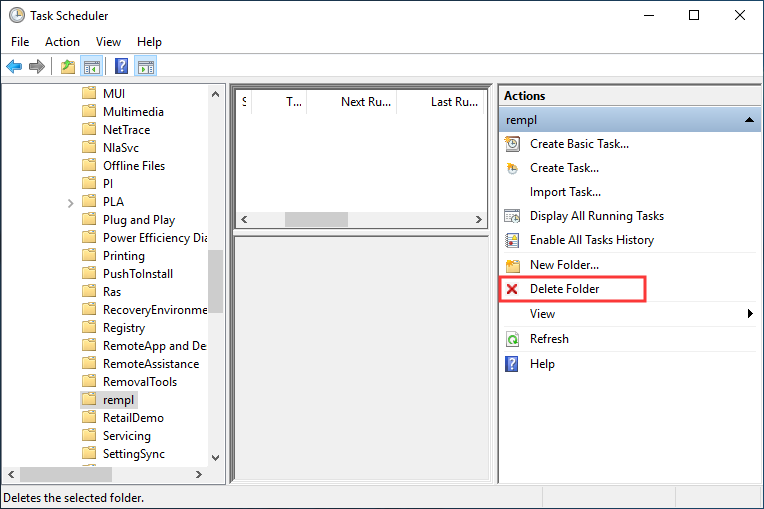 You can also delete the rempl folder via the file location: go to C:Program Files; locate the rempl folder from the folder list; right-click the folder and choose Delete from the content menu to delete it.
Note that the folder only uses 21MB, so if you know that a feature update is coming soon, you'd better wait until the update is applied. Then delete the folder with the above two methods.
Conclusion
After reading this post, you should know what rempl folder is and if you can delete it. If you have different opinion about the rempl folder, you can share it with us by leaving a message in the following comment zone.