Do you want to install some mods to Red Dead Redemption to get more fun? Are there any Red Dead Redemption 2 mods available? In this post, MiniTool Partition Wizard summarizes a couple of mods that are still workable.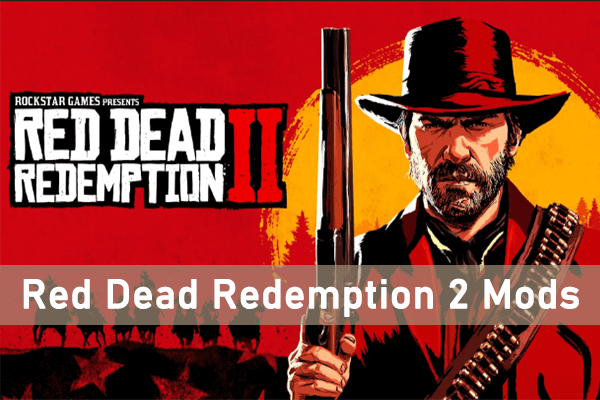 Red Dead Redemption 2 (RDR2), the prequel to the 2010 game Red Dead Redemption, is a 2018 action-adventure game that was developed and published by Rockstar Games. This game is set in the American West during the late 1800s. And you will take the role of Arthur Morgan who is one member of the Van der Linde gang and fight your way to survive.
Since Red Dead Redemption 2 was released, certain mods have been created to make some changes to this game for elevating your gaming experience. To help you determine which Red Dead Redemption 2 mod to install, this post introduces some great RDR2 mods briefly. Let's come to the following content.
The Best Red Dead Redemption 2 Mods PC
Here is a list of the best Red Dead Redemption 2 mods.
1. Rampage Trainer
Rampage is a Red Dead Redemption 2 Single Player Trainer for Story Mode with lots of useful and special features. For instance, you are able to unlock all weapons, clothes, and more. It's one of the best Red Dead Redemption 2 mods that is installed by plenty of players. To install this mod, you are required to update RDR2 to the latest version.
2. Red Dead Trainer
Red Dead Trainer is a simple Trainer with many features, such as changing stats, cleaning current weapons, enabling the infinite weapon condition, and so on. If you want to learn more about this mod, you can visit the details page.
3. RDR2 Save Editor
RDR2 Save Editor allows you to edit your save game files. In addition to being used as one of the best Red Dead Redemption 2 PC mods, you can also install this mod for Red Dead Redemption on Xbox 360 & PlayStation 3 or Red Dead Redemption 2 on PlayStation 4.
4. Ped Damage Overhaul
Ped Damage Overhaul is a useful RDR mod that helps make fights and violent interactions more diverse, dynamic, and interesting. With this mod, you can change NPC behaviors to make things more realistic. Besides, NPCs will do more damage to you after you install the Ped Damage Overhaul mod to RDR2.
5. Photorealistic Reshade
If you only want to enhance the game's graphics, Photorealistic Reshade is the best RDR2 mods you can try. It just enhances colors, shadows, sharpness, and more in this game.
6. Dynamic Seasons
Dynamic Seasons adds all four seasons to Red Dead Redemption 2. And each season has its special palette, temperatures, sunset/sunrise times, weather, and other features. Generally, every season will last about 10 hours. You can also try changing the season lengths by editing the ini file.
In addition to the listed Red Dead Redemption 2 PC mods above, you can find and install more from the Nexus Mods page.
How to Install Red Dead Redemption 2 Mods PC
Once you find out the Red Dead Redemption 2 mods you prefer, you should take action to install them on your PC for a better gaming experience. The following is a step-by-step guide on how to perform the installation.
Step 1: Download Script Hook RDR2 and then exact the downloaded ZIP file.
Step 2: Copy the files inside the unzipped folder and then paste them to your Red Dead Redemption 2 game folder.
Note:
In case your game files get missing or overwritten, you should back up all the game files to other places in advance.
Step 3: Download the desired RDR mod from the Nexus Mods page.
Step 4: Open the downloaded ZIP file and then copy the .asi file to your Red Dead Redemption 2 game folder.
Step 5: Once done, you can launch Red Dead Redemption 2 and enjoy the installed mod.
To Sum Up
You can know about several best Red Dead Redemption 2 mods and how to install mods to this game from above. If you have any problems, you can leave a message in our comment part below.
MiniTool Partition Wizard is a professional partition manager that enables you to arrange your partitions and disks with a few clicks. To obtain more information on this program, you can visit its official website. If you want to experience the features of MiniTool Partition Wizard, you can click the following button to download and install it on your PC. 
MiniTool Partition Wizard FreeClick to Download100%Clean & Safe