You are likely to meet the error ERR_GFX_STATE from time to time when you attempt to play Red Dead Redemption 2. Do you know how to fix it? Here, this post from MiniTool Partition Wizard introduces multiple effective methods to you.
Red Dead Redemption 2 (RDR2) is an action-adventure game developed and published by Rockstar Games. It's attractive and you can get a lot of fun playing the game. However, sometimes while trying to open Red Dead Redemption 2, you may get a crash and receive the ERR_GFX_STATE error.
What can you do to get rid of the error? There are some feasible solutions for you.
Solution 1: Check Your System Requirements
Generally, there are some specific requirements for your operating system to play a game. Therefore, when you face the error ERR_GFX_STATE, you should check if your system meets the requirements first.
The following are the minimum system requirements of Red Dead Redemption 2:
OS: Windows 7 – Service Pack 1
Processor: Intel Core i5-2500K / AMD FX-6300
Memory: 8GB
Graphics Card: Nvidia GeForce GTX 770 2GB / AMD Radeon R9 280 3GB
HDD Space: 150GB
Sound Card: DirectX compatible
If the system doesn't match the requirements, then you need to use another gaming device. If your computer is compatible with the game but the RDR2 ERR_GFX_STATE error persists, move on to other solutions.
Solution 2: Disable the Overclocking Feature
Overclocking can speed up the GPU processor and improve gaming performance. However, it might not be supported by Red Dead Redemption 2 and probably leads to the game instability with the ERR_GFX_STATE error. Therefore, it's recommended to disable this feature when you are playing RDR2.
Step 1: Restart your computer in BIOS. 
Step 2: Go to Advanced > Performance > Overclocking. Then disable the Overclocking option.
Step 3: Follow the on-screen instructions to save the changes and exit BIOS.
After that, restart your computer and try to launch the game again to see if the error ERR_GFX_STATE RDR2 is fixed.
Solution 3: Delete SGA Files
Another way to resolve the ERR_GFX_STATE error is to delete the SGA files that store data related to graphics, maps, game scripting, etc. To do this, follow the steps below.
Step 1: Open File Explorer on your computer.
Step 2: Click Documents from the left panel. Then navigate to Rockstar Games > Red Dead Redemption 2 > Settings.
Step 3: Delete all the SGA files you can find in this content.
Once you finish the process, restart Red Dead Redemption 2 and the error might be repaired.
Solution 4: Use Launch Arguments
You can also prevent the RDR2 ERR_GFX_STATE error from happening by running the game with specific command-line arguments.
For Steam
Step 1: Open the Steam client and then go to LIBRARY.
Step 2: Find Red Dead Redemption 2 and right-click it to choose Properties.
Step 3: Under the GENERAL tab, click SET LAUNCH OPTIONS.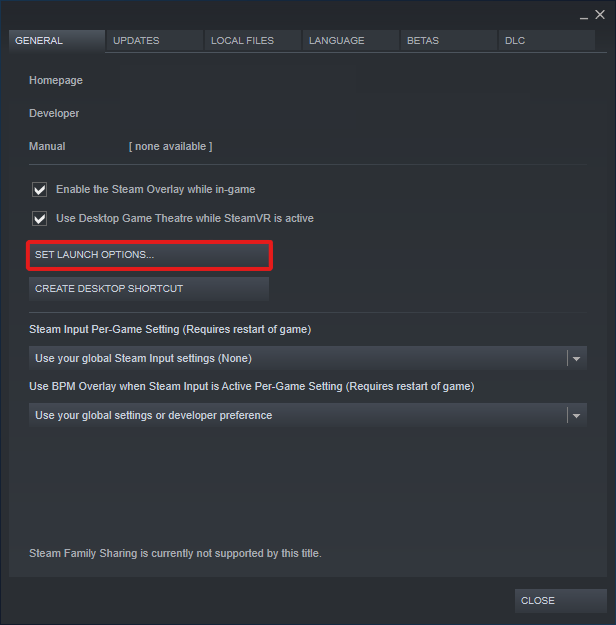 Step 4: In the pop-up screen, type -ignorepipelinecache in the box and then click OK to save the changes.
For Epic Games Launcher
Step 1: Open the Epic Games Launcher and click the profile icon. Then select Settings.
Step 2: Select Red Dead Redemption 2 and then check Additional Command Line Arguments.
Step 3: Type -ignorepipelinecache in the box.
For Rockstar Games Launcher
Step 1: Open the Rockstar Games Launcher and then select Launcher settings.
Step 2: Select Red Dead Redemption 2 from My installed Games.
Step 3: Find and click Launch arguments from the right side. Then type -ignorpipelinecache in the textbox.
After you add the specific arguments, try to launch Red Dead Redemption 2 again to check if the error disappears.
Solution 5: Update Your Graphics Driver
An outdated graphics driver on your computer may lead to the ERR_GFX_STATE RDR2 error as well. In this case, you need to update your graphics driver. In addition, you can also try to reinstall the graphics driver. Both of them may help you solve the issue.
All these solutions mentioned in this post are available. You can have a try when you are experiencing the error ERR_GFX_STATE. If you have any other problems with this error, you can leave a message in our comment part.