This article will show you what RAM stress test is, why need stress test memory, how to do stress test as well as top 3 memory stress testing programs. View more info via MiniTool Partition Wizard.
About RAM Stress Test
Computer or PC stress test is to put the whole system under extreme conditions with utmost pressures to test the stability of computer components like RAM/memory, CPU, GPU/graphics card/video card, PSU, motherboard, and so on.
RAM stress test, also known as a memory stress test or video memory stress test, is to push memory card work with extraordinary workloads and a great many of tasks that will use nearly all memory, require extremely fast speed as well as generate much more heat.
RAM Stress Test Necessity
Is it necessary to RAM memory stress test? Yes, it is! With a random access memory stress testing, you can identify memory defects and behavioral failures, such as blue screen, random system reboots, paging errors, caching issues, low read/write speed and hardware glitches. It can also help you decide whether the tested RAM card can work in some unusual situations.
Besides, you can stress test memory to a higher frequency and examine how it works at increased voltage and temperature. Therefore, to find its overclocking conditions and optimize RAM performance. You can also benchmark your RAM memory to check how it behaves among other similar RAMs.
Tip:
For hard disk benchmark, there is a professional and reliable tool named MiniTool Partition Wizard that can easily benchmark your storage devices.
Free Download
The stress test for memory is often carried out by RAM or PC manufacturers, overclockers, system builders and computer repair stores to diagnose RAM faulty including corrupted data, crashes and unexplained behaviors.
How to stress test RAM?
As for how to conduct the RAM stress test, first thing first, you should prepare a computer system (environment) to test target RAM. Then, choose a computer monitor program to monitor the health of the whole system during the stress test. Also, you should select a professional stress test software for RAM. Next, launch both PC monitor application and stress test tool, and start testing the RAM follow the guide of the tool.
You may record the test data on paper, and capture test phenomena with a camera if you can. Though most statics can be exported from the RAM stress test software, sometimes, it is still necessary to record something by yourself.
Finally, when the stress test finishes, analyze the data both recorded by yourself and exported from the test tool and compare them with the related data online. Through analyzation and comparison, you can know how stable your RAM is and whether it is a reliable memory card.
Best RAM Stress Test Software
#1 MemTest86
MemTest86 is the standard for memory diagnostics. It boots from a USB flash drive to test the RAM in your computer for faults. MemTest86 uses algorithms that have been in development for more than 20 years.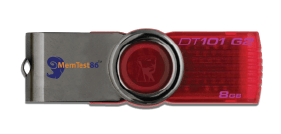 Price: Free + Charge
Supported OS: X86 Windows, Linux and Mac systems
Stable release: version 8.4 / May 18, 2020
Download: https://www.memtest86.com/download.htm
#2 MemTest64
MemTest64 is a lightweight and standalone tool for testing RAM for issues at the hardware-level. It is developed by TechPower with a graphical interface and can be run from within Windows operating systems such as the latest Windows 10/11.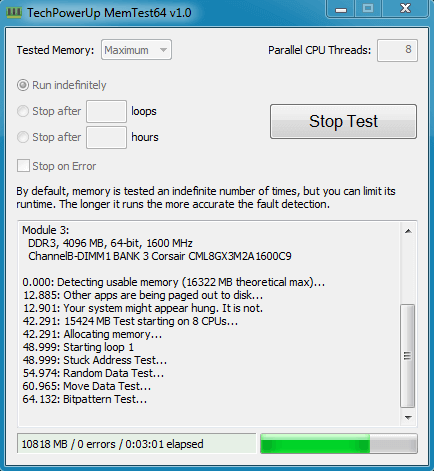 Price: Free
Supported OS: Windows (64-bit only)
Stable release: version 1.0 / April 20, 2017
Download: https://www.techpowerup.com/download/techpowerup-memtest64/
#3 Prime95 (Blend Test)
I have introduced Prime95 in my previous CPU stress test post as the top 1 popular program. Yet, the blend mode torture test of Prime95 is also a good RAM stress test feature for overclocking memory as well as checking RAM stability. Yet, it can't diagnose RAM problems.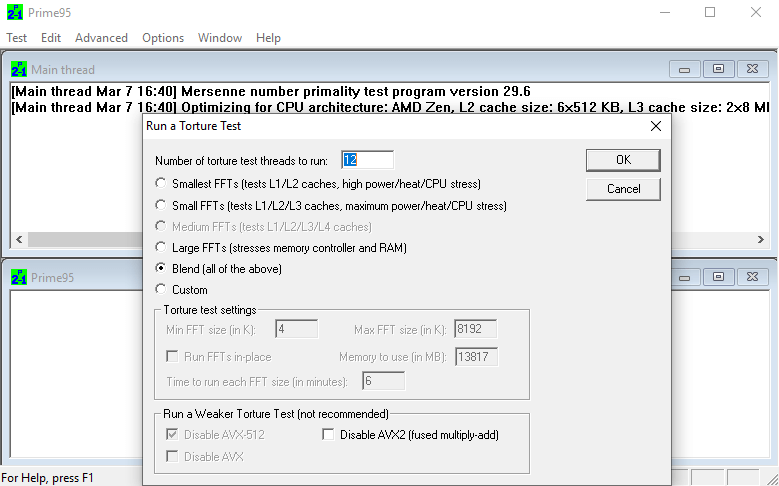 Price: Free
Supported OS: Windows, Mac, Linux and FreeBSD
Stable release: version 29.8 build 6 / August 18, 2019
Download: https://www.mersenne.org/download/
Conclusion
That is all related to the RAM stress test. Should you encounter BSOD or suddenly system crashes in the future, you can rely on one of those PC memory stress test programs to troubleshoot causes. Most of those problems are related to bad RAM sector or input/output (I/O) inefficiency. It is recommended to stress test the hardware before fixing the software.