This review talks about all information about the GPU stress test and you will find related info you want. To learn more about GPU or graphics cards, you can visit MiniTool partition resizer website. 
What Does GPU Stress Test Mean?
A GPU stress test is also called a graphics card stress test. It is a test to put a graphics card into an extreme situation that can hardly be encountered by a GPU in normal working. For example, to let GPU works in overheating condition that may put your cooling system under ever great pressure or in the most intensive situation that may crash your system.
Is It Necessary to Carry out GPU Stress Test?
Of course! If it is not necessary to you, it is to others who are graphics card manufacturers (Intel, AMD or NVIDIA), GPU overclockers, assembly/repair shop owners or gamers who want to know how far can a graphics card go under adverse conditions, or even killing situations. Through stress tests, you can know the stability of the tested card and its limits; the maximum workload it can bear, and its failure/breaking point.
Therefore, you can accordingly find a stable overclocking condition of the target kind of GPUs; get rid of various troubleshooting problems; optimize the GPU cooling system, minimize the working noise of the graphics card as well as upgrade hardware. Manufactures can revise and refine their products via stress tests and set product warranty accordingly.
Is GPU Stress Test Dangerous?
Yes, surely. Graphic processing unit (GPU) test will probably damage your whole hardware system including the graphics card, CPU (Central Processing Unit), RAM (Random Access Memory), heatsink or even the motherboard. While working under the extremely intensive environment, GPU will fully use its processing power, all the electrical power available to the card. It will push the cooling machine and the temperature as far as they go. Thus, the chance to create a fire is possible.
Monitor Computer During a Stress Test
Since stress tests will put all computer components under great pressure not only the test target, it is recommended to rely on software to monitor the health condition of your whole PC. Some programs can both monitor computer and stress test GPU; also, they can stress test CPU and GPU at the same time. Yet, they tend to be unprofessional. Therefore, let's just adopt the most professional tools to monitor PC and test graphics cards respectively. Here, to monitor the computer, MSI Afterburner is recommended.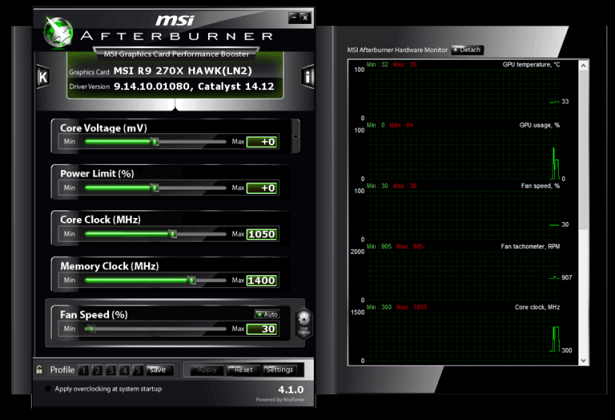 How to Stress Test GPU?
To stress-test a graphics card, you should count on an application to create an extreme environment for the tested GPU. First of all, you need to prepare a hardware & software system for testing. Your current computer is available, but note that the stress test will probably break down your devices.
In the second, download the computer monitor and stress testing software on your machine. Close all other unnecessary programs, services, processes, etc. Launch the monitor and set it up.
Thirdly, open the stress test tool and start your test. You will adjust the settings of the tool several times to get different data and hardware performance during the whole test process. You can also write down or capture with a camera the test result though you can export them from the test App.
Finally, when the test is done, check whether you get all information you plan to. If not, you may repeat some tests if your hardware permits. Once you get everything you want, stop the stress test software and get your system back to normal conditions. Then, you can analyze your result and make your conclusions.
You may also like: How to Overclock GPU NVIDIA/AMD to Boost Gaming
Best GPU Stress Test Programs
As for the best stress test for GPU, it will introduce the most popular three tools below.
1. FurMark
As a free GPU stress test program, Geeks3D FurMark is special for GPU stress test and OpenGL benchmark. It is a lightweight yet very intensive graphics care stress tester for Windows computers. FurMark is simple to use.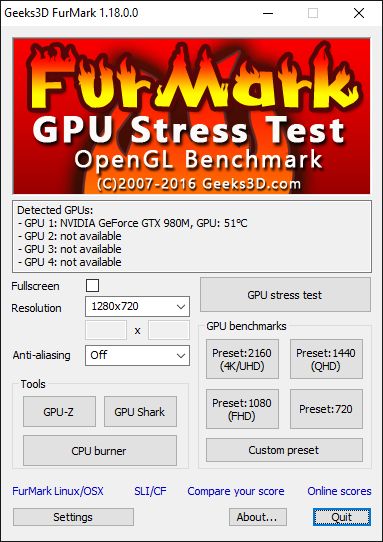 Tip:
As for a  computer storage benchmark test, MiniTool Partition Wizard is recommended. It can easily and quickly benchmark your hard disks without any charge!
Free Download
2. Unigine (Heaven, Valley or Supervision)
Each Unigine generation can do extreme performance and stability tests for computer hardware like GPU, power supply, and cooling system. It checks your rig in stock and overclocking modes with a real-life load. Based on Windows (Windows 10/11, Windows 8.1, etc.), Linux and Mac OSes, Unigine can test AMD, Nvidia and Intel video cards.
There are three editions: Basic Edition for gamers, Advanced Edition for overclockers, and Professional Edition for commercial companies, assembly or repair shops as well as hardware manufacturers. And, the basic edition is free of charge.
3. 3DMark
3DMark tests and compares the gaming performance of your PC. It is the number one benchmarking application for gamers, overclockers, or system builders. 3DMark includes everything you need to benchmark your computer or mobile/portable devices in one APP, such as desktop, laptop, notebook, tablet and smartphone.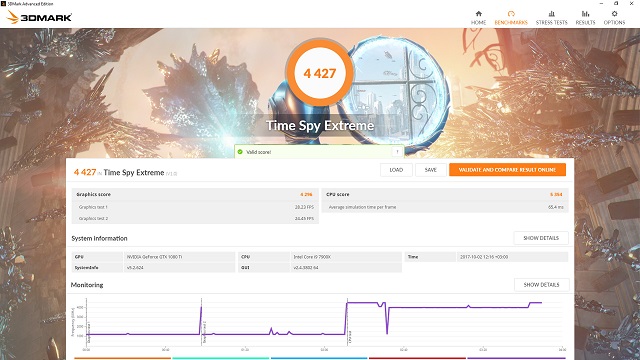 Write in the End
The performance of your computer isn't determined by only one component; it's an overall performance influenced by GPU, CPU, RAM, storage, motherboard, etc. or affected by software and drivers. GPU stress test can help you find whether your graphics card holds back PC performance. If so, maybe you should upgrade your GPU.