Summary :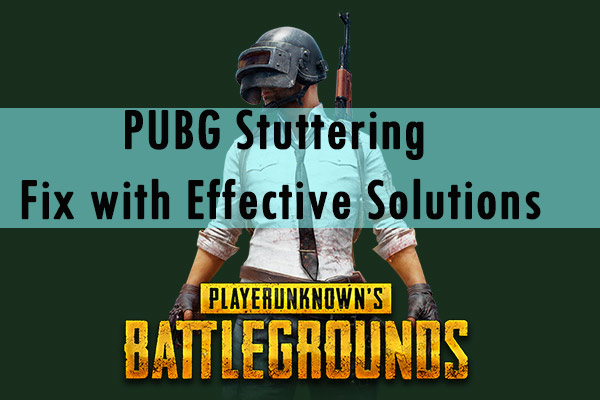 Many players have reported PUGB stuttering issue in the mid of gaming. If you are one of them, this post is what you need. Here, MiniTool Partition Wizard puts together some effective methods to help you fix PUBG stuttering problem.
PlayerUnknown's Battlegrounds (PUBG) is an online multiplayer battle royale game which has attracted a large number of players. In this game, you need to scavenge for weapons and equipment to kill others while avoiding being killed yourself, which is really great pastime with friends.
Sometimes, PUBG keeps stuttering when you are playing the game. It is not a fatal problem for the game, but it will greatly reduce your gaming experience. So, you had better take actions to get rid of the issue.
The good news is that here are several proven solutions from players. You can try them one by one until you fix PUBG stuttering problem.
Note:
Before you try the following workarounds, you should make sure your computer meets
PUBG system requirements
at first. You might encounter PUBG stuttering issue if your PC fails to meet the requirements and you need to upgrade your hardware in this case.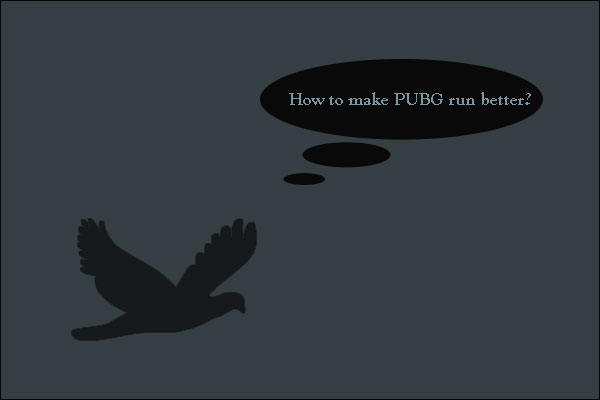 Are you unsatisfied with the PUBG performance on PC? Try the methods in this post to make this game run better.
Fix 1: Install the Latest Game Patch
Commonly, the developer of the game will release patches that contain certain fixes for some known bugs and issues in the game. As the PUBG stuttering issue has been reported by plenty of players, its developer might have released related patches.
So, if you haven't updated your game for a long time, go to check if there are any updated in your Steam client or the official website. Install all the available updated and see if PUBG stuttering issue is fixed. If no updates are available, move on to the next solution.
Fix 2: Configure Graphics Settings of PUBG
If the graphics settings of PUBG are improperly configured, it might also get stuttering or lagging. So, you can follow the steps bellow to modify your graphics settings within the game.
Step 1: Open your PUBG and enter its Settings.
Step 2: Go to Graphics tab and locate Video Capture section. Disable the Highlight Auto Capture.
Step 3: Scroll down to the Advanced Settings and set the Overall Quality to the lowest value.
Step 4: Click Apply to save the changes.
Now, you can restart your game and check if you can play the game smoothly.
Fix 3: Update Graphics Driver
The graphics driver can affect the performance in game. Sometimes, your graphics driver might get corrupted for certain reasons or become outdated. This could also be a factor that might trigger PUBG stuttering problem. Thus, updating your graphics driver might be helpful to fix the issue. Here's how to do it.
Step 1: Right-click Start button and choose Device Manager.
Step 2: Expand Display adapters category, right-click your graphics driver and choose Update driver.
Step 3: Choose Search automatically for updated driver software option.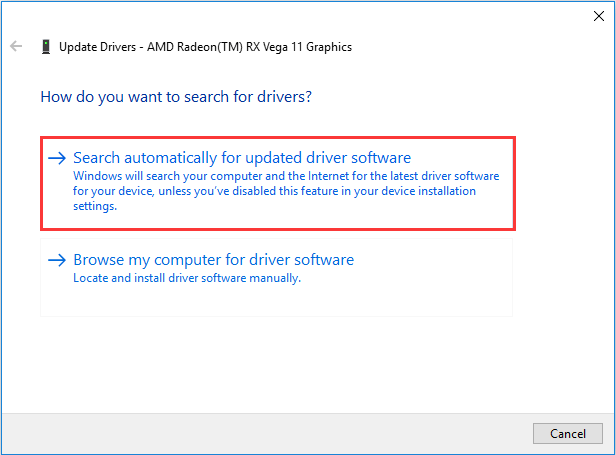 Then, you Windows will start searching for updates for your graphics driver. If there are any updates available, download and install them according to the onscreen instructions. After updating your graphics driver to the latest version, restart the system and launch game to check if the issue is resolved successfully.
Fix 4: Modify Power and Performance Options
Finally, you can also modify the power and performance options of your computer, which is proven to be effective to fix PUBG stuttering issue. Just follow the steps below to complete the operation.
Step 1: Press Windows + S, input control panel and click the best match result to open it.
Step 2: Choose System and Security category and click Power Options when you enter the following interface.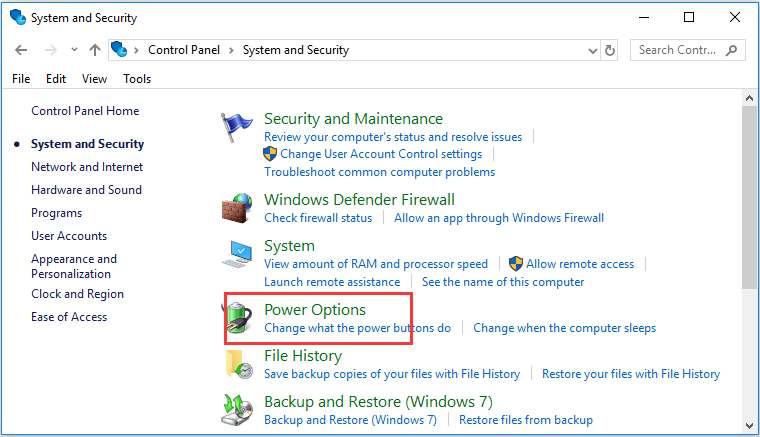 Step 3: Choose High performance power plan.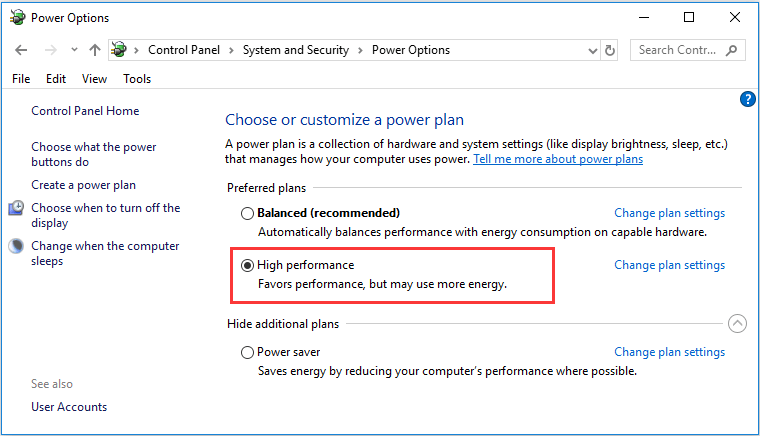 Step 4: Go back to last interface and choose System > Advanced system settings.
Step 5: In the pop-up window, click Settings button in Performance section under Advanced tab. In the new Performance Options dialog, check Adjust for best performance option under Visual Effects tab.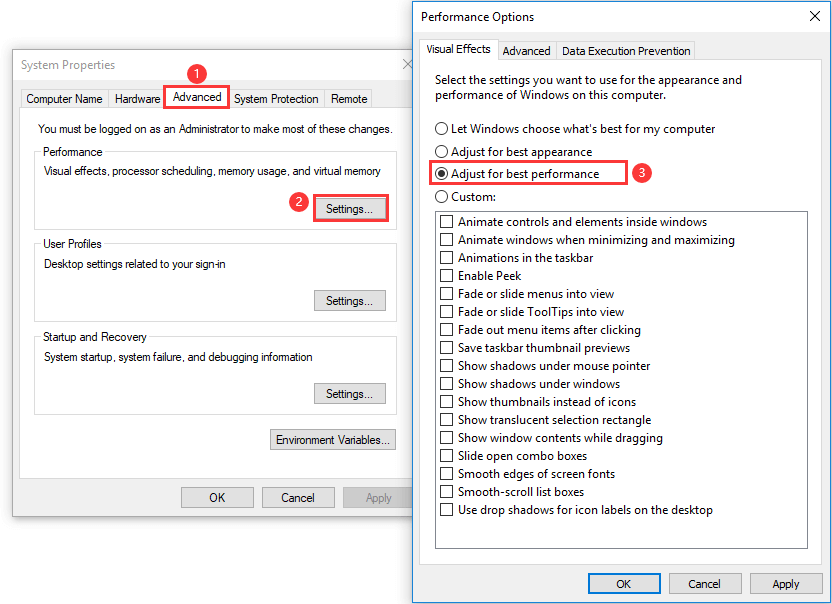 That's all about how to fix PUBG stuttering issue. Hope you can enjoy the game without any problems again.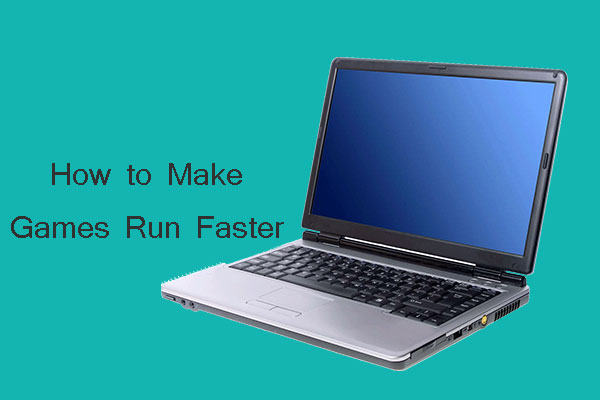 This article provides 11 methods to make PC games run faster. It includes four strategies.