Summary :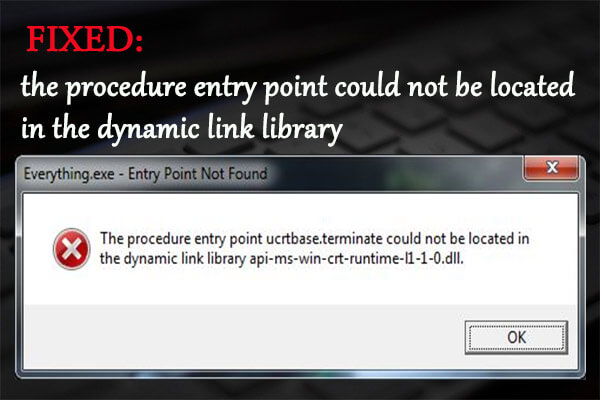 Recently, some Windows 10 users complain about the error "the procedure entry point could not be located in the dynamic link library". To get rid of this issue, you can keep reading this article from MiniTool Software to get several feasible solutions.
"The procedure entry point could not be located in the dynamic link library" is an error message that might appear when you are trying to open a certain program or install a driver on your computer. This error comes up with Entry Point Not Found notification dialog and points out the problematic DLL file, just as the following screenshot shows.

This error occurs because the program or driver fails to locate a specific DLL file. It is possible that the DLL file gets missing, corrupted or is not in a directory specified in the path. As for the root causes, it might be hard to figure out. But luckily, you can try the following methods to fix it by yourself.
Fix 1: Use Windows Defender Antivirus
As we all know, virus or malware might maliciously alter your data including the DLL files. So, the first thing you should do is to make a full scan for your system to remove any virus/malware threats. To do that, you can use the built-in Windows Defender antivirus.
Step 1: Press Windows + I to open Windows Settings.
Step 2: Go to Update & Security > Windows Security and click Virus & threat protection in the right pane to open Windows Defender Security Center.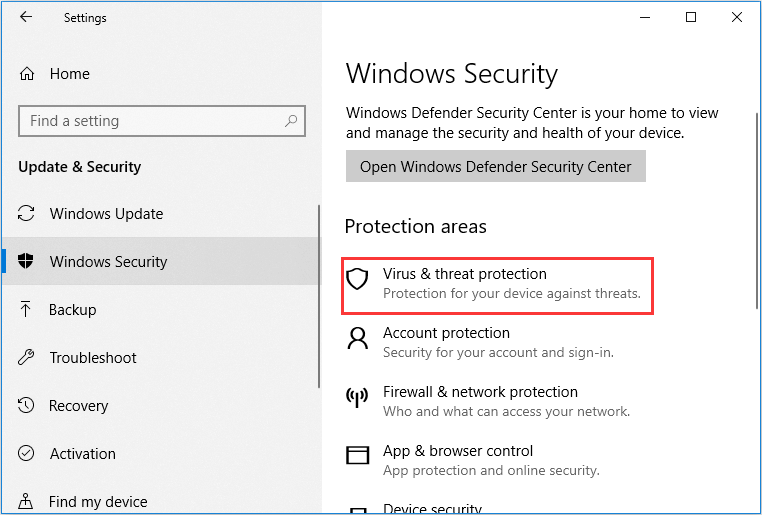 Step 3: Click Run a new advanced scan.
Step 4: Choose Full scan option and click Scan now button to start the scanning process.
After that, you can relaunch your program to check if "procedure entry point could not be located" issue is fixed. If it still exits, just move on to the next fix.
Fix 2: Reinstall the Problematic Program
It is also said that the needed DLL file might have been corrupted during the installation of the program. In this case, you can get a new DLL file from another computer which runs the same operating system as yours. If this doesn't help, you might need to uninstall the program, and then download the latest version from the official site and reinstall it.
Fix 3: Use System File Checker Tool
DLL file is a kind of system files. So, if you get certain problems related such files, you can try using the System File Checker tool alternatively. This tool will scan all your system files and automatically repair the corrupted ones with a cached copy. The steps are displayed below:
Step 1: Press Windows logo and R key at the same time to invoke Run dialog.
Step 2: Input cmd in the editable box and press Ctrl + Shift + Enter to open Command Prompt as administrator.
Step 3: Type sfc /scannow command and press Enter.
Then, this tool will start scanning your system and this will take some time. Once it has repaired the corrupted files, you need to restart your computer and check if you can launch your problem smoothly.
Fix 4: Re-Register the DLL File
As the DLL file is the direct factor which leads to entry point not found error, you can try re-register the specific file mentioned in the error message. This is a quite simple operation.
Just run Command Prompt as administrator, input the command regsvr32 filename and press Enter.
Note: Filename in the command should be replaced by the name of the specific DLL file pointed in the error message.
After re-registering the DLL file, you can try launching the program or install your driver again.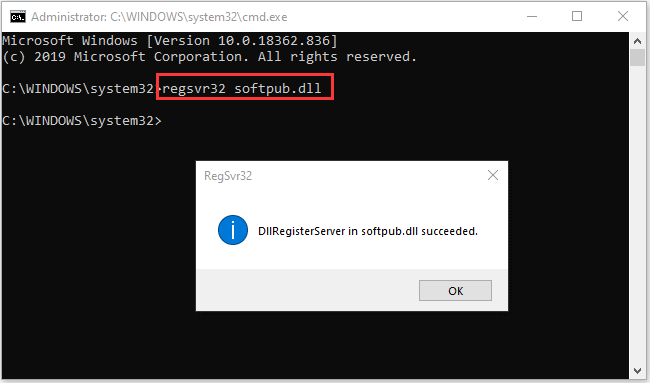 Fix 5: Perform System Restore
If "the procedure entry point could not be located in dynamic link library" issue occurs suddenly and you can launch the program before, you can try perform system restore to bring your computer back to previous status. To use this solution, you need to make sure you have created a restore point before. If you have created one, just follow the given tutorial below:
Step 1: Type restore in the Search bar and choose Create a restore point from the search results.
Step 2: Click System Restore button under System Protection tab.
Step 3: Skip the welcome page, choose a restore point and click Next button.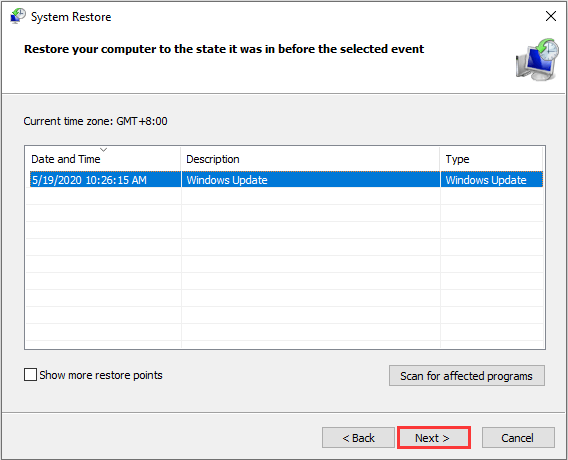 Step 4: Confirm the operation in the next interface and click Finish button to execute it.