It's possible for you to get stuck in the Prediction error Apex when you are playing Apex Legends. How to fix it? This post from MiniTool Partition Wizard provides some possible solutions to the error. You can have a try.
Apex Legends is a free-to-play battle royale-hero shooter game that was developed by Respawn Entertainment and published by Electronic Arts. You can play the game on different devices, such as Windows PC, Xbox One, PS4, PS5, and so on.
When you are free, you can play Apex Legends for entertainment. Sometimes, however, you might be prevented from playing the game on your PC with Prediction error Apex. Once you meet the error, you don't need to worry. Instead, you can try the following solutions to fix it.
Solution 1: Check the Game's Server Status
If any Apex Legends server is down, you may run into the Apex Prediction error. Therefore, you should visit the official Apex Legends Twitter page and check the current server status first when you meet the error.
If there is something wrong reported, you have to wait until the developers repair it. If everything is running properly, you need to go on with more advanced solutions.
Solution 2: Check Your Internet Connection
The Apex Legends Prediction error may also come out if your Internet connection is poor and unstable. Hence, once the error appears, we recommend you check your Internet connection to see if it's the reason.
To make sure your Internet connection works well, you can try restarting your router and modem. Besides, you can contact your Internet service provider and ask for help as well.
Solution 3: Allow Apex Legends Through Windows Defender Firewall
Sometimes, Windows Defender Firewall may recognize Apex Legends as a threat and prevent you from running it. That's also a reason for the Prediction error Apex PC. In this case, you ought to allow Apex Legends through Windows Firewall. Click here to learn detailed information on this operation.
Once done, the Apex Legends Prediction error may disappear.
Solution 4: Use a VPN Client
Another way you can try to fix the "Prediction error Apex PC" issue is to use a secure VPN client. In this way, you can improve your network connection, and then the error is likely to be removed.
Read more: How to Set Up a VPN on Your Windows 10 PC [Full Guide]
Solution 5: Try High-Performance Mode
In most cases, improving the game performance allows you to run games better. Therefore, switching to High-Performance mode is worth trying if you want to get rid of the Prediction error Apex. To do this, follow the steps below.
Step 1: Press Windows + I to open Windows Settings and then select System.
Step 2: Go to Display and then click Graphics settings from the right side.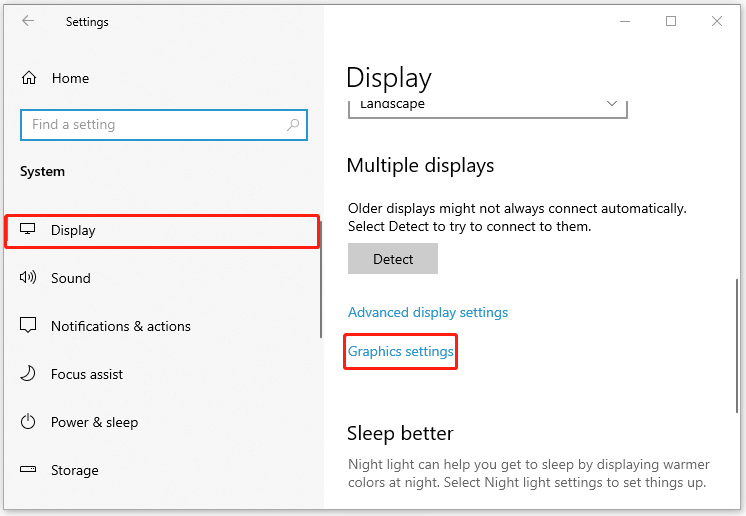 Step 3: In the next window, click Browse to open File Explorer. Then find Apex Legends and click Add.
Step 4: After you add the game to the app list, click Options and select High performance. After that, click Save.
Once you finish the operation, try playing Apex Legends to see if the error is fixed.
Solution 6: Replace Your Modem
The Apex Prediction error might be caused by your old router as well. That's because your router and modem are used for a long time and cannot work properly anymore. On this occasion, you have nothing to do but replace your modem and router with new ones.
All these solutions mentioned in this post are available. When you are facing the Prediction error Apex, you can try them one by one until you fix it. If you have any other problems with the error, you can leave a message in our comment zone below.
Are you looking for a good assistant to help you manage your partitions and disks on your Windows PC? We highly recommend you try MiniTool Partition Wizard. It's a comprehensive partition management program. If you want to learn more about this app, you can visit its official website.