PlayStation games are quite popular among game lovers. If you love playing video games on a PlayStation console, you might have bought some games and services in the PlayStation Store. Are you wondering if you can get PlayStation refunds? How to refund PlayStation games? Let's figure it out in this post from the MiniTool Partition Wizard website.
PlayStation 4 (PS4) and PlayStation 5 (PS5) are popular home video game consoles produced by Sony Interactive Entertainment. PS5 is the successor to PS4 and it is backward compatible with PS4.
With a PS4 or PS5 console, you can enjoy various games such as Spider-Man, God of War, Horizon Zero Dawn, Call of Duty: Vanguard, etc. Some of the games available on PS4 or PS5 are free, but some need to be paid. You can buy games in PlayStation Store.
Can I Get PlayStation Refund?
Sometimes you might regret after buying a game from the PlayStation Store and you might ask can you get it refund. Actually, there are some terms and conditions in the PlayStation Store cancellation policy. And your refund has to follow the terms.
Generally, for full games, downloadable content, in-game consumables, season passes, and other add-ons, you have 14 days from purchase to apply a refund. However, if you have started to download or steam the purchased item, you cannot get refund unless the content is faulty.
As for subscriptions like PlayStation Plus, you can request a refund within 14 days, too. Please note that the refund may be reduced depending on how much you have used the subscribed service.
It seems that all orders can get refund within 14 days. However, pre-orders are different. There are two types of pre-orders.
A: if you made the pre-order purchases more than 14 days before the release date of the product, you can get a refund at any time until the release date. B: if the pre-order was made fewer than 14 days before the release date, you can get a refund within 14 days after the purchase date.
Usually, you can get a refund to the original payment method.
How to Refund PlayStation Games/Add-ons/Subscriptions/Pre-orders
How to make a PlayStation refund request? You can contact PlayStation Support
Step 1: Open a web browser and go to the PlayStation Support page.
Step 2: When you are asked "what are you contacting us about", select Refunds, Vouchers and Payments.
Step 3: Select the item you want to refund, such as Requesting a Refund, Cancelling a Subscription, etc.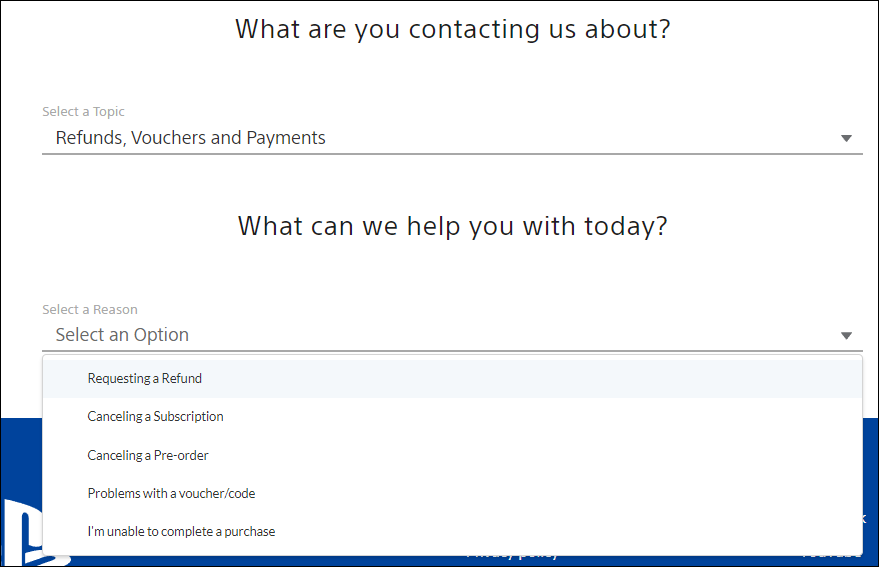 Step 4: Select a reason why you want to get PlayStation refund. And fill more detailed information about your account and purchase, such as your name, email address, PlayStation Network ID, what content you are requesting a refund for, date of purchase, etc.
Tip: If you forget the purchase date, you can check your account's transaction history.
Step 5: Check "I read and agree to the collection and use of personal information" and click Submit. Then Sony will contact you in a few work days.
Alternatively, you can sign in to your PlayStation account on the Sony support page and launch the PlayStation Support Bot by clicking the Request refund button under the Refund Assistant. Then let the bot help you get PlayStation Store refund.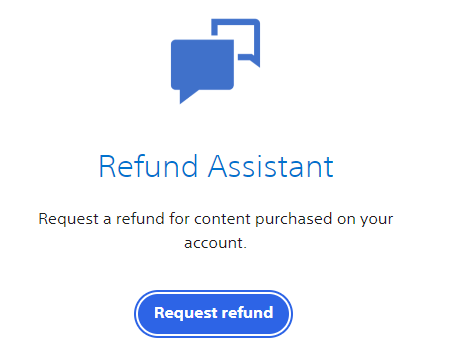 The bot will ask you a few questions and you just need to follow its guide to get PlayStation Store refund.