Are you wondering what an OXPS file is and how to open OXPS file or convert this file? Well, this article from MiniTool Partition Wizard describes what the OXPS file is and how to open it & convert it to PDF.
What Is an OXPS File?
OXPS (Open XML Paper Specification) files are standardized versions of the original XPS format. It stores information describing the structure and content of a document and saves it in a fixed layout similar to a .pdf file. OXPS files are commonly used to preserve papers, letters, postcards, communications, and business documents.
However, many users cannot open files with the OXPS file extension if the system does not have an XPS Viewer installed.
Well, how to open OXPS file? Please keep reading.
How to Open OXPS Files?
The XPS Viewer for Windows operating systems can open OXPS files, but this applet is not installed by default. In this case, you need to install the Windows 10 XPS Viewer first, and then open OXPS files by it in Windows 10.
To install XPS Viewer in Windows 10, you need to do so:
Step 1: Click the Start button and then click the Settings gear icon to open the Settings app.
Step 2: Navigate to Apps > Apps & features, and then click on the link labeled with Optional features in the right panel.
Step 3: In the next Optional features page, click on Add a feature.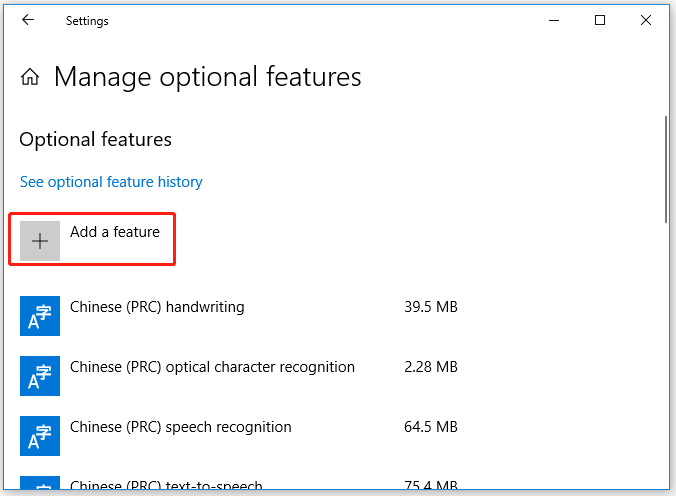 Step 4: In the next window, scroll down to find and click on XPS Viewer. Then, click on the Install button.
After completing the above steps, the XPS Viewer application will be automatically downloaded and installed on your PC.
Now, you can open any OXPS file in Windows 10.
To do so, you need to do:
Step 1: Type XPS in the Windows Search box. Then, from the available results, click on the top entry XPS Viewer to open it.
Step 2: With the XPS Viewer program open, drag your OXPS file into the program to open it.
Alternatively, you can click on the File menu, select the Open option, and select the file from your PC.
How to Convert OXPS File to PDF?
PDF is a common format, but OXPS is not, so you may find yourself needing to convert OXPS files to PDF format. The easiest way to convert an OXPS file to PDF is to use the XPS viewer. It is the default program of Windows 10 and can be used to view and convert OXPS files.
To do so, you need to do:
Step 1: Open the OXPS file by XPS Viewer.
Step 2: Select Microsoft Print to PDF, and then click on Print.
Step 3: Now, select the destination, then give it a name and click on Save.
Apart from that, you can also use Online OXPS to PDF Converter. To use it, you need to visit their website, click the UPLOAD FILES button, upload an OXPS file, and then it will be automatically converted to PDF, you just need to download it.
Bottom Line
That's all about what a OXPS file is and how to open or convert OXPS file in Windows 10. We hope this simple guide can help you know more about the OXPS file. If you have some questions about this topic, please leave them in the following comment zone and we will answer them as soon as possible.