Are you bothered by OpenGL Error 1281 while playing Minecraft? If the answer is yes, you're at the right place. Here, MiniTool Software introduces top solutions to this problem and you can try them one by one.
OpenGL is a settings inside the game Minecraft. By default, OpenGL is turned on and some items which is unnecessary for the game will be unloaded. It is usually used to reduce the work of GPU and enhance the performance.
However, it's common to see OpenGL Error 1281 in Minecraft. This error message could appear due to various reasons. Whatever, you can fix this error easily with to following solutions.
Solution 1: Temporarily Disable Mods
Some players add mods to Minecraft for better gaming experience. However, some mods might lead to conflicts to your game, and finally, OpenGL Error 1281 occurs. In this case, you need to disable the problematic mods to solve the problem.
You can disable all the mods to see if the problem disappears. Then enable and disable each mod one by one to find the problematic one.
Solution 2: Disable Show GL Errors
Actually, there's an option Show GL Errors in Minecraft. If you keep seeing the annoying message OpenGL Error 1281, you can disable this option.
Step 1: In Minecraft, select Options.
Step 2: Go to Video Settings > Others.
Step 3: Locate the option Show GL Errors and set it as OFF. Then save the changes you have made.
Now you can restart Minecraft and check if it works without any problems.
Solution 3: Update Java
Minecraft is developed from Java, and Java files are included when you install the game on your computer.
If your Java is outdated, you may encounter Minecraft OpenGL Error 1281. To fix the error, you can install the latest Java version.
Here are two options for you.
One is to uninstall Minecraft and then reinstall it to get the latest Minecraft and Java program. The other one is to download Java files form the official website and then follow the instructions to install them manually.
If you don't know how to uninstall Minecraft, you can refer to the following steps.
Step 1: Press Win + S to open Search. Then type control in the box and select Control Panel.
Step 2: Select View by: Category from the upper-right corner.
Step 3: Click Uninstall a program.
Step 4: Right-click your Minecraft and choose Uninstall. Then follow the onscreen instructions to finish the operation.
Solution 4: Update Your Graphics Card Driver
Corrupted or outdated graphics card driver could be another reason for Minecraft OpenGL Error 1281. To solve this issue, you need to update your graphics card driver.
Just follow the steps below.
Step 1: Right-click Start button and select Device Manager.
Step 2: Double-click Display adapters to expand the category and view your devices.
Step 3: Right-click your graphics card and choose Update driver. Then the Update Driver Wizard will pop up.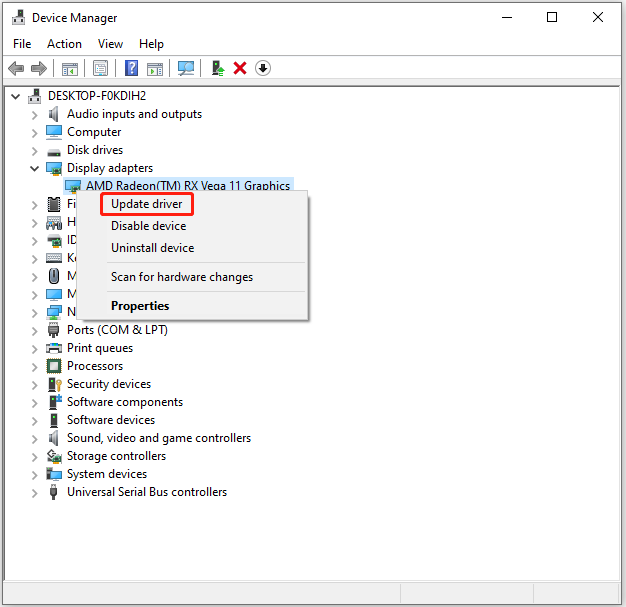 Step 4: In the pop-up wizard, choose Search automatically for updated driver software. Then follow the onscreen instructions to finish the left steps.
Once the process is completed, you need to restart the computer. Then, launch Minecraft to check if OpenGL Error 1281 disappears.
Tip: Alternatively, you can search the latest driver software for your graphics card from the manufacturer's website. Then download and install the driver from manually.