While trying to access the Netflix webpage and watch certain videos on Google Chrome, you may encounter the error code NSES-500. How to fix the error? Here, this post from MiniTool Partition Wizard introduces some solutions that may help.
Netflix is a popular streaming service that is used world-widely. You can watch your desired movies and TV shows from the official Netflix webpage on Google Chrome or the Netflix app.
The error code NSES-500 is an annoying error that randomly occurs when you are attempting to stream a video on the Netflix webpage. Once the error appears, it means that the information stored in your browser needs to be refreshed.
What can you do when the Netflix error code NSES-500 comes out? The following are several possible solutions.
Solution 1: Refresh this Webpage
Usually, you can fix the Netflix NSES 500 by simply performing a refresh. To do this, you just need to click the Reload icon next to the address bar. If the error is still here after you refresh this webpage, you should go on with other solutions.
Solution 2: Sign Out and Then Sign Back into Netflix
Sometimes, certain temporary bugs and glitches that occur when you open the Netflix webpage may damage your account data and lead to the Netflix error code NSES-500. In this case, it's recommended to sign out of your Netflix account and wait for several minutes. Then sign back into Netflix.
After that, you might be able to access the Netflix webpage and watch videos successfully.
Solution 3: Check the Netflix Server's Status
The Netflix NSES 500 may also come out if there is an outage with the Netflix server. Therefore, when you meet the error, you can visit the Help Center page of Netflix to check if it is down.
If any problems are reported on this page, you have to wait until the developers repair them. If you see the "Netflix is up!" message with green color, it means everything is running properly and you need to find other ways to fix the error.
Solution 4: Check Your Internet Connection
Since Netflix is a streaming platform, it requires a stable and high-speed Internet connection. If your Internet connection is poor, the error NSES-500 may show up. Therefore, you should check your Internet connection and make a speed test after you run into the error.
Tips:
Usually, the Internet speed for High definition (HD) is 3~5 Mbps and for a 4K video is 15 Mbps.
To make sure you have a good Internet connection, you can attempt to restart your router and modem.
Solution 5: Clear the Cookies and Browsing data of Google Chrome
In some cases, the Netflix error code NSES-500 will come out if some data related to Netflix that is stored on Google Chrome gets corrupted. On this occasion, to get rid of this error, you ought to clear the cookies and browsing data on the Google Chrome browser.
If you have no idea how to clear cookies on Google Chrome or other browsers, you can read this guide: How to Clear Cookies on Chrome, Firefox and Edge
Solution 6: Disable Extensions
The extensions you add to your browser may cause the Netflix error code NSES-500 as well. To fix the error, we recommend you disable all the extensions.
Step 1: In a new tab of Google Chrome, type chrome://extensions/ in the address bar and then press Enter to get into the Extensions window.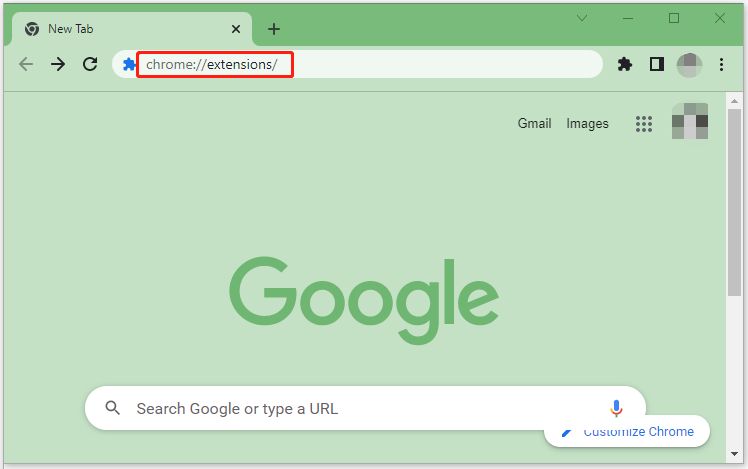 Step 2: Once you enter the Extensions window, turn off the toggle after each extension to disable them.
Step 3: After that, try accessing the Netflix webpage again to see if the error is fixed.
All these solutions mentioned in this post are available. When you are facing the Netflix error code NSES-500, you can try them one by one until you fix the error. If you have any other good solutions to this error, you can leave a message in our comment part.
MiniTool Partition Wizard is a comprehensive partition manager. If you are interested in this piece of software, you can visit the official website of MiniTool Partition Wizard to get more information.