Can I run Discord on Xbox One? You may have such doubt like many other gamers. If it is applicable, you may want to know how to get and use Discord on Xbox One. Today, MiniTool would like to discuss these questions and explore the answers to you.
Can I Run Discord on Xbox One
Discord is a message application designed for gamers, but it isn't built for console gaming because it is limited to computer and mobile platforms at the very beginning. Gradually, it expands into the console area.
Though there's no official app for consoles, you are able to utilize Discord on Xbox One. Now, Discord on Xbox One has become a great method to keep friends in the loop and catch up with the trend related to Xbox world.
Can I run Discord on Xbox One? According to the above content, you can find that the answer is obviously Yes. Though Discord doesn't have an app on Xbox One, linking the two accounts has some benefits. For instance, if you have friends on multiple platforms, they can see you're in a battle on Xbox and join it.
Besides, using Discord is a great alternative to your Xbox chat especially in the cases that your device system is running slow or online voice chat is hogging you bandwidth.
How to get Discord on Xbox? Please keep reading the content below.
How to Get Discord on Xbox
To use Discord on Xbox, you need to set up it on Xbox at first. It is very simple to do that. If you don't have Discord account, create one. Navigate to the login page of Discord, and then create and enter the username, password, and an email address (this should be a real one because Discord will verify it).
After creating Discord account, you should link your accounts. Here's how to do that on Xbox One.
Step 1: Click on the Xbox button to open Account Settings and then click Account.
Step 2: In the prompted window, click on the Linked Social Accounts option.
Step 3: Then, click on the Link button under Link Discord Account. After that, follow the on-screen instruction to finish the process.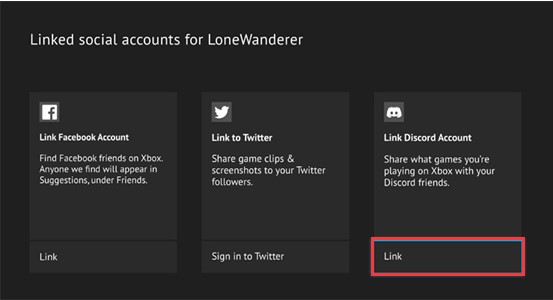 Note: You can also unlink Discord account by signing in the account > Connections > Xbox Live Connection > remove link > confirm.
How to Use Discord on Xbox
After linking Discord account on Xbox One, you can follow the steps below to use Discord on Xbox.
Step 1: Choose the Settings option in the Discord app, which is displayed by a gear icon.
Step 2: After clicking the gear, select Connections and then choose the Xbox logo that appears.
Tip: If you are on mobile device, click Add in the upper-right corner of the screen. Once you have chosen the Xbox logo on Discord app, a PIN will show on Xbox One's TV screen. Access the PIN on Discord and then your accounts should be linked immediately.
As you can see, Xbox One users can utilize Discord like PC users. More importantly, there is no complex installation or anything like that. You just need to link the Xbox Live and Discord accounts and then use Discord on Xbox like you use it on other devices.