Summary :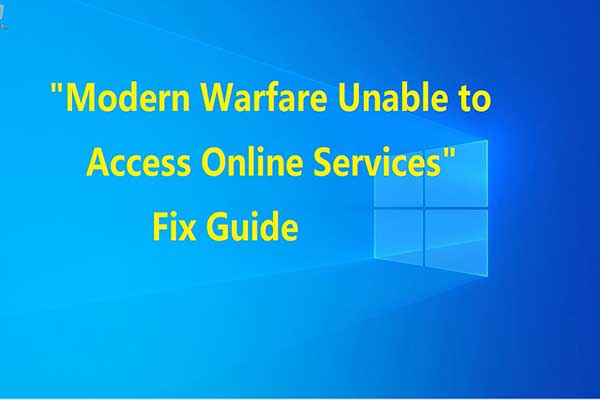 If you are a fan of Call of Duty Modern Warfare, you may be familiar with the Modern Warfare unable to access online services error. How to troubleshoot it effectively? Actually, many gamers have such doubt. Well, MiniTool will focus on this issue and try exploring some solutions for you.
Call of Duty is a popular game, which owns a large number of game players across the world. You can enjoy much fun and release pressure when playing the game. It runs smoothly in most time. However, it sometimes will throw you some errors like Dev error 6068 and unable to access online services Modern Warfare discussed here.
In fact, the Call of Duty Modern Warfare unable to access online services error is a kind of connection failed error. Even so, it confuses plenty of gamers. How to fix Modern Warfare not connecting to online services error effectively? You may ask this question like many other gamers.
Well, you need to know the possible causes for unable to access online services Modern Warfare 2020 before solving it. What factors will trigger this troublesome error? Please check the detailed information in the following section.
Causes for Modern Warfare Unable to Access Online Services
According to user reports, the Modern Warfare unable to access online services error will occur because of various elements. The server and client system issues are the primary reasons. Of course, there are many other factors responsible for the unable to access online services Modern Warfare.
The specific server issues and other causes for the error are summarized as follows.
Overcapacity: Games like Call of Duty Modern Warfare and Rainbow Six Siege sometimes may stretch the capacity of servers when numerous of gamers from platforms like PC, PS4, and Xbox play game at the same time. Servers may stop working when there are too many devices attempting to update or log in.
Outrage: When power gets outage, servers may be stopped because of multiple technical problems on the developer's or publisher's end.
In maintenance: As you know, severs require regular maintenance. And during that time, servers will not work.
Issues with local network connection: If there's something wrong with the local network connection, you will receive the Modern Warfare not connecting to online services too. The frequently encountered local network connection issues include modem or router failure, Firewall or NAT issues, unstable or slow Internet, temporary server issue, etc.
Corrupted game data: It is likely that some of game accounts or profiles contain corrupted game data, which prevents the game from working properly.
Things to Do before Executing Solutions
You can try the recommended tips before carrying out the following solutions. According to a survey, the Modern Warfare unable to access online services error will be solved by following the tips below.
Re-launch the game: When you encounter the error, just exit the game and then re-run it after a few minutes.
Re-connect the network: Disconnect the network and close the game after receiving the error. After a while, connect the network and re-launch the game again to see if the error still persists.
Restart the router: Restarting the router can fix temporary network issues.
Restart system: It is probably that multiple running background services conflict with the game services and cause the unable to access online services Modern Warfare error. Try restarting the system to fix it.
If the error is not resolved by referring to the above tips, try the following troubleshooting methods now!
Solution 1: Change to Another Region
The server issues sometimes are specific to a certain region. In this case, you can try playing the game online by switching your region to a another one. You need to close the game before switching the region. Then follow these steps.
Step 1: Open the Blizzard launcher (also called Battle.net client) and click on the Modern Warfare icon at the left pane.
Step 2: Click on the globe icon and choose a region based on your demand. Then save and execute the changes.
Tip: This solution is unavailable for PS4 and Xbox One users, because the server region depends on the physical location of the console. For this, try contacting Sony or Microsoft to see if there's a way to change the region.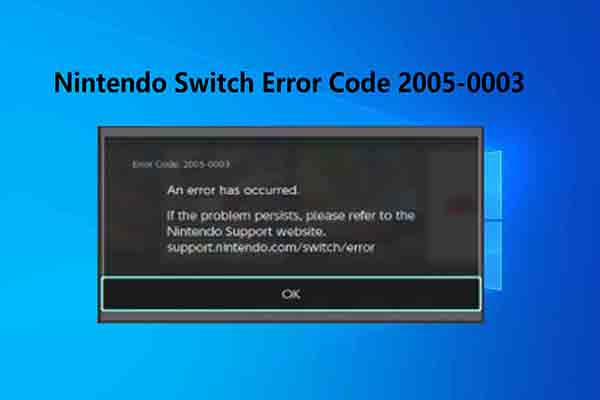 Do you encounter the Nintendo Switch error code 2005-0003? Do you troubleshoot it successfully? If you are still seeking solutions, this post will be helpful.
Solution 2: Switch DNS Server
Switching DNS server is also useful for solving Modern Warfare not connecting to online services error. How to do it on Windows laptop? Here is a tutorial for you.
Step 1: Open Run window by pressing Windows and R keys, and then type control and hit Enter to open the Control Panel.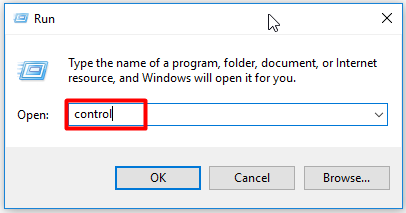 Step 2: Click on Network and Internet in the pop-up window.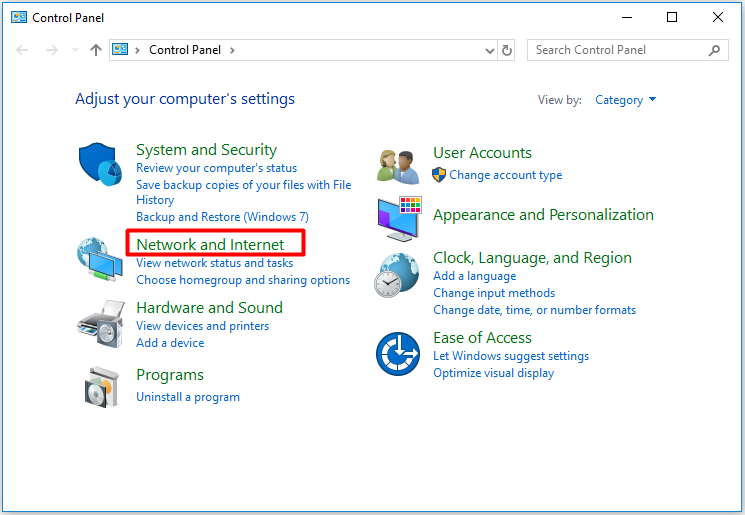 Step 3: Click on Network and Sharing Center in the elevated window.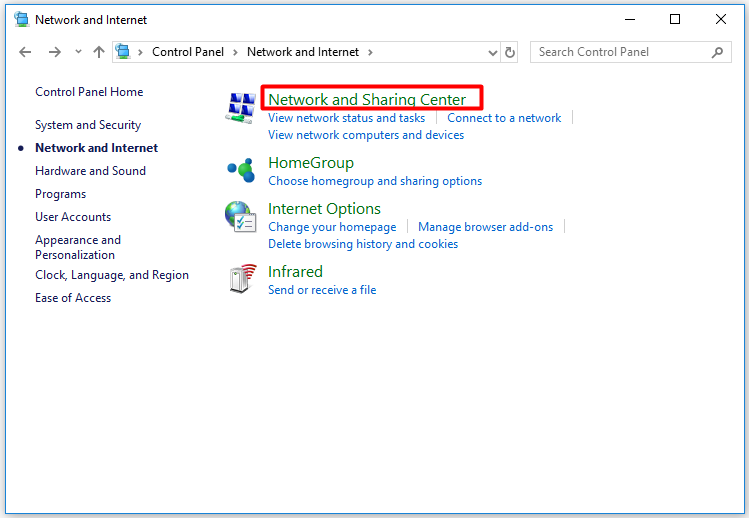 Step 4: Click Change adapter settings in the left panel of the next window.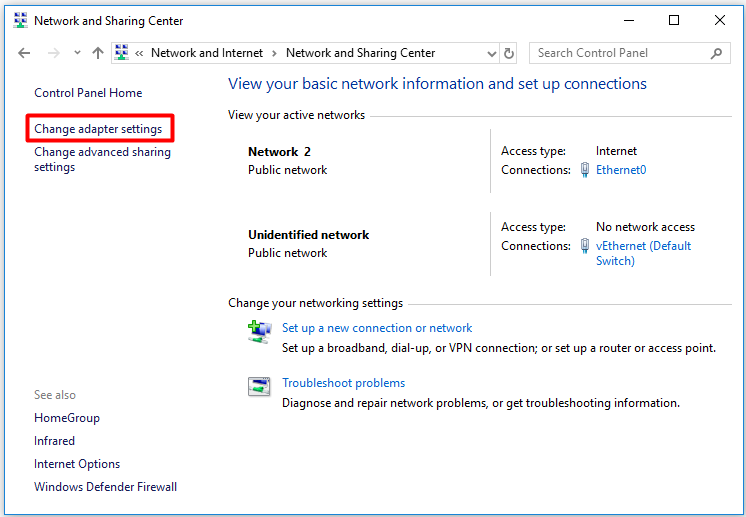 Step 5: Right click on your network and then choose Properties.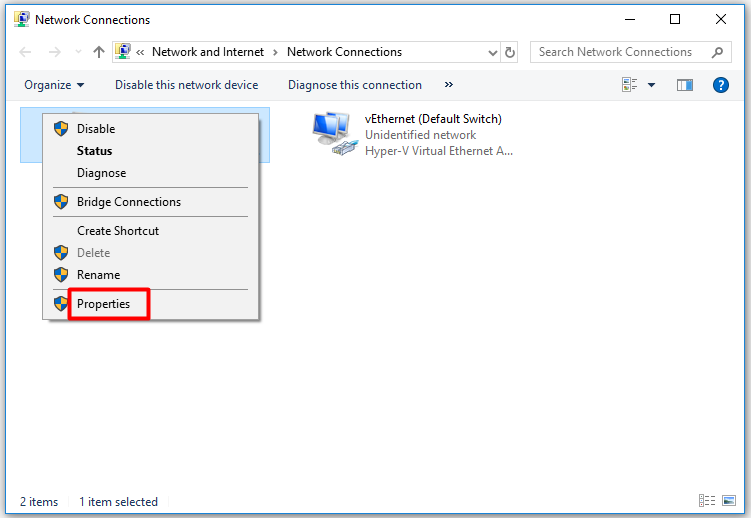 Step 6: Tick Internet Protocol Version 4 (TCP/IPv4) and click Properties to go on.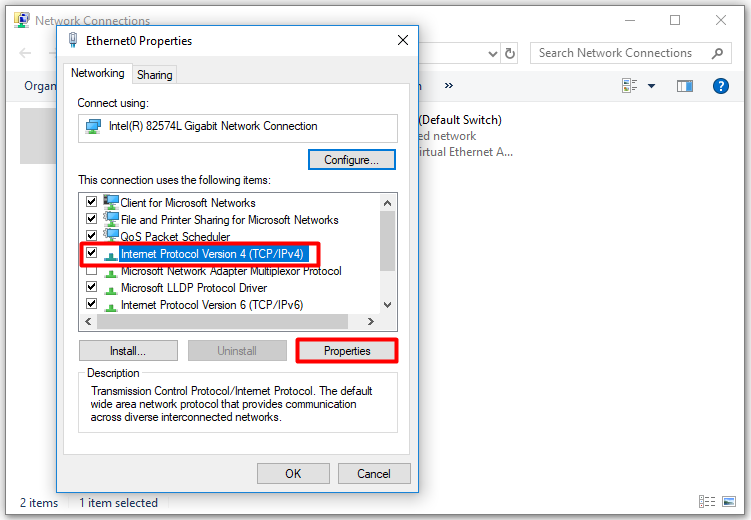 Step 7: Enable the Use the following DNS server addresses option, and then type the address of server. Please refer to the picture below to do that. Then click OK to save the changes. Finally, restart your computer to make the changes take into effect.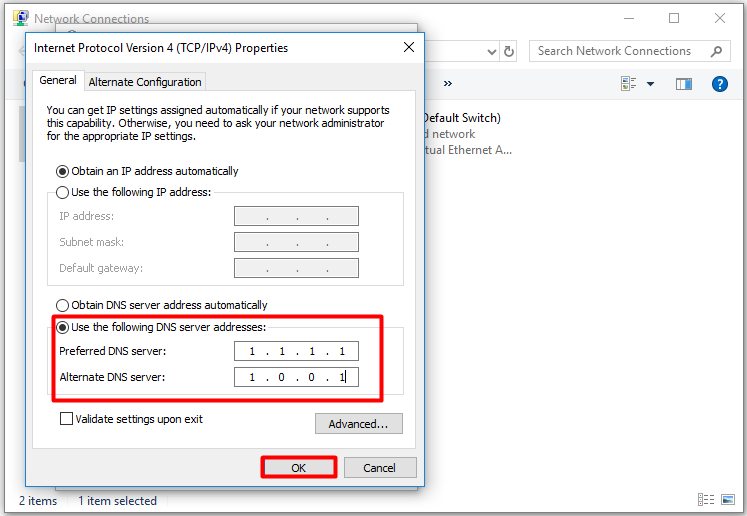 Solution 3: Troubleshoot Issues with Local Network
As mentioned earlier, issues with local network can also result in the Modern Warfare not connecting to online services error. Hence, performing some network troubleshooting actions is necessary when receive the error.
For instance, you can try restarting the network equipment, contacting ISP, increasing network signal and so forth to get a fast and stable network.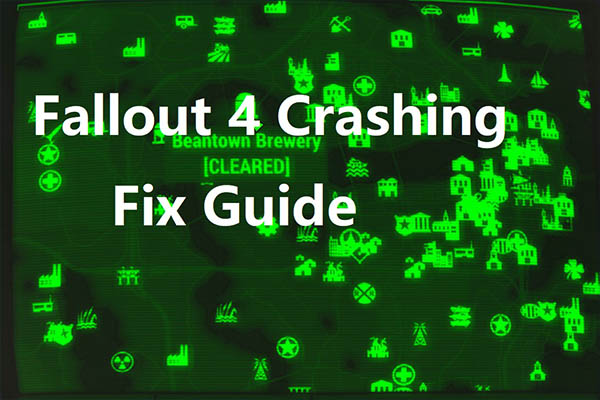 Are you troubled by the Fallout 4 crashing issue? If so, this post is suitable for you, which shows you the reasons for the error and methods to fix it.
Solution 4: Install Updates
New versions of systems are always recommended. Not only do they offer new features, but also provide you with patches to the previous versions. If you encounter this error on computer, try updating your computer to the latest version to fix this error.
For this, open Settings by pressing Windows and I keys and then move to Update & Security section. If you find available update in the right side of the window, download and install it.