Some users report that the Miracast stops working after Windows 10 update. In this post, MiniTool introduces Miracast and offers 3 methods to solve the issue. If you are also facing the problem, you can try them.
Miracast Not Working after Windows 10 Update
Miracast is a certification standard run by the Wi-Fi Alliance. It can enable certified (Miracast-certified) devices such as laptops, smartphones, and tablets to communicate with TVs, monitors, and projectors without cables.
You can think of it as an 'HDMI over Wi-Fi' tool that allows you to broadcast photos, music, videos and other media from mobile devices and computers to larger screens wirelessly. This technology is based on Wi-Fi Direct, which allows two devices to form a direct P2P wireless connection.
When two devices are connected through this technology, they can discover each other and share data without a wireless router.
Nowadays, most Smart TVs, Amazon Fire TV, Android TV, Roku and other devices support Miracast. Besides, Windows 8.1 and Windows 10 also have this feature built in. However, some users report that Miracast stops working after Windows 10 update.
One week ago, I used to connect flawlessly to my Samsung smart TV using windows 10. But today I tried connecting it would connect for a second screen flashes then disconnects... I think I updated my windows recently I'm not really sure...

--- answers.microsoft.com
Then, how to solve Miracast not working after Windows 10 update issue? Please keep reading to get solutions.
Fix 1. Check for Miracast Support
If your PC doesn't support Miracast, it will not work at all. Please refer to the following steps to check whether your PC supports Miracast:
Step 1: Search "dxdiag" in the search box and then hit Enter key to open the DirectX Diagnostics Tool.
Step 2: After the tool finishes collecting all the information about your computer, click on Save all Information button and then save the DxDiag.txt file on your desktop.
Step 3: Open the DxDiag.txt file in Notepad and then scroll down to find Miracast status. If the status is Not Available or Not Supported, you should buy a wireless display adapter from Amazon and plug it into your computer to see if you can project videos, photos, apps to TV now. if the status is Available, you should try Fix 2 and Fix 3.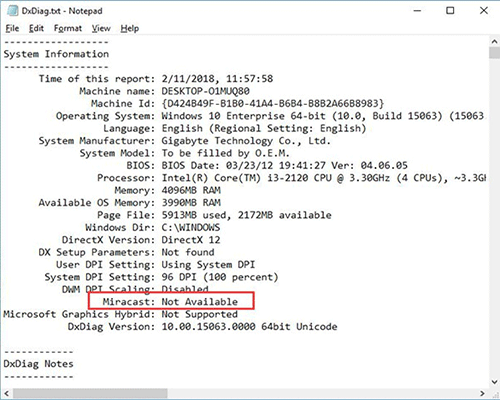 4 Solutions to Fix the "Your PC Doesn't Support Miracast" Issue
Fix 2. Update Graphics Drivers Manually
Sometimes, your computer may prevent from installing new drivers when you perform Windows updates. If your Miracast stops working after Windows update, you can try updating graphics drivers manually to solve this problem.
Step 1: Right click the Start menu and choose Device Manager.
Step 2: Expand Display adapters and right click your display driver. Then, select Update driver and Search automatically for updated driver software option.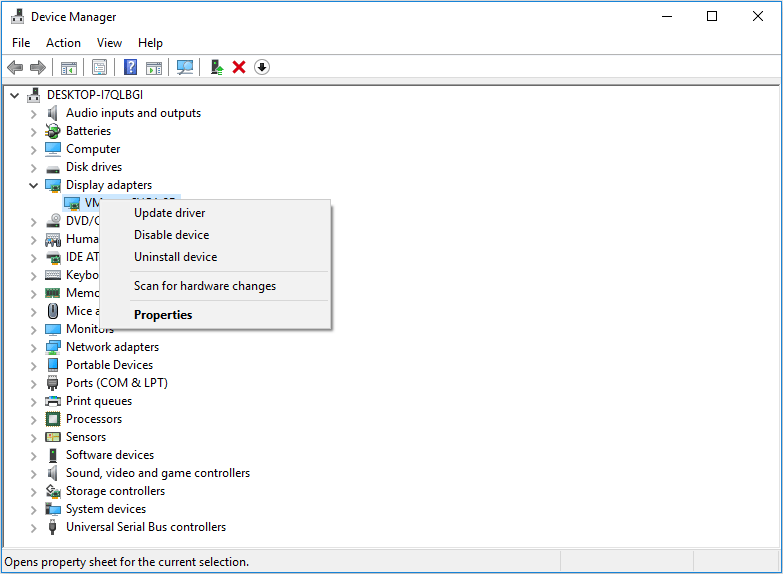 Tip: If you can't find new driver there, you can go to the graphics card's manufacturer official website to download the proper drivers. Then install it according to the wizard.
Is Cast to Device Not Working on Win10? Solutions Are Here!
Fix 3. Reconnect Wireless Displays or Docks
If the above methods don't work, you can try reconnecting the Wireless display or dock. Hope this method can work for you.
Step 1: Press "Windows + I" keys simultaneously to open Settings. Then, navigate to Devices > Bluetooth & other devices. Select the wireless display, adapter, or dock and then click Remove device.
Step 2: After a while, add this device again by this path: Settings > Devices > Add Bluetooth and other devices > Wireless display or dock > select your external display such as TV.