Do you use Microsoft virtual WiFi miniport adapter on your computer? What can you do if the adapter runs into error code 31? In this post, MiniTool will give the answers for you and provide a step-by-step guide to fix error code 31.
Microsoft virtual WiFi miniport adapter is a virtual device that is used to virtualize your network adapter. This feature has been developed since Windows 7 and it can be employed on any laptops and mobile devices with WiFi cards.
Commonly, you don't have to use Microsoft virtual WiFi miniport adapter. But it can be of great help when you want to use your computer as a WiFi hotspot or a bridge for other devices. This virtual adapter allows your Windows to split a network into two, which means that the network card can appear as two separate ones, acting as either a wireless bridge or WiFi hotspot.
However, some issues might come up when you use this adapter, such as error code 31. If this happens, this adapter will stop working, and in its Properties you will get the error message: This device is not working properly because Windows cannot load the drivers required for this device.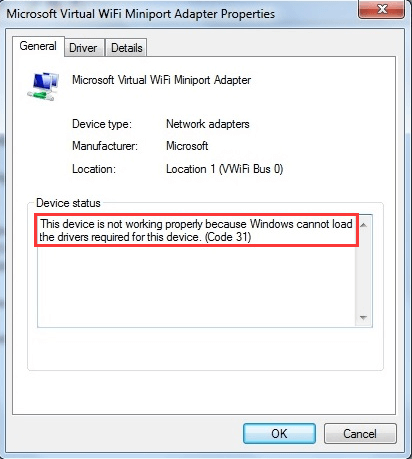 This is really an annoying issue but you can fix it easily by the following solutions. Just try them one by one until you get rid of the problem.
Solution 1: Disable Hosted Network
If you are sure that you don't need to use Microsoft virtual WiFi Miniport adapter anymore, you can choose to disable the hosted network to remove the error code 31. Here's how to do it:
Note: If you want to continue using this adapter on your device, just skip this solution and move on to the next one.
Step 1: Press Windows + R to invoke Run dialog, input cmd and press Ctrl + Shift + Enter to run Command Prompt as administrator.
Step 2: Input the command netsh wlan stop hostednetwork and press Enter to turn off the hosted network.
Step 3: Input the command netsh wlan set hostednetwork mode=disallow and hit Enter to stop your Windows from restarting the hosted network.
Step 4: Restart your computer and check if the error has been removed.
Solution 2: Update Windows
It is also an effective method to update your Windows. After all, the latest update might contain certain patches and fixes for the potential bugs or errors.
To do that, just go to Windows Settings > Update & Security > Windows Update and click Check for updates in the right pane. Then, follow the given instructions to finish the process.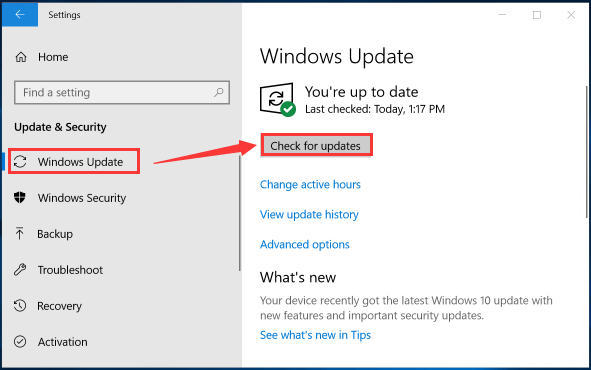 After all the available updates are installed, check if the issue has been resolved.
Solution 3: Run Hardware and Devices Troubleshooter
You can also try running Hardware and Devices troubleshooter to fix the issue by following the steps below.
Step 1: Press Windows + I to open Settings app.
Step 2: Navigate to Update & Security > Troubleshoot.
Step 3: Scroll down to choose Hardware and Devices section and then click Run the troubleshooter.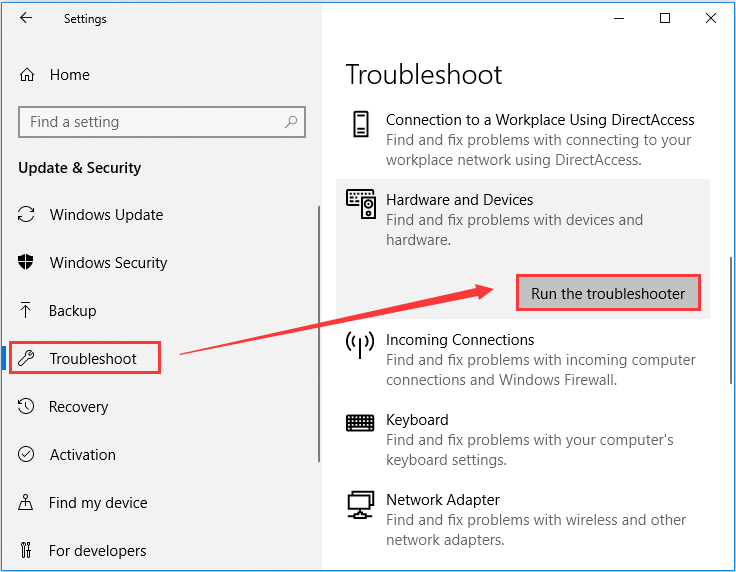 This tool will start detecting potential problems related to your hardware and devices. If any problems are detected, just follow the onscreen instruction to fix them. After that, the Microsoft virtual WiFi miniport adapter error code 31 should be resolved.
Solution 4: Update Microsoft Virtual WiFi Miniport Adapter Driver
If your Windows cannot load the drivers required by Microsoft virtual WiFi miniport adapter, perhaps the drivers are outdated. In this case, you just need to update the related drivers. To update device drivers in Windows 10, you can refer to this post.
Solution 5: Reinstall Wireless Network Adapter
There are also some cases where the issue is caused by the wireless network adapter and some users have fixed the issue by reinstalling their wireless network adapter. So, you can also have a try.
To achieve that, just enter Device Manager, right-click your wireless connection and select Uninstall. Then, reboot your computer to reinstall the driver automatically.