Microsoft rolls out the Windows 10 19H2 builds 18362.10014 and 18362.10015 to Slow ring Insiders. This article of MiniTool reports the latest information and new features in this Windows update for Insiders.
Windows 10 Insider Preview Build 18362.10014 & 18362.10015
On August 19, Microsoft rolled out two more Windows 10 19H2 test builds to Slow Ring testers, namely, 18362.10014 and 18362.10015. Like the recent releases on the Slow ring, not everyone in the Slow ring will see new features from their new build.
One of the new versions of some testers has new features turned off by default; the other turned them on by default. Testers who see new features will get some interesting new enterprise-centric features.
Microsoft doing this new dual-build testing has its own reason. According to Microsoft officials, when Windows 10 19H2 rolls out this fall, they plan to turn off the new features by default. And Microsoft officials will be able to turn on features as feedback indicates.
To ensure that this policy works properly, Microsoft needs to test the off-by-default servicing mechanism.
The tester already on the 19h2 Build 18362.10012 is getting the new version (number 1362.10014). The features of which are turned off by default. (This includes new features, plus the features of previous versions.) And those on the 19h2 version of 18362.10013 build are getting the new version 18362.10015 with features on by default.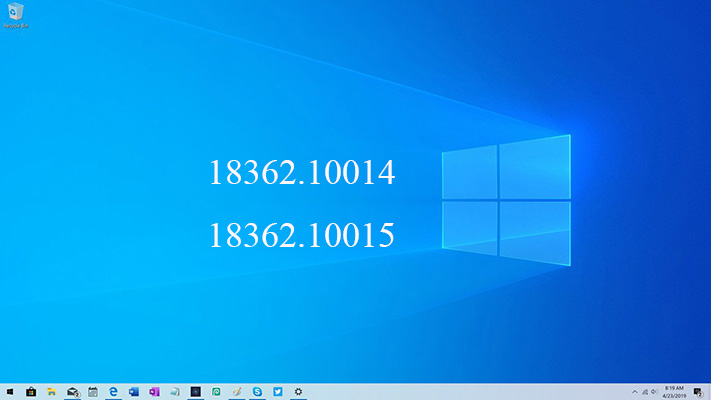 New Features in the Build 18362.10015
Those who are getting the new build with features enabled will see new features as blow:
Windows Defender Credential Guard for ARM64 devices is enabled to gain additional protection against credential theft for enterprise deploying ARM64 devices in their organizations.
The ability for enterprises to supplement the Windows 10 in S Mode policy is enabled, allowing traditional Win32 (desktop) apps from Microsoft Intune.
Updated search in File Explorer can show "web-powered suggestions" in addition to files locally indexed on the PC.
Add the ability for Narrator and other assistive technologies to read and learn where the FN key is located on keyboards and what state it is in (locked versus unlocked).
Microsoft is testing Windows 1019H2 and 20H1 functional updates at the same time with different tester groups.
Windows 10 19H2, the next major update for the OS, is expected to roll out everyone later this fall with new features turned off by default. As for Windows 20H1, it is expected to beginning rolling out around April 2020, which is more of a major feature update.
Conclusion
If you are a 19H2 Build 18362.10012 tester, you will receive Build 18362.10014 with features turned off by default (including the features from the previous release). If you are a 19H2 Build 18362.10013 tester, you will receive the new Build 18362.10015 with features turned on by default. And these builds are available now via Windows Update for Slow ring Insiders.
Just join your PC into the Slow ring to take the new 19H2 updates if you are on the Windows 10 May 2019 Update. Microsoft encourages Insiders to report any issues they experience with these updates through Feedback Hub. As to whether the features on your computer are turned on or off, it will be a virtual "coin toss".
To learn more detailed information about this Windows 10 update, you can view the full release notes at the Windows blog.