Recently Microsoft released Insider version Chromium Edge Dev Build 78.0.262.0 for developers to test out before it is available for public. And the new build add some new feature. At the same time, some bugs are fixed and some unnecessary features are removed in this build. To learn more information, check out this post from MiniTool.
Last year in December, Microsoft announced that they plan to adopt the Chromium open source project in the development of Microsoft Edge on the desktop so as to create better web compatibility and less web fragmentation. And this year, they have updated the browser to the latest Dev Build 78.0.262.0.
Since Microsoft announced the transformation of its unpopular edge browser into Chrome-based browser, many users are expecting their final achievement and how the browser differs from Chrome, as many underlying technologies are the same. So many users are concerned about this new update.
In its recently released version of its chromium-based edge browser for Dev channel, we could see several new features and improvements.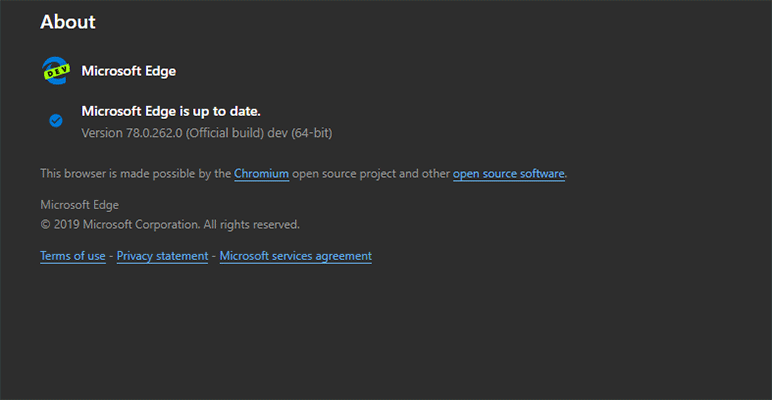 What's New in the Edge Chromium Dev Build 78.0.262.0
This new version of Microsoft Edge Chromium introduces many unique features to Edge. Let's see what new features this build includes.
Collections Is Now Available in the Dev Channel
Chromium Edge's new features include the much-anticipated Collection feature, which is designed for web users to be able to more easily collect text, images, and other information from the internet into a note and it is helpful for users to save favorite websites.
Collection is an innovative way for Edge users to collect and organize information while browsing the Web.
The collection feature allows you to build an easy-to-read collection of information from a variety of sources.
Added the Ability to Export Collections to Word
You can also export your collection to Microsoft Word, and Chromium Edge will also support Windows 10's native share feature. It is these two functions that really distinguish Chrome Edge from Chrome by integrating Chrome Edge with Windows 10 and Office to win the favor of Chrome users.
Improved Sync Functionality with Edge Mobile
Another significant feature of this update lies in the improved sync functionality with Edge mobile. Mobile now supports synchronizing passwords and form-fill data with the desktop version of Edge for personal, work and school accounts, which is very convenient.
Other features introduced in the new version include updated user interface elements, tools for emulating Internet Explorer (very useful for older websites) and the built-in abusive ad blocker that was added to Chromium last year has been enabled.
Apart from the above new features, there is a list of bug fixes to help the browser run better, including a lot of stability fixes and other behavior changes. Microsoft has a complete list in its announcement and explained why the DEV version postponed last week. To learn more information about its bug fixes and improvements, you can check out the official announcement.
If you are a Windows Insider tester, just update your Chromium Edge browser to the latest Dev Build 78.0.262.0.
Bottom Line
Edge Chromium browser is currently in beta, but you can download it for free now. Microsoft said that Edge Chromium has been downloaded for more than one million times.
Do you want to try the Chromium Edge browser? You can click here to download one. There are three channels for you to choose, and each of them is constantly receiving new updates on a regular basis. With different descriptions of each channel, you can choose to download the one you want.