As the newest edition of Windows operating system, Windows 10/11 has improved itself in many aspects. For example, its built-in Xbox Game Bar enables its users to easily record the wonderful moments in gaming, such as VRChat, just as introduced below.
What Is Microsoft Game DVR?
Microsoft game DVR (Digital Video Reorder) refers to the Xbox Game Bar (Xbox DVR), which is a Windows 10/11 embed program for capturing screenshots as well as videos while playing PC games.
Microsoft game DVR VRChat cover means to record VRChat game video from its front cover or title page with Microsoft Xbox Game Bar.
For more related information about Xbox Game Bar, just visit MiniTool Partition Wizard official website.
How to Record VRChat by Microsoft Game DVR?
It is easy to record a game video with the help of Windows Game Bar. Just follow the following steps to complete your game recording.
Step 1. Open Xbox Game Bar. When you are gaming, press Windows + G keys on your keyboard. If there is an Xbox One or Xbox 360 controller connected with your computer, just press the Xbox button to start Xbox DVR.
Step 2. Select Widget menu > Capture.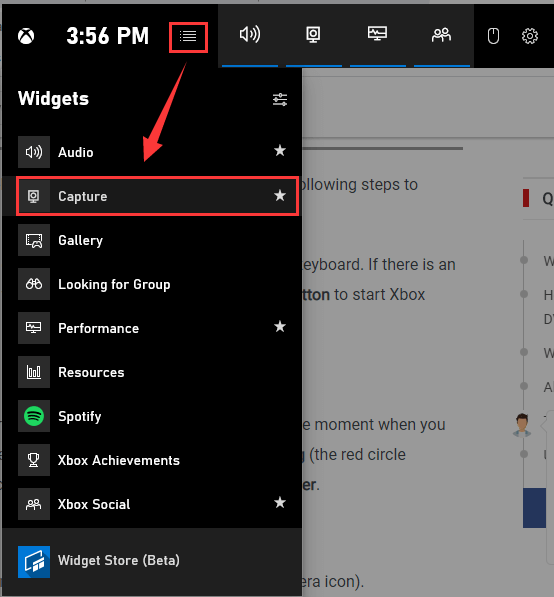 Step 3. Start to record. Get your VRChat game ready for recording. When it comes to the moment when you would like to start the recording, or, when the game begins, just choose Start Recording (the red circle button). Then, the Game Bar will begin to record from Microsoft game DVR VRChat cover.
Kindly reminder:
You can have a screenshot of current game by selecting Take screenshot (the camera icon).
If you want to record a clip of your last game moments, just select Record last… when the background recording is enabled in Windows Settings. And, you can set the duration of the clip there. The path is Windows Settings > Gaming > Captures.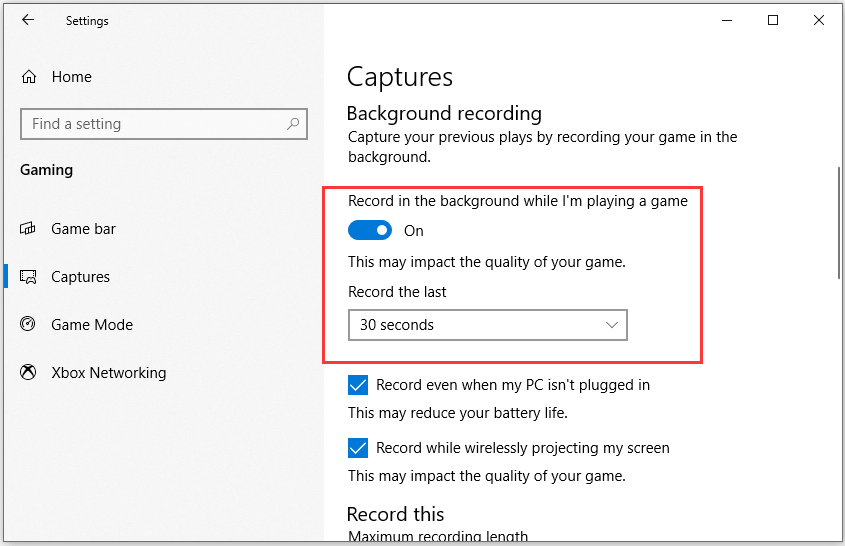 Step 4. Stop Recording. When you have what you want recorded, or when the game is over, select Stop recording (the red square button) to finish the task.
Kindly reminder:
If you play VRChat on full-screen, you can make use of the shortcut keys Windows + ALT + R to start and stop recording. And, using Windows + ALT + G to record the most recent game moments.
If you want to edit the clip (recorded video), just choose the Xbox button to launch the Xbox application and then select Captures.
Where are your game clips and screenshots saved? Just find them in Xbox Game Bar Gallery. You can access the Gallery in Widget menu or reach Gallery by just clicking the second button (with game console icon) on above picture
Also read: How To Disable Xbox Game Bar On Windows 10/11: 3 Ways
Why Need to Record a Game Video?
When you are in touch with a new game, you probably not know how to play it well only relying on the instructions. Therefore, you will look for videos about how other players play the game, how to operate to get higher score, how to avoid being killed by enemies, etc.
Where are those videos come from? Yes, they are provided by other game players. They take a record of the game while they are playing. By sharing those great gaming moments to other people, especially to new players, those adepts teach newbies with their experiences and skills. Thus, the newbies can quickly get familiar with the game and easily win the game.
About VRChat
From Wikipedia, VRChat is a large free multiplayer online VR (virtual Reality) social game. Written by Jesse Joudrey and Graham Gaylor, VRChat enables gamers to interact with other players as 3D character models. It was first released on Jan. 16, 2014 for Microsoft Windows and with Oculus Rift supported.
The Bottom Line
The above tutorial helps you to record a game video not only from Microsoft game DVR VRChat cover, but also from Microsoft game DVR Fortnite cover, Microsoft game DVR SCPSL cover, Microsoft game DVR Garry's Mod cover and Microsoft game DVR Apex Legends cover. It also applies to other video games like Skyrim Special Edition, Rainbow Six, Destiny 2 and Fallout3.
Also read: