On August 2, Marvell launched three SSD master controllers with PCIe Gen4. They are 88SS1321, 88SS1322, and 88SS1323, respectively. Let's read on to know more information about them. If you want to upgrade your hard drive to them, use MiniTool Partition Wizard.
Marvell Releases 3 Types of Client SSD Controllers with PCIe Gen4
Currently, the PCIe 4.0 SSD master is only available from the Phison, so the specifications and performance plans of PCIe 4.0 SSDs that everyone can buy on the market are the same. However, Marvell will soon be in combat.
Last year, Marvell announced updated client NVMe controllers, but we have not yet seen them in the retail SSD market. This year, due to the transition to PCIe gen4, Marvell introduced three PCIe 4.0 SSD masters on August 2, namely 88SS1321, 88SS1322, and 88SS1323.

The three main controllers reflect shifts in the market that Marvell is expecting. In the past few years, Marvell's retail consumer SSD market share has been taken away by Phison and Silicon Motion. Maybe due to this point, the new family of controllers is intended more for OEM SSD market than retail market.
Further Reading: OEM (original equipment manufacturer) SSD means the SSD shipped with Lenovo, Dell, HP, and other PCs by manufacturers.
Specific Information about Them
As NAND flash interface speeds and per-die capacities are increasing, Marvell believes that mainstream client NVMe products will mostly use four NAND channels rather than eight. Hence, these three masters all use four channels.
In addition, Marvell believes that the future M.2 SSD will become smaller, and the size of M.2 2230 will become more popular because these M.2 SSDs can offer higher performance and capacities up to 2TB (when using QLC NAND). Therefore, Marvell also makes DRAMless SSDs (optionally with NVMe Host Memory Buffer support) a bigger part of their strategy.
As for the performance, both the Marvell 88SS1321 and the 88SS1322 support PCI-E 4.0 x4, and the sequential read and write speed can be up to 3.9 GB/s and 3.3 GB/s, respectively.
They are different in the following aspects: the former supports DDR4/LPDDR4 as the cache, while the latter adopts the DRAMless design, which results in quite poor random performance; the former supports 32CE, while the latter only supports 16CE.
As for 88SS1323, it is the lowest-end product and only supports PCI-E 4.0 x2, DRAMless design, 16CE, and a read/write speed up to 3.5/3.0 GB/s.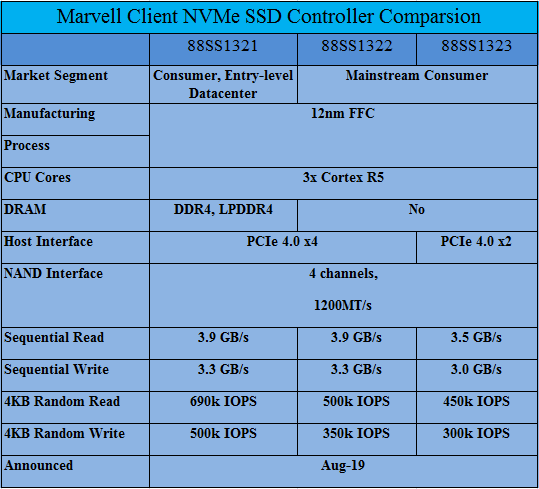 It can be seen that even the performance of the Marvell 88SS1321 is quite poorer than that of Phison PS5016-E16. After all, they are only four-channel master controllers and Marvell is launching them for the mainstream market.
On the other hand, compared with Phison PS5016-E16, Marvell master controllers also have their own advantages.
For an instance, the three master controllers released by Marvell all use the ARM Cortex R5 CPU cores and 12nm FFC process, which is much more advanced than the 28nm process used by the Phison PS5016-E16 master controller.
Due to the 12nm fabrication, Marvell's new DRAMless controllers can run at less than 2W with a PCIe 4 x4 link active, which isn't much more than the NAND flash itself requires. Hence, Marvell master controllers are more power-efficient and less exothermic than Phison E16 (28 nm fabrication).
Marvell is currently sampling the new controllers, and will exhibit them next week at Flash Memory Summit.