Introduction to IRS Error Code 2099
IRS is the abbreviation of Internal Revenue Service. It is responsible for collecting U.S. federal taxes and administering the Internal Revenue Code, which is the main body of the federal statutory tax law. Irs.gov is the official website of the Internal Revenue Service that can help you pay your taxes. It is convenient for many people.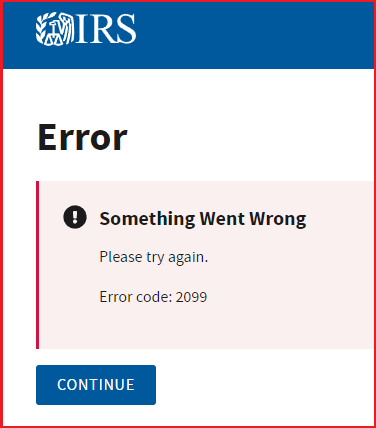 However, some people have encountered the IRS error code 2099 when they use the IRS to pay their taxes, and this error bothers them a lot. Do you know the causes of the IRS error code? Here are the main reasons listed below: 
Errors in the IRS website's server status 
The IRS website is under maintenance or down. 
There is heavy traffic on this website. 
The servers may go down or temporarily shut down. 
After knowing the reasons, you can use the causes to select the solution that is suitable for your situation. Here are all the solutions below.
Solution 1. Check Servers
In many situations, the IRS website error code 2099 is caused by the server problem. So, you'd better check for the server status first from Twitter or other particular website that can check the website server status.
If the website server is shut down for maintenance or updating work, the only thing you can do is wait for it to recover.
Solution 2. Reload the Website 
If you stay on the website for too long, you may encounter errors. So, if you stay on the IRS website for a long time and encounter the IRS error code 2099 on this website, you can try refreshing this website to make it recover.
To refresh the website, you can press Ctrl, Shift, and R keys or press Ctrl and R keys at the same time. Once done, check if the IRS error code 2099 is fixed.
Solution 3. Check Your Internet
A stable internet can avoid many basic errors. If your Internet is unstable or poor, you may encounter problems when you load the IRS website. To fix this error, you can use a tool to check the speed of your internet.
If your internet connection is poor or unstable, you can reset your router to connect it again. You can also switch your Internet connection from Wi-Fi to Ethernet because Ethernet is more stable than Wi-Fi.
Solution 4. Switch to Another Browser
Some people report that switching to a different browser can help fix the IRS error code 2099. So, if you are using Chrome, you can switch to Brave, UR Browser, Microsoft Edge, or Mozilla Firefox to open the IRS website and check if the error is fixed.
Solution 5. Clear Cache & Cookies Data
If your browser has an excessive amount of cache or cookies data, you may encounter errors. To fix this, you can try clearing the cache and cookie data on your browser. Different browsers have different ways of clearing their data. Here I list the steps for Chrome and Microsoft Edge. 
For Google Chrome: 
Open Google Chrome on your computer. 
Select the three dots in the upper-right corner. 
Move your cursor to More tools and then select Clear browsing data.
Select the time range and check the boxes next to the options "Cookies and other site data" and "Cached images and files". 
Next, click Clear Data. 
Once done, go to the IRS website again and check if IRS website error code 2099 is fixed. 
For Microsoft Edge: 
In Microsoft Edge, select Settings and more > Settings > Privacy, search, and services.
Under Clear browsing data, select Choose what to clear.
Under Time range, choose a time range. 
Select the check box next to each data type you'd like to clear, and then select Clear now. 
Once down, go to the IRS website again and check if the IRS website error code 2099 is fixed.
Bottom Line
MiniTool Partition Wizard is an all-in-one partition manager and can be used for data recovery and disk diagnosis. If you are interested in MiniTool Partition Wizard and want to know more about it, you can visit MiniTool Partition Wizard's official website by clicking the hyperlink.