Summary :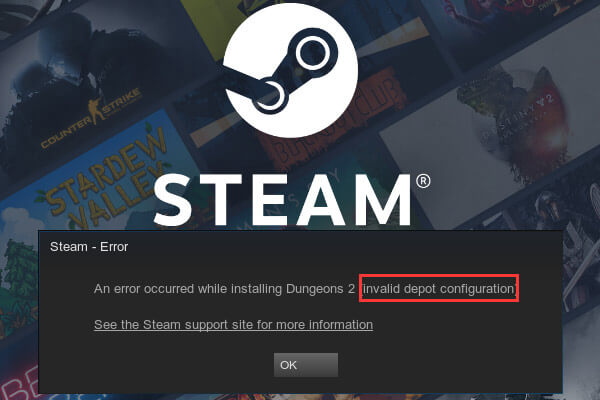 The invalid depot configuration is an error message that might appear when you are installing a game in Steam. To help you get rid of this issue, MiniTool Partition Wizard puts together some feasible solutions and hope you can benefit from them.
As one of the most popular gaming platforms in the world, Steam is used by large amounts of users to download, install, and update their video games. However, things are not always smooth with Steam client. There are some reports that the invalid depot configuration error might occur during the game installation.

The Steam invalid depot configuration error is not specific to a particular game or Windows version. It may come up randomly due to various factors, such as DNS cache, enabled Steam Client Bootstrapper, and etc. But you don't need to worry. Here are some solutions which have fixed the issue effectively for some users. You can also have a try.
Note: Before you employ the following fixes, you should try running your Steam as administrator. Besides, it might be helpful to launch your Steam from the executable file in the installation folder, instead of the shortcut.
Method 1: Update Steam
If your Steam is outdated, you might receive various problems while using it, including the invalid depot configuration installation issue. Commonly, the Steam can automatically detect available updates and inform you to download and install them. But you may miss the updates for certain reasons. So, you can try updating your Steam manually.
To do that, just open your Steam client, click Steam in the ribbon bar and choose Check for Steam Client Updates. Then, restart Steam and check if the error is fixed. If there's no update or the issue still exits, just move on to the next solution.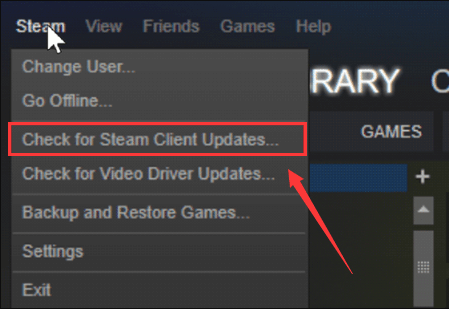 Method 2: Flush DNS Cache
In some cases, the invalid depot configuration error is caused by network issue, and it can be fixed by flushing DNS cache. To flush DNS cache for your Steam client only, you can follow the steps below:
Step 1: Press Windows + R to open Run window.
Step 2: Input the command steam://flushconfig and press Ctrl + Shift + Enter to execute it as administrator.
Step 3: When you get the Clear Download Cache window of Steam, click OK to clear cache.
After that, restart your Steam and try installing the game again to check if the issue has been removed.
Method 3: Disable the Steam Client Bootstrapper
In some cases, the enabled Steam Client Bootstrapper startup item is the culprit of the invalid depot configuration issue, and some users have resolved the problem by disabling it. If you don't know how to do that, you can follow the instructions below.
Step 1: Right-click the Start button and choose Task Manager to open it.
Step 2: Go to the Startup tab, and you will see a list of items that will open when you start the computer.
Step 3: Now, choose Steam Client Bootstrapper item and click Disable to stop it from opening at startup.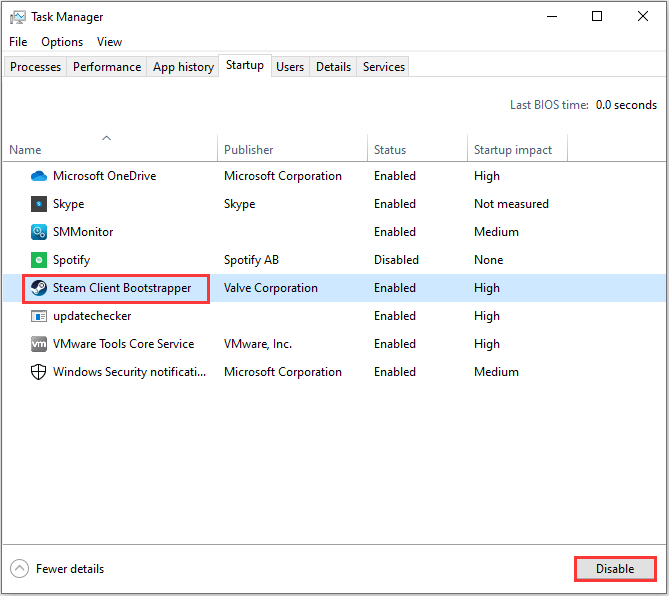 Once it's done, open your Steam and check if the error message disappears.
Method 4: Opt Out of Beta Programs
Steam provides the opportunity for users to try out game updates or Steam updates before they're officially released. And many Steam users would like to join the beta programs to try new features ahead. However, it has been reported that the beta versions might lead to the invalid depot configuration error message.
To resolve the problem, you had better opt out of all the beta programs. Here's how to do that:
Step 1: Open your Steam client and click Steam > Settings.
Step 2: In the Account section, click CHANGE button next to Beta Participation in the right pane.
Step 3: In the pop-up window, choose NONE - Opt out of all beta programs option and click OK button.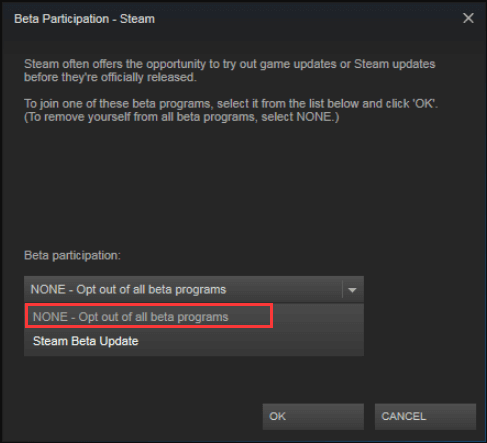 Step 4: Click OK button in the Settings window to save changes. Then, restart your Steam and check if you can install games without the invalid depot configuration error message.
Method 5: Reinstall Steam
If all above methods fail to fix the problem for you, perhaps there are some problems with your Steam installation. In this case, you might need to reinstall your Steam. To achieve the best results, you should uninstall Steam from your computer and remove all its remnants. Then, download the latest version of Steam from the official website and install it.