Recently, Microsoft announced that IE10 ends the support for Windows Server 2012. What should I do to upgrade from IE 10 to IE 11? If you are having the same questions, you come to the right place. There are answers you want to get in this post.
Microsoft Ends the IE 10 Support for Windows Server 2012
IE 10 has ended its support for both Windows Server 2012 and Windows Embedded 8 Standard on Feb. 11, 2020, announced by Microsoft. All the new security updates won't be provided, which means some potential risks may occur. So, It's high time to upgrade to the newer Internet Explorer 11.
Before IE 10 ends the support, Microsoft encourages users of Windows Server 2012 and Windows Embedded 8 Standard to use IE 11 before the deadline. To make sure the smooth running of everything on this browser, these Windows users will use pilot rings or test environments to run Internet Explorer 11.
Internet Explorer 11 Is the Final Version
Internet Explorer with IE 10 end of support is a part of Microsoft's plan to push users towards Microsoft Edge or IE 11. Moreover, IE 11 also falls out of support for users of Windows 7, as Windows 7 will end of support on January 14, 2020. However, IE 11 is available on Windows 10.
It's stated that most of Windows users are already using IE 11 or Microsoft Edge. The Users of Windows Embedded 8 Standard and Windows Server 2012 can get IE 11 through Microsoft Update Catalog.
Compared to Internet Explorer 10, Internet Explorer 11 has some new improved features. With Internet Explorer 11, you can enjoy a faster and fluid browsing experience. Besides, IE 11 supports plugin-free HTML5 video with the latest standards for closed captioning that takes advantage of available network, bandwidth, and rights management, so all your video content can be as good as the professionals.
How to Upgrade from IE 10 to IE 11
There are 2 effective ways to get this upgrade. You can directly enable updates in Internet Explorer 10 or download and install this upgrade.
Method 1. Enable Updates in Internet Explorer 10.
Step 1. Open Internet Explorer, and click on the gear-shaped icon on the top of the right corner of the Internet Explorer window.
Step 2. Then click on About Internet Explorer in the bottom of the drop-down menu.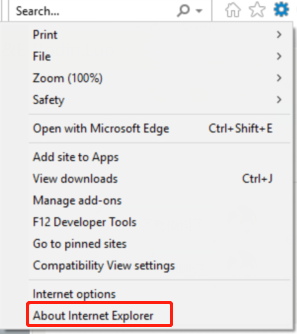 Step 3. Check the Install new versions automatically box in pop-up window.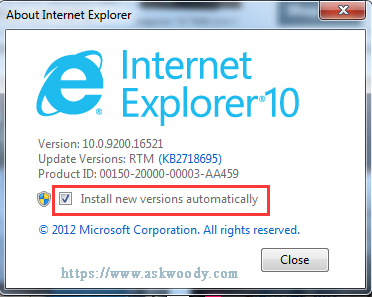 Step 4<. Click on Close at the bottom of the About Internet Explorer window, then your Internet Explorer will be updated automatically.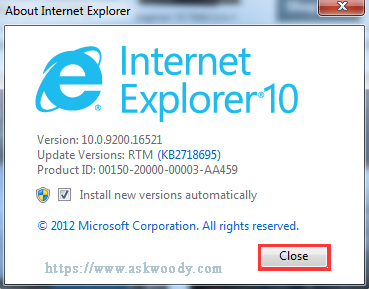 Well, all information about IE 10 end of support is told to you. Now, it's your turn to try to upgrade from IE 10 to IE 11.