Instagram is a popular social networking service that can be used to share videos and photos. If you don't expect strangers to view your posts, this article by MiniTool Partition Wizard can help you. Here you can learn how to make Instagram private.
Instagram is an image and video sharing social networking service developed by Meta Platforms, later acquired by Facebook Inc.. This service is available on iOS, Android, Fire OS, and Microsoft Windows devices.
On Instagram, you can upload your photos or videos and share them with your friends. By default, your Instagram is set to be public, which means your profile and posts can be seen by anyone, even if they don't have an Instagram account.
You might wonder how to make Instagram private so that only people you approve can see your posts and your profile. If you want to do so, please keep reading to figure it out.
Tip: If you are under 16 when you sign up for an Instagram account, the count will be set to private by default.
How to Make Instagram Private on Windows
If you are using the Instagram program on a Windows PC, you can follow the steps below to make your Instagram private.
Step 1: Run Instagram and sign in with your Instagram account.
Tip: How to make your Instagram account private on a web browser? Don't worry. It is the same as the operation on the application. You just need to sign in to your Instagram account on the web and follow the steps below. And the changes will be synced to the Instagram application. If not, restart your app.
Step 2: When you get the main interface of Instagram, click your profile icon located in the top right corner. Then select Settings in the pop-up menu.
Step 3: Select the Privacy and Security tab in the left pane. Then in the right pane, check the Private Account option under the Account Privacy section. The changes will be saved automatically.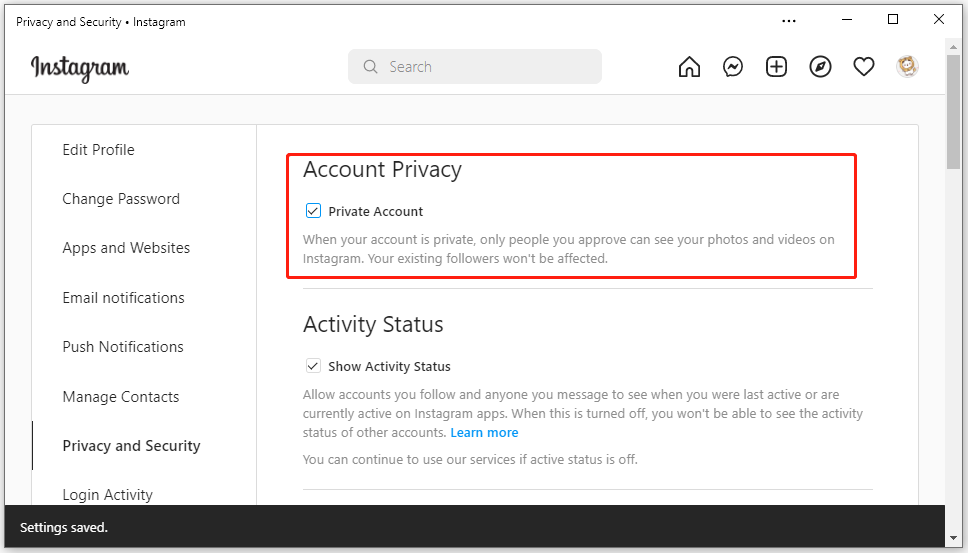 After that, only the followers you approve can view your posts on Instagram. Your existing followers won't be affected. If you don't want these followers to view private Instagram posts, you can block them on Instagram.
How to Make Instagram Private on Mobile
If you are using the Instagram application on an Android or iOS device, here are the steps you need.
Step 1: Open the Instagram app on your phone.
Step 2: Tap your profile picture in the bottom right corner.
Step 3: Tap the three-line icon in the top right corner and select Settings.
Step 4: Go to Privacy settings and select the Private Account option to make your Instagram private. 
You should be aware that if you share a private post to social networks like Twitter, it might still be visible to the public, depending on the privacy settings for Twitter.
When you want to make your Instagram public, you can go to the privacy settings again and uncheck the Private Account option this time.