How to lower ping for online gaming? If you are searching answers to this question, this post is worth reading. Several available methods are introduced in this post provided by MiniTool. Explore them now!
If you experience lag when playing online games, you'd better check your ping. If high ping is responsible for the lag, you need to lower ping manually. How to reduce ping? You may raise such a question.
In fact, this question is heatedly discussed recently. To help you fix the high ping, we summarize some methods and would like you share them with you in this post.
Method 1: Close Other Programs and Windows on the Computer
The simplest method to lower ping is to close all other programs and windows on the computer. In addition to that, you need to make sure that there are no active downloads running the background as that may affect the ping.
After executing the operations above, continue to play you game to see if it still lags. If the issue persists, try other methods immediately.
Method 2: Choose Nearest Servers
How to get lower ping? One of the easiest ways is to choose the nearest servers. Servers that are closest to your location will allow better communication between server to PC, which is helpful for lowering ping.
Method 3: Pause Updates in the Background
Though updates are vital your computer, they can wait. However, you may suffer high ping because of them as they can take you a lot of bandwidth. Hence, you can pause the updates while playing the online games.
You need to particularly pay attention to the antivirus programs on your computer because they update every day. Turning off the updates can decrease the ping
Method 4: Reset Network Settings
You can also try resetting network settings to get lower ping. Here are detailed steps.
Step 1: Open Settings by pressing Windows and I keys, and then click Network & Internet icon.
Step 2: Click Status option in the left pane, and then move to the right side of the window and scroll down the content to find Network reset. Click on it to go on.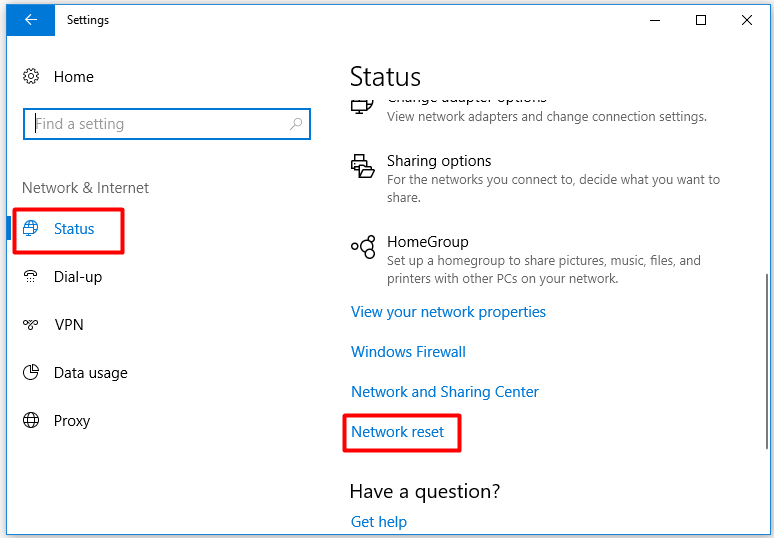 Step 3: In the next window, click the Reset now button.
Step 4: After clicking the Reset now button, you will receive a confirm window. Click Yes to allow the operation. Then the network settings will be reset automatically.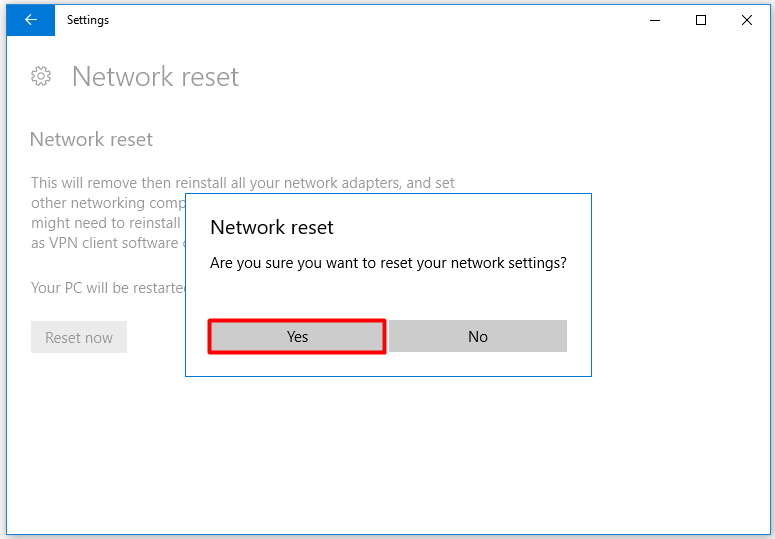 Method 5: Clean Your Computer
Performing a PC cleanup is suggested for lowering ping. If there are too much dust on the computer, PC ventilation will be affected. Then your computer can get overheating and result in crashing, black screen, or other issues.
Turn off your computer and then wipe the surface of the machine with a dry cloth. Places like CPU fan and ventilation ports should be cleaned up particularly.
Method 6: Optimize Game Settings
On the aspect of saving PC resource, it is vital to ensure the game settings are optimized. Though many graphics and ultra-settings are visually pleasing, they have an impact on framerates like ping. Hence, you'd better ensure that your graphics card, RAM, and processor support the settings configured for the smooth gaming experience.
To get more detailed information about game optimization, you can refer to this guide: How to Make Apex Legends Run Faster? Here's Optimization Guide
How to lower your ping? There are 6 methods for you. Pick one from them now!