computers will not boot when the MBR is broken. So how to fix MBR even without Windows 7/8/10 installation CD, DVD or USB Disk is an urgent requirement. Scan this paper, you will find the solution.
After a virus attack, I can't enter Windows 7 any more, and it seems that MBR has been damaged. Now, I'm eager to know how to fix MBR without Windows 7 DVD or CD disc (I just got the PC with Windows 7 preinstalled, so I don't have an installation disc). Is there a tool to help me complete this operation?
Indeed, if MBR (master boot record) is damaged, Windows will be unbootable since this boot code will perform the following actions:
Scans the partition table for the active partition.
Finds the starting sector of the active partition.
Loads a copy of the boot sector from the active partition into memory.
Transfers control to the executable code in the boot sector.
Tip: here MBR refers to the master boot code, not including partition table and disk signature.
Well, how can we repair the damaged MBR in Windows 7/8/10?
If you have a Windows installation disk, such as CD, DVD, and USB flash drive, fix MBR by doing these operations: choose "Repair your computer" or similar feature and run "Startup Repair". Or execute bootrec /fixmbr, bootrec /fixboot, and bootrec /rebuildbcd commands in Command Prompt.
But what if there is no Windows installation disk? Keep reading to get specific steps.
How to Fix MBR Without Windows 7/8/10 Installation Disk
To do this, you need to use bootable partition manager. It is a kind of tool that can boot computer and perform partitioning operations like fix MBR without loading Windows OS.
MiniTool Partition Wizard Pro Ultimate is highly recommended since it comes with the bootable media builder and brings no damage to data.
Firstly, please purchase MiniTool Partition Wizard Professional on a normally running computer.
Then, download, install, and register the program to get the window below: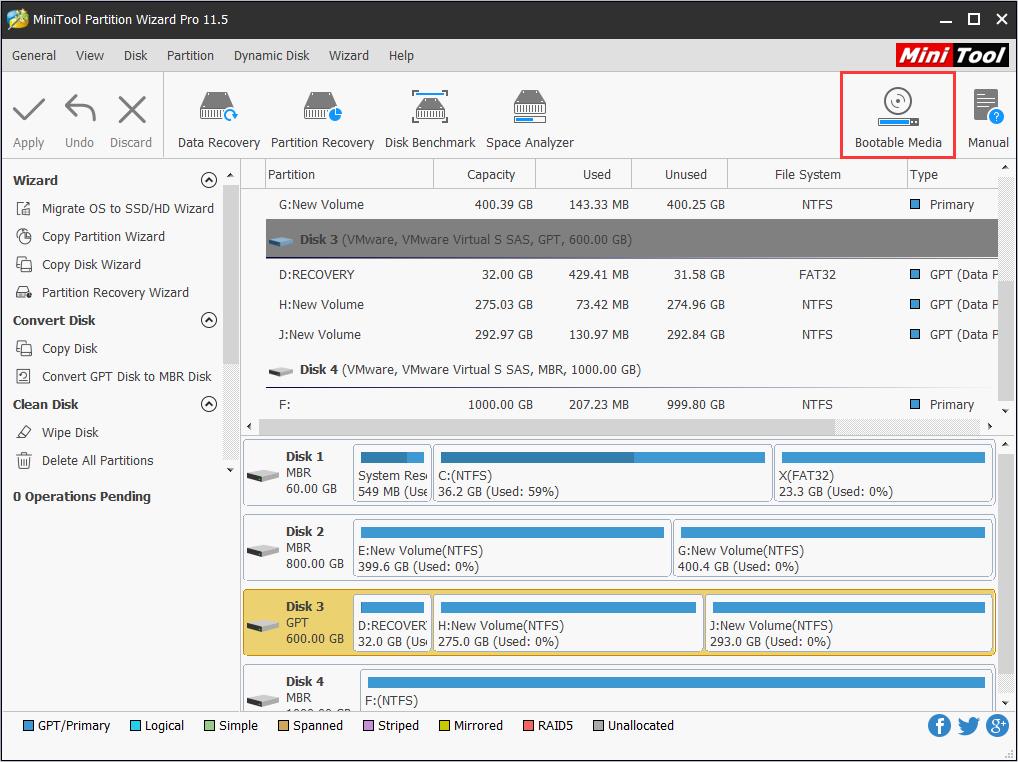 Here, please click the Bootable Media icon on the top right to run MiniTool Bootable Media Builder, and then refer to the post How to Build Boot CD/DVD Discs and Boot Flash Drive with Bootable Media Builder to create a bootable disc of Partition Wizard.
Then, boot computer from the bootable disc to get the main window of Partition Wizard below:
Tip: you may need to set boot order in BIOS for successful boot from the bootable disc.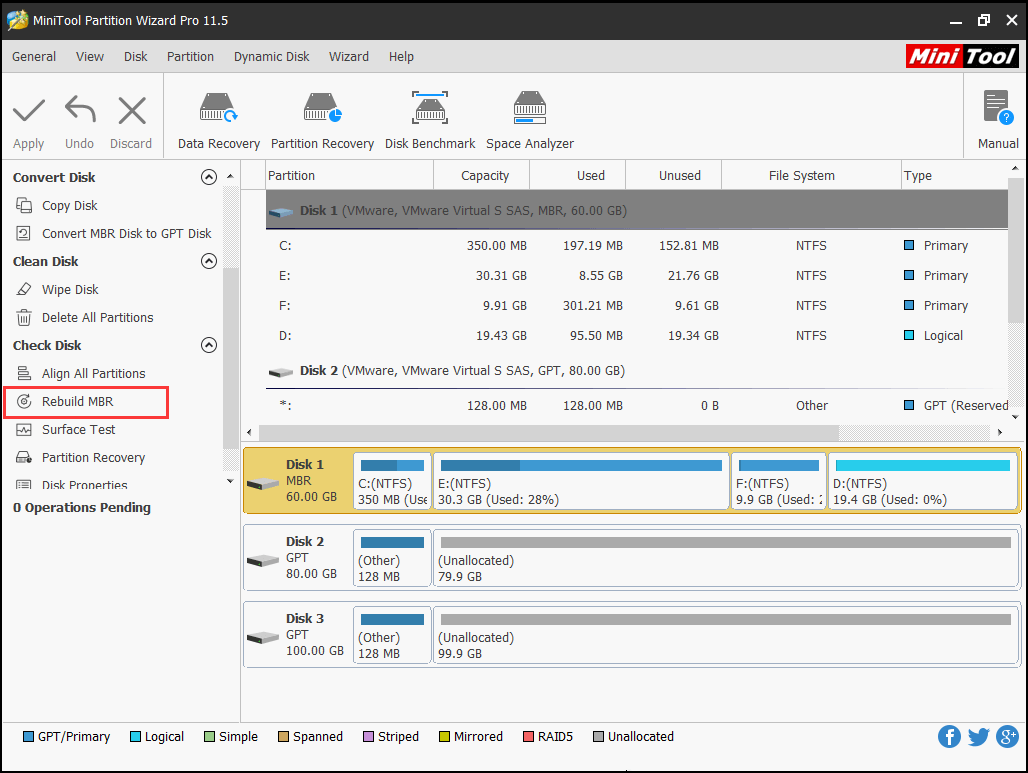 Next, select the disk whose MBR is damaged and choose "Rebuild MBR" feature from the left action pane. After that, a pending operation will emerge on the left: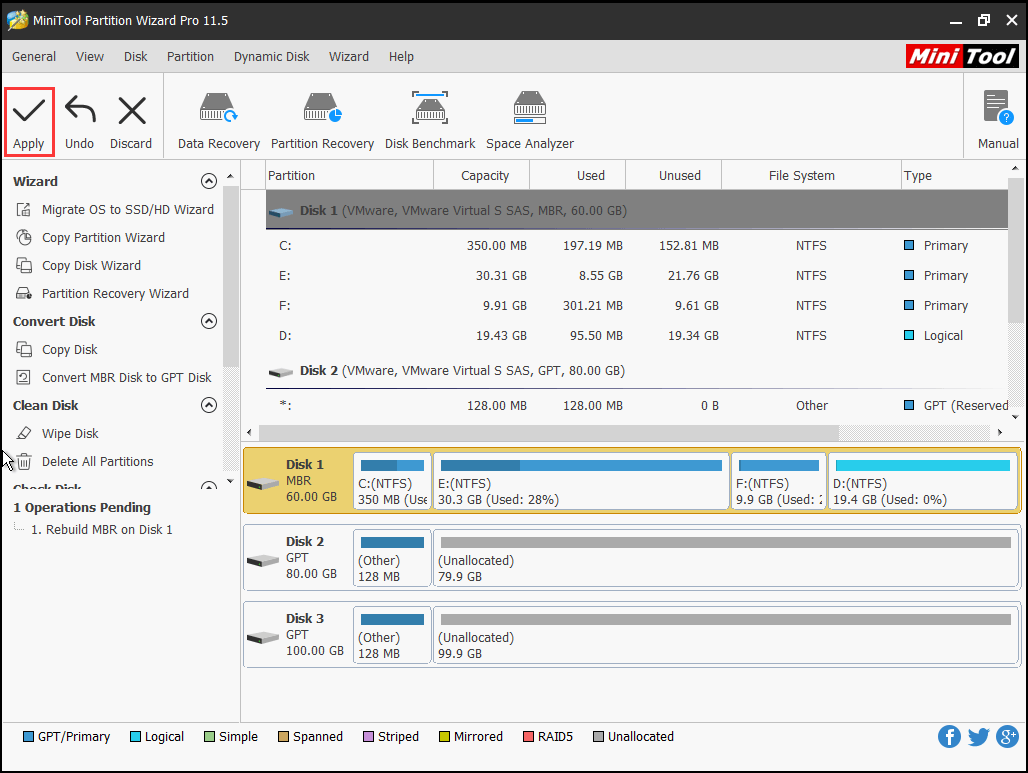 At this time, just click "Apply" to start fixing MBR, which just takes a few seconds. After the application is completed, please shut down the program, take out bootable disk, and boot computer from local disk. Then, Windows should be bootable again.
Now, all of you would know how to fix MBR without Windows 7.8/10 installation CD, DVD, or USB disk. For detailed help, please see Rebuild MBR.
Are you searching the way to fix MBR without installation disk? Just purchase MiniTool Partition Wizard Professional Edition to do this work now.