MiniTool would tell you how to find WPS pin for printer and how to connect your computer to HP printer wirelessly via the WPS pin for HP printer and the WPS push button in this post. To find the WPS pin on HP printer, read the post now!
If you are using an HP printer and trying to install the printer on Windows 10, you may need a WPS pint to connect the HP printer. Actually, you will be prompted with a window saying Enter the WPS PIN for your printer whenever you connect the HP printer on Windows 10.
What is the WPS pin? How to find the WPS pin for my printer? You can read the post with these questions in your mind.
What Is the WPS Pin
The WPS technology, launched in 2016, provides a high-security network of connections between devices. It was used for blocking other users from using Wi-Fi routers of owners at the very beginning. Then it was used for connecting the printer with a device remotely in the HP printers.
WPS pin is a sort of unique code, which consists of eight digits and allows the wireless connection between two or more devices. It makes connections between wireless devices and a router faster and easier. With this modern wireless technique, you can print your document even if the printer is in any corner of your office. It is very convenient to set up new devices or troubleshoot wireless connections with the help of WPS because you just need to enter a few numbers instead of a long and complex Wi-Fi password.
Note: WPS refers to Wi-Fi protected setup, which enables you to connect two or more devices without a physical wire.
Find the WPS Pin for HP Printer
Where is the WPS pin on my printer? Nearly all kinds of modern versions of HP printers such as HP Laser Jet, HP Envy 4520, HP Officejet 4650 include a screen on the top generating the WPS pin for the wireless connection. The printer generates a new WPS pin every time you're going to set up a connection between your PC and printer.
Tip: The unique code displays on the HP printers. The WPS pin can be found on an instruction sheet with information about setting up the wireless connection for your HP printer, but this may only available to older HP printer models.
However, old versions of HP printers like HP DeskJet 2652 and HP DeskJet 2600 don't have a screen. It may be hard to get the WPS pin code for some users on these printers.
Note: The WPS pin only works if your printer has a screen on it. If there's no screen on your printer, you need to build a wireless connection between your printer and computer via the WPS push button.
How to Connect to the HP Printer
You can connect your computer to the HP printer via the following methods. Pick one according to your condition.
Option 1: Use the WPS Pin
Step 1: Turn on the printer. If it is on, you need to restart it before moving to the next step.
Step 2: Open the control panel of the HP printer and then tap the Settings > Wireless button. Then the light will start blinking.
Step 3: Find and click Wi-Fi Protected Setup in the control panel of the printer, and then choose WPS PIN.
Step 4: A WPS Pin will be generated on the printer. You should notice that the WPS pin will be there on the screen for 8-10 seconds. If it's not working, you have to generate a new pin.
Tip: After you click on the WPS PIN option, an 8 digital PIN will appear on the HP printer screen.
Step 5: Enter the WPS pin for your HP printer on the computer screen and then your printer will be connected wirelessly with your Windows 10 computer.
Option 2: Use the WPS Push Button
Step 1: Turn on your HP printer.
Tip: Ensure that there are no error lights or codes on your small printer screen.
Step 2: Locate to the HP printer wireless button and hold it until your wireless lights start flashing.
Step 3: Navigate to your wireless router or Wi-Fi modem and find the WPS button. It looks like the icon below.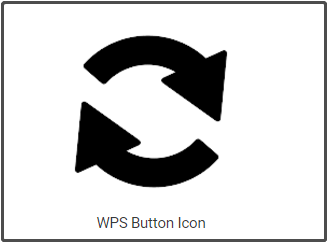 Step 4: Press and hold the WPS button for 3 seconds at least to connect your printer to your wireless network.
Step 5: Then the WPS light on your router will start blinking. Wait two minutes at least and check if the wireless light on your printer is steady blue light. If you see that, the light on the router's WPS should stop blinking too.
Step 6: Print a document from your computer wirelessly to check if the HP printer is connected.
How to find WPS pin for printer? The answer can be learned from this post. In addition, you can connect your PC to HP printers wirelessly with the given methods.