It is common and annoying to receive spam emails. To stop receiving emails from strangers, you can block emails from the specific senders. In this post, MiniTool Partition Wizard introduces you how to block emails on Gmail, Yahoo, and Outlook.
Most email users might have received various unwanted emails, such as spam emails, advertisement emails, unwanted personal messages, malicious emails, etc.
It might be annoying if you keep receiving such useless messages. Fortunately, there is a way to block them. It is also a good idea to make sure that you won't miss any important messages. Here is the tutorial on how to block emails on some popular email services, including Gmail, Yahoo, and Outlook, and you can have a try if you are using one of them.
How to block emails on Gmail
If you are wondering how to block emails on Gmail, you can follow the steps below.
Step 1: Open Gmail and log in with your account.
Step 2: Go to your Inbox and open an email from the sender who you want to block.
Step 3: Click the three-dot icon from the upper right corner of Gmail.
Step 4: In the pop-up menu, select Block "the sender".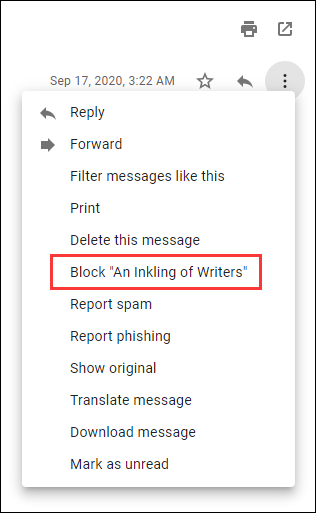 Step 5: After selecting Block "the sender", there will be a pop-up window for confirmation. You just need to click Block, and then future messages from the sender will be sent to Spam and you won't see them in the Inbox.
If you decide to unblock the sender, you can use the similar steps, and select Unblock "the sender". If you cannot find any messages from the sender you want to unblock, you can go to Gmail Settings > See all settings. Then choose Filters and Blocked Addresses tab, check the target blocked addresses, and click Unblock selected addresses.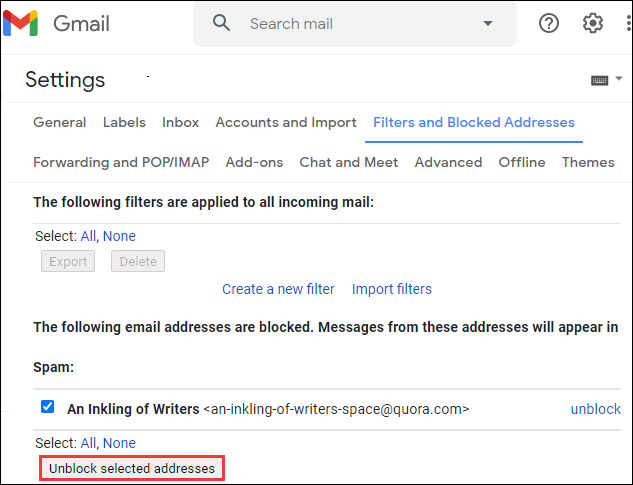 How to Block Emails on YahooMail
Yahoo Mail is the email service launched by an American company Yahoo. It was released in 1997. Similar to Gmail, Yahoo Mail also allows you to block unwanted emails according to your needs. Here are the detailed steps.
Step 1: Go Yahoo Mail and log in. Then navigate to the Settings.
Step 2: In the Settings, click Blocked Addresses.
Step 3: You will see the option for Add an address, and you just need to input the email address that you want to block. Then click Block to confirm the operation.
Step 4: Click Save to save the changes you have made.
Then all emails from the blocked address will be moved to the Spam folder automatically.
How to Block Emails on Outlook
Outlook is a free personal email and calendar from Microsoft. For Outlook users, it is also easy to operate to block emails. You can refer to the following steps:
Tip: The steps below should be applied in newer versions of Outlook.
Step 1: Open your Inbox in Outlook application.
Step 2: Right-click an email from the sender you need to block.
Step 3: Click Junk > Block Sender.
The blocked person could still send you emails, but these email would be moved to the Junk Email folder immediately once he or she send them.