If you don't want other gamers to see your Xbox status, you can appear offline Xbox manually. From this post of MiniTool Partition Wizard, you will learn how to appear offline on Xbox One/Series X/S via two methods.
Appearing offline doesn't impact your ability to play games online using Xbox Series X/S. It means that you can continue to enjoy online gaming. How to appear offline on Xbox One/Series X/S? Well, you can do that by directly hiding your online status through the Xbox console or using the Xbox app on your smartphone.
In addition to that, you are allowed to choose people who can see your Xbox status. To obtain detailed information, keep reading the post.
To learn the difference between Xbox Series X and Series S, please read this post.
How to Appear Offline on Xbox Consoles
Steps on Xbox One
Step 1: Sign into your account and click on the Xbox Home button twice. Alternatively, you can also navigate to the left to open the shortcuts/online pane.
Step 2: Tap on your personal icon at the pop-up menu.
Step 3: Press A to choose it and then hit A to open the shortcuts.
Step 4: Pick My Profile to open your profile information. Then you will see three options (Appear Offline, Customize Profile, and Privacy Settings) on the right side of the screen.
Step 5: Choose Appear Offline. Then your online status will be invisible to others including friends and enemies.
Steps on Xbox Series X/S
Step 1: Navigate to the home screen on your device and then press the up arrow on the controller's D-Pad to choose your profile at the top of the page.
Tips:
If you don't set a profile picture, you will see a generic profile icon. A circle appears around the picture when it's picked.
Step 2: After selecting the profile picture, press the A button on the controller to open your profile on the Xbox Series X/S console.
Step 3: Scroll down the Xbox Series X/S profile page to find Appear Online, and then click on the option.
Step 4: Select Appear Offline from the drop-down menu. The menu also includes three options (Appear Online, Appear Offline, and Do Not Disturb).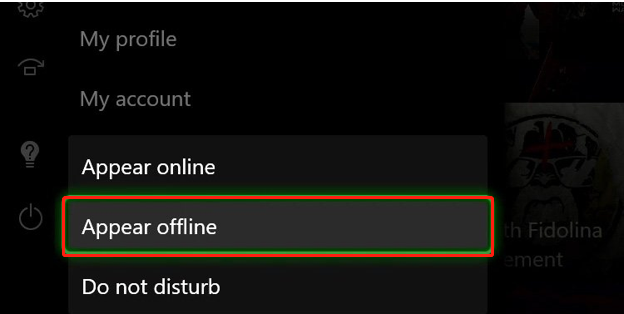 Step 5: Finally, exit the profile page.
Tips:
To appear online, follow the above steps and select Appear Online.
Further reading:
You can decide who can see your Xbox status. For instance, you can appear offline Xbox but your friends.
Locate to the home screen of Xbox and press the Xbox button on the controller.
Head to Profile & System > Settings.
Click Account > Privacy & online safety.
Choose Xbox Live privacy.
Tap View details & customize.
Select Friends under the Others can see if you're online
How to Appear Offline on Xbox Mobile App
Another way to appear offline Xbox is to use the Xbox mobile app that is free for Android and iPhone. To use it, you need to download, launch, and log in with the same credentials you use on Xbox. After that, follow the steps below to appear offline Xbox.
Step 1: Once you open the Xbox app, tap on the profile picture. It's usually located at the bottom right of the app's home page.
Step 2: Tap on the Appear Offline button below your profile picture and name. Then the green dot next to your picture will be removed and your Xbox status will be set to "Offline".
Tips:
You can swap between offline and online by clicking on the "Appear Offline" or "Appear Online" button.
How to appear offline on Xbox? Here are two methods for you. Just pick one to appear offline to your friends or other people.