In order to get more advanced functionalities, lots of users want to add bots to Discord server. How to add bots to Discord server? If you are also searching for the step-by-step guide, this post of MiniTool is what you need.
About Discord Bot
Discord is a popular chat app that enables you to talk to your friends while playing games. Lots of users want to create a bot to Discord server for more advanced functionalities.
What's a Discord Bot
What's Discord bot? It is necessary to figure this question out. A Discord bot can only be used on Discord that can provide more functionalities than a normal user has. With a Discord bot, users can create their own bot and use it to do whatever you want. It can behave like humans including chatting with others, manage server, and so on
What Bots Can Be Used for
There are 3 major discord bots including Chat Bot, Moderation Bot, and Music Bot. A Chat Bot can chat and tries to behave like humans. A Moderation Bot can automatically manage your server including mute, kick, and ban members via bot commands. Besides, it can control the level of spam.
A Music Bot can play music right from within Discord. You can use a Discord Bot to view information about the server or other users, create webbooks for a site, and create many new features, etc.  
How to add bots to your Discord server? Please read the following step-by-step guide.
How to Add Bots to Discord Server
Adding a Discord bot includes many necessary steps. Please keep reading carefully. Now, let's see how to add bots to Discord server.
Step 1. Make sure you have logged in to Discord correctly. First, you should ensure you log in to Discord. You need to log in to the desktop version of Discord that is often used. At the same time, you have to navigate to the Discord Browser version and make sure the account is logged into correctly in the browser.
Tip: To avoid leaking any login information, please use a private connection and activate the two-factor authentications.
Step 2. Invite the bot. Once you log in to the desktop or mobile versions of the app, you can create a Discord bot and add it to the server. Make sure that the Bot is online and can be communicated with and invited to a server. To do so, follow the steps below.
Click on the View option on a Bot and it will display a general information screen on the bot.
Click on Invite or Add, which depends on the website is being used to download the bot.
Then click on the purple button of Add to Server to confirm the selection.

Step 3. Select a server. You will see a list of servers that the bot can be added to, which depends on how much administrative power. Once the necessary managerial powers are confirmed, you can choose the server that the bot can be invited to.
Note: It is necessary to have managerial powers so that a Discord bot can be invited to a server.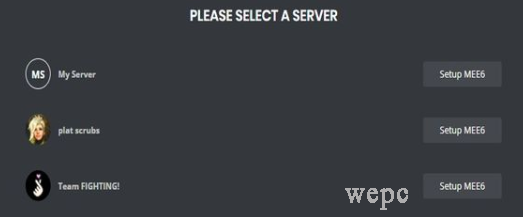 Step 4. Authorize the Bot. Make sure that you have selected the correct server and check all the Bot's powers. After that, click on the Authorize button at the bottom. Now, the Bot should be added to the server.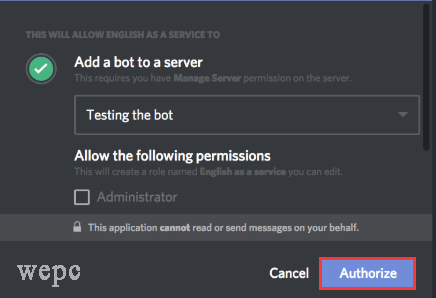 Step 5. Give a role for the Bot and create a Bot command channel. This step is suitable for those who have multiple bots. You can create a new role for the bot in the server Settings menu to keep the server tidy and order. Also, you can create a brand new text channel on the server and name it bot-command or bot-spam.
How to add bots to your Discord server? Detailed steps have been elaborated to you. Now, it's your turn to have a try.