Recently, Google warns Chrome will block "mixed content" from January 2020. Do you want to know what "mixed content" is? Why Google Chrome blocks it? How to check your site for mixed content? Come to this post. You will get all the wanted answers from MiniTool.
Google Warns Chrome Will Block "Mixed Content" from January 2020
To figure Google Chrome mixed content blocking out, you need to know "what is mixed content" first of all. Mixed content refers to a secure web page but also containing scripts, images, styles or some linked content that come from the insecure HTTP protocol, which will degrade the security of your HTTPS site and user experience.
To cope with this security risk, Google Chrome begins to introduce Chrome 79. This version will automatically upgrade the HTTP content to https on which HTTP resource exists. Besides, Google users can utilize an introduced toggle to unblock the insecure resources that Chrome is blocking.
For those publishers, this Google Chrome mixed content blocking warning may not a good experience. This is because blocking mixed content Google may contribute to fewer visitors, ad views and sales.
Why Google Chrome Blocks "Mixed Content"
The security risk that the mixed content brings should be the most important factor that triggers Google Chrome mixed content blocking. What exactly the security risk is? No more than an example can illustrate this problem.
If you are using a public Wi-Fi network (not so trustworthy) to browse a secure stock trading containing your stock's history record via HTTP, your record may be monitored. This is because mixed content that contains the scripts of HTTP could be modified.
Usually, the mixed scripts and iframes of images, videos, and even audio-content (active content) are most risky. It is bad that mixed content contains these scripts. If you are using HTTPS to browse a web page, all its resources should be pulled in via HTTPS as well, but not always like this.
So, to clean up these risky web pages, Google and other browser vendors are trying to block mixed scripts and iframes. Google will release Chrome 80 from January 2020, in which mixed audio and video resources will be loaded via a secure HTTPS. If they won't, Chrome will block them.
In Chrome 8.1, all mixed content will not be loaded by default. Well, Google also provides you with an option to enable mixed content if you need it.
How to Unblock Mixed Content Web Page?
Well, if you still want to visit a web page with mixed content, you have to click a link named Load unsafe scripts to unblock a mixed content script. (Note: we take Chrome 79 for example)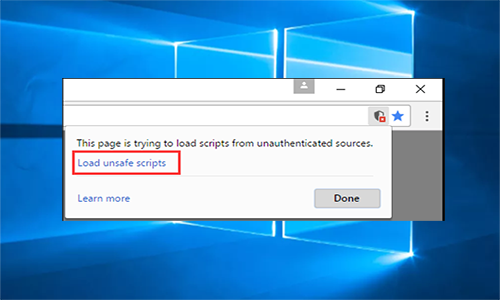 But you should notice that the web page will change from Secure to Insecure if you run the mixed content.
How to Check Your Websites for "Mixed Content"
You may wonder how to check your site for mixed content? There are several mixed content checkers.
If you want to scan the mixed content freely, JitBit SSL Checker is a good choice. It is an online mixed content scanner that can be used to scan up to 400 pages of your site.
For the WordPress site, you can use Really Simple SSL. It is a lightweight plugin that can be used to check and fix mixed content. And it can handle the migration to SSL. If the WordPress site is already migrated to SSL, then you can use SSL Insecure Content Fixer WordPress Plugin that can help you scan the mixed content and fix it.