Are you playing Ghost Recon Breakpoint on PC? Have you ever encountered Ghost Recon Breakpoint crashing at launch or during the gameplay? How to fix the problem? In this post, MiniTool Partition Wizard puts together the top 5 fixes to help you.
Tom Clancy's Ghost Recon Breakpoint is a military shooter set in a diverse, hostile, and mysterious open world called Auroa. You can play it entirely solo or in four-player cooperation. The game was released in 2019 by Ubisoft, available on Microsoft Windows, PlayStation 4, Xbox One, and Stadia. Windows users can get the game in Epic Games Store and Ubisoft Store.
Unfortunately, some players reported that they encountered Ghost Recon Breakpoint crashing at launch or during the gameplay. Reasons for the problem could be various. If you are bothered by the same issue, you can try the following methods to solve it.
Method 1: Delete the File DataPC_TGT_WorldMap.forge
DataPC_TGT_WorldMap.forge is a leftover file from Ghost Recon Breakpoint Beta. The file is useless and could cause Ghost Recon Breakpoint crashing issue. To solve the problem, you can try deleting the involved file. You just need to open File Explorer and navigate to the installation folder of Ghost Recon Breakpoint and delete the DataPC_TGT_WorldMap.forge file. Please do not delete other files.
Method 2: Install the Latest Game Patches
Ubisoft keeps releasing game patches for bug fixes and performance improvements. When you receive any problems while playing Ghost Recon Breakpoint, you'd better check if there are available updates. Download and install the updates and then check if the game runs properly. If Ghost Recon Breakpoint keeps crashing again, move to the next method.
Method 3: Verify the Integrity of Game Files
Ghost Recon Breakpoint crashing at launch or during the gameplay could also happen when there are corrupted or missing game files. Fortunately, Ubisoft and Epic Games Launcher allows you to verify game files in the client. You can have a try.
For Epic Games Launcher
To verify game files in Epic Games Launcher, you need to:
Step 1: Open Epic Game Launcher.
Step 2: Go to the Library.
Step 3: Click the three-dot icon for your Ghost Recon Breakpoint.
Step 4: In the pop-up menu, select Verify.
The process might take a few minutes to verify all the files. Once it's finished, launch your Ghost Recon Breakpoint to check if the problem disappears.
For Ubisoft Connect
If you are using Ubisoft Connect, you need to:
Step 1: In Ubisoft Connect, click the Games category to view your installed games.
Step 2: Click the downward triangle button for your Ghost Recon Breakpoint.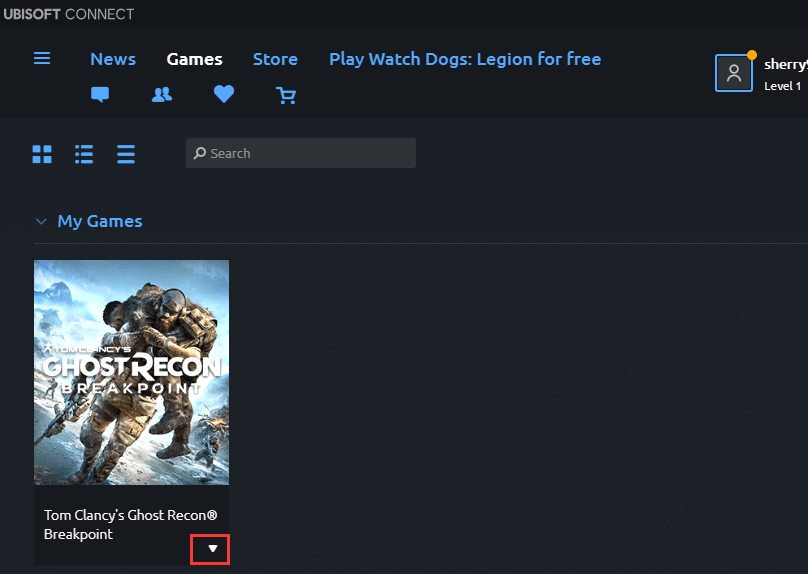 Step 3: Choose Verify files in the pop-up menu.
Wait until the process is completed, launch the game.
Method 4: Update Your Graphics Card Driver
A corrupted or outdated graphics card driver could be another reason for Ghost Recon Breakpoint crashing at launch. To troubleshoot the issue, you should install the latest driver software. You can follow the steps below to update the driver in Device Manager.
Step 1: Right-click the Start button and select Device Manager.
Step 2: Double-click Display adapters to expand it.
Step 3: Right-click your graphics card and select Update driver.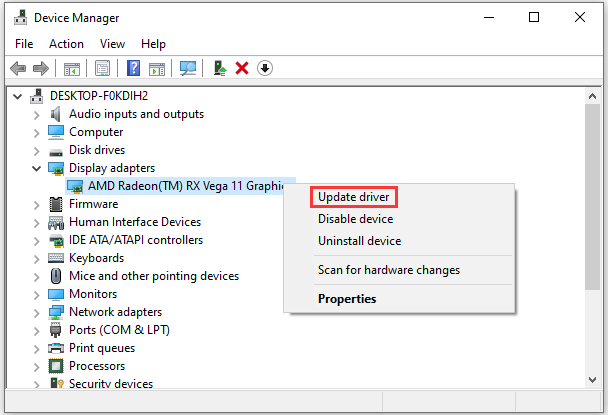 Step 4: Select Search automatically for updated driver software and follow the onscreen instructions to finish the operation.
When the latest driver software is installed, restart your computer and check if Ghost Recon Breakpoint has been solved.
Tip: If you are overlocking any components such as CPU or GPU, you can try stopping the overclocking to solve the crashing issue.
Method 5: Reinstall Ghost Recon Breakpoint
Some users have fixed Ghost Recon Breakpoint crashing by reinstalling the game. If all the solutions above don't work, you might need to reinstall the game. You can uninstall it in Epic Games Launcher, Ubisoft Connect, or Control Panel. Then download and install it in the launcher again to check if it works properly.