Do you like playing the game: 2048? Are you looking for some other games like 2048? Well, in this post, MiniTool Partition Wizard provides several games that are similar to 2048. Just take a look.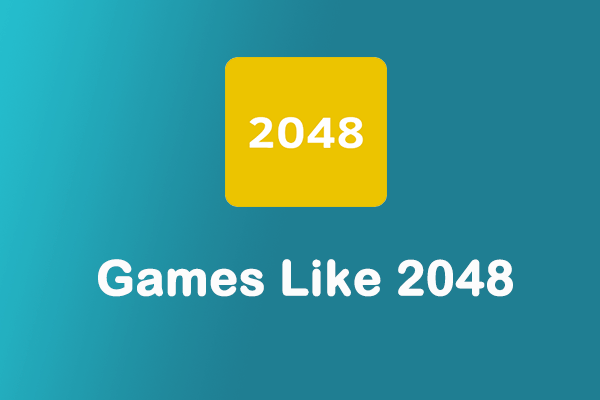 What Is 2048?
2048 is a single-player sliding tile puzzle video game that is published on GitHub, Inc. for free in 2014.
This game requires you to move the tiles with a number on them and combine the tiles that have the same number to create a tile with a bigger number.  Once the tile with 2048 is created, you win the game. But the victory doesn't mean the end of the game. You can continue to create larger numbers. How interesting 2048 is! 
Games Like 2048
If you are fond of this kind of game and want to try more 2048-like games, there are some alternatives to 2048 available below.
Threes
As one of the games like 2048, Threes is also a puzzle video game and it was released earlier than 2048. The cost of Threes is $1.99 and it can be played on iOS, Android, Xbox One, and Windows Phone.
Compared with 2048, the play rules of Threes are different. In the beginning, you can combine the tiles with 1 and 2 to create a new tile with the number 3. But next, you can just combine the two tiles that are both with 3 to make a 6, and then a 6 can only be paired with another 6 to create a 12, and so on.
In addition, there is no obvious sign that indicates you win the game. You can play the game all the time until the board fills up.
Another difference between the two games is that 2048 has ads at the bottom while Threes doesn't. Therefore, if you are tired of seeing ads, Threes is a good choice.
1024
1024, one of the 2048-like games, is the source of 2048. It was developed by rmaalouf and is free to play. In this game, you should use your arrow keys to move and merge the tiles with the same number until you get the 1024 tile.
In 1024, what may trouble you is that it contains some ads.
Hexic 2048
Hexic 2048 is one of the games like 2048 but bigger than 2048. It was developed by SmartPlayland and you can download it free (includes in-app purchases). Similar to 2048, you also need to combine tiles with the same number to get 2048.
As we can learn from its name, the game is played on a hexagonal board. What's more, it provides you with several different grid styles and modes to use while playing the game. You can choose three kinds of modes: Classic, Survival, and X-tile. In addition, you can determine which hexagonal grid to play on, 2x2x2, 3x3x3, 4x4x4, or 5x5x5. The difficulty and goals change depending on what style and mode you choose.
Also read: Play Local Multiplayer Games With Your Friends On Steam
Impossible Nine: 2048 Puzzle
When it comes to games like 2048, Impossible Nine is highly recommended. It was published by Zabaron Games and can be downloaded for free. But it still contains in-app purchases. Besides, you will see some ads in this game.
When playing Impossible Nine, you need to merge three tiles with the same number to get a larger number. Is it more challenging? If you are interested in this game, you can have a try. 
Shoot N Merge
Another one of the games like 2048 but bigger is Shoot N Merge. It was published by Metajoy and can be played online for free.
Although Shoot N Merge is one of the games like 2048 online, it is a little different from 2048. There is no need for you to create a specific number when you play the game. You just need to combine tiles with the same number and try your best to create a very large number.
Some games like 2048 are listed in this post. You can choose what you like and enjoy yourself. If you know any other good games like 2048 online, you can leave a message in our comment part.