Are you looking for methods to fix the
Far Cry 6 black screen
issue? If so, you are at the right place. In this post,
MiniTool Partition Wizard
provides a couple of methods that may help you solve this issue. You can have a try.
Far Cry 6, the successor to Far Cry 5, is a 2021 first-person shooter game that is developed by Ubisoft Toronto and published by Ubisoft. It's popular with plenty of players around the world and can be played on various platforms, including Windows PC, PS4/PS5, Xbox One, Xbox Series X|S, etc.
You can get much fun while playing Far Cry 6, the wonderful action-adventure game. However, sometimes you might be prevented from playing this game due to the Far Cry 6 black screen PC issue. This issue often occurs on the startup after an update.
How can you fix the Far Cry 6 black screen on startup PC issue? Here are some solutions available below. You can take a look.
Solution 1: Verify Game Files
If some game files get corrupted or missing, you may experience the Far Cry 6 black screen PC issue. To get rid of this issue, you should verify the integrity of your game files.
For Epic Games Launcher
Step 1: Open Epic Game Launcher and then go to Library.
Step 2: Select Far Cry 6 and click the three-dots icon. Then select Verify from the drop-down menu.
For Ubisoft Connect
Step 1: Launch Ubisoft Connect and then go to the Games tab.
Step 2: Select Far Cry 6 and select Properties.
Step 3: Click Verify Files. If prompted, click Repair to restore corrupted or missing files.
Once the process is completed, relaunch this game to see if the Far Cry 6 black screen on startup PC issue is resolved.
Solution 2: Disable the Ubisoft Connect Overlay
If you are playing Far Cry 6 through Ubisoft Connect, you can try to fix the black screen by disabling the Ubisoft Connect overlay. Below is the detailed guide.
Step 1: Open the Ubisoft Connect app.
Step 2:  Click the three horizontal lines icon at the top-left corner and then select Settings from the opened menu.
Step 3: Go to the General tab. Then uncheck the Enable in-game overlay for supported games option.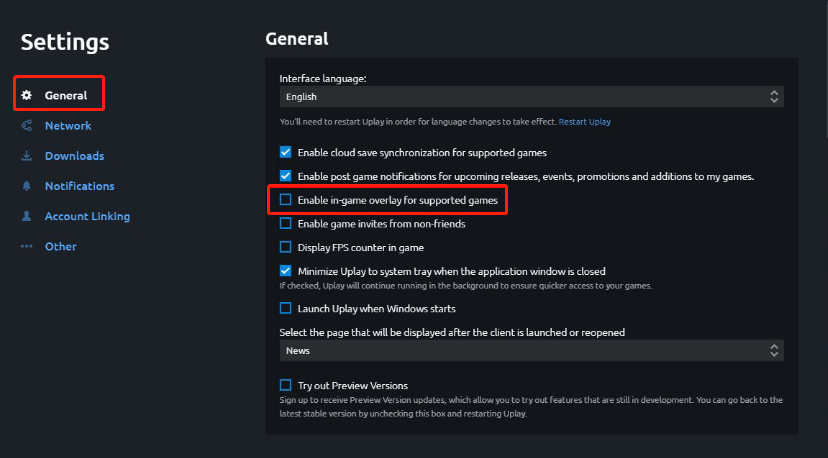 Solution 3: Switch to Windowed Mode
It's also possible to solve the Far Cry 6 black screen on startup PC issue by changing the display mode of the game to windowed mode. To do this, you just need to press Alt + Enter on your keyboard. After that, the minor glitches that may cause the error can be removed.
Solution 4: Update Your Graphics Driver
The outdated graphics driver in your system may lead to the Far Cry 6 black screen after update as well. In this case, it's recommended that you update your graphics driver to get rid of this issue. You can follow this guide to finish the update: How to Update Graphics Card Drivers (NVIDIA/AMD/Intel)?
Solution 5: Check for Windows Update
Another solution to the Far Cry 6 black screen PC issue is to update your Windows. To execute the operation, you can press Windows + I to open Windows Settings, go to Update & Security > Windows Update, and then click Check for updates from the right side. If any update is available, click Download & install.
Solution 6: Perform a Clean Boot
The Far Cry 6 black screen after update issue may happen due to software conflicts as well. On this occasion, you can try to avoid possible conflicts that cause the black screen issue by performing a clean boot. To get details about this operation, this post is worth reading: How to Clean Boot Windows 10 and Why You Need to Do So?
Solution 7: Reinstall Far Cry 6
If none of the above solutions works, you can consider resolving the Far Cry 6 black screen PC issue by reinstalling this game. Here's how to remove and then install Far Cry 6 back.
Step 1: Press Windows + R to open the Run dialog.
Step 2: Type appwiz.cpl in the text box and then press Enter.
Step 3: In the Uninstall or change a program window, find and right-click Far Cry 6. Then select Uninstall to remove it from your PC.
Step 4: After you uninstall Far Cry 6, reinstall it from Ubisoft Connect or Epic Games Launcher according to your condition.
Further reading:
To make sure you can run games like Far Cry 6 smoothly and fast, you should check your game disk regularly. And if necessary, you can upgrade your hard drive with a new SSD to improve the PC performance for gaming. To check disk health, we highly recommend MiniTool Partition Wizard to you. This disk checker helps scan and fix file system errors, scan bad sectors, test disk speed, and more. If you need this program, you can download it by clicking the following button.
MiniTool Partition Wizard FreeClick to Download100%Clean & Safe
All the methods mentioned in this post are feasible. If you encounter the Far Cry black screen PC issue, you can try these methods one by one until you fix it. If you have any other great solutions to this issue, you can share them with us in the comment part below.