"Failed to install BattlEye Service" is an annoying error that may occur when you are trying to start your game. Fortunately, this error can be fixed easily. In this post, MiniTool provides 6 methods to help you fix the problem that BattlEye failed to be installed.
Some game lovers report on the forum that they receive the error of failed to install BattlEye Service PUBG when they are launching PUBG. But actually, this error might also happen to other games like Fortnite, ARMA 3, Tom Clancy's Rainbow Six Siege, etc.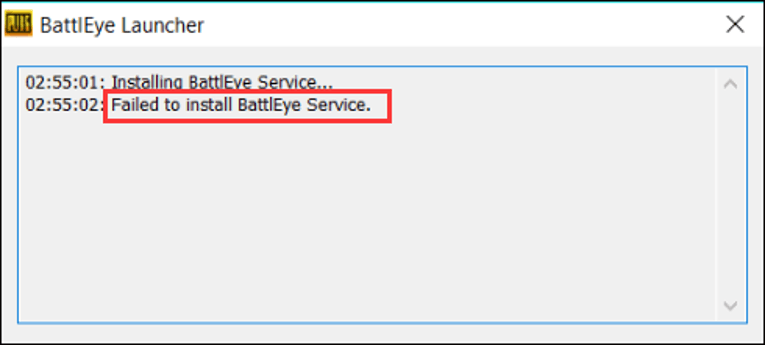 This error indicates that your BattlEye failed to be installed or your BattlEye launcher failed. This is a rather frustrating problem for gamers. Commonly, a simple restart of your computer can fix most problems including failed to install BattlEye Service.
Even if restarting computer can't resolve this problem, you don't worry. You can fix it by yourself with the methods given below. Let's check them one by one.
Fix 1: Run Your Game as Administrator
At first, you can try run your game as administrator to fix this error.
Step 1: Right-click the shortcut or executable file of your game and click Properties.
Step 2: Switch to Compatibility tab, check Run this program as an administrator and click Apply and OK.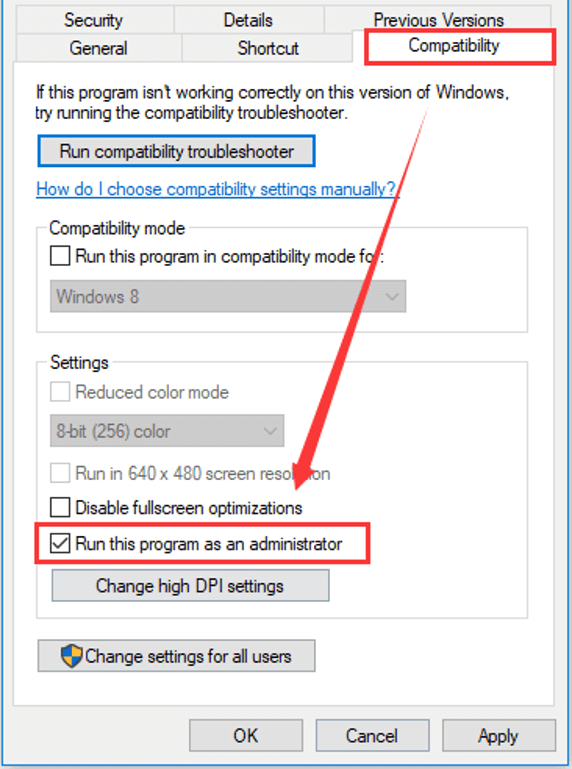 Step 3: Double-click the shortcut or executable file of the game to launch it and check if failed to install BattlEye Service error is fixed.
Fix 2: Run BattlEye Launcher as Administrator
As BattlEye launcher failed in this error, you can try run BattlEye launcher as administrator similarly.
To locate your BattlEye launcher, you have to open File Explorer and find it in your game folder. The BattlEye launcher is an executable file but there is a "_BE" at the end of its name.
Once you find it, run it as administrator referring to the steps in the last fix.
Fix 3: Run BattlEye Installer Manually
Commonly, BattlEye will be installed automatically when your launch your game. But if BattlEye failed to be installed during the process, you can choose to run BattlEye installer manually.
Just go to BattlEye Service directory in File Explorer (usually C:\Program Files (x86)\Common Files\BattlEye). Then, double-click install_BattlEye.bat (or install_BattlEye in some cases) to install the BattlEye Service.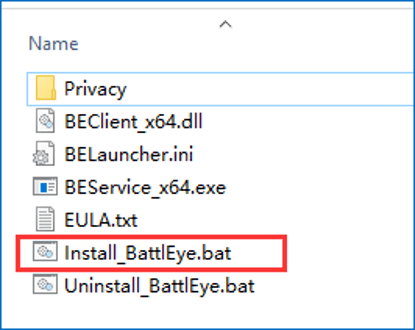 Once it's done, run your game again to check if the error is fixed.
Fix 4: Verify the Integrity of Game Files
If some of your game files get corrupt or missing, you might also receive "failed to install BattlEye Service" error. In this case, you can verify the integrity of your game files in Steam. The instructions are as below:
Step 1: Open and log in to your Steam.
Step 2: Go to LIBRARY, right-click the problematic game and choose Properties.
Step 3: Switch to LOCAL FILES tab and click VERIFY INTEGRITY OF GAME FILES.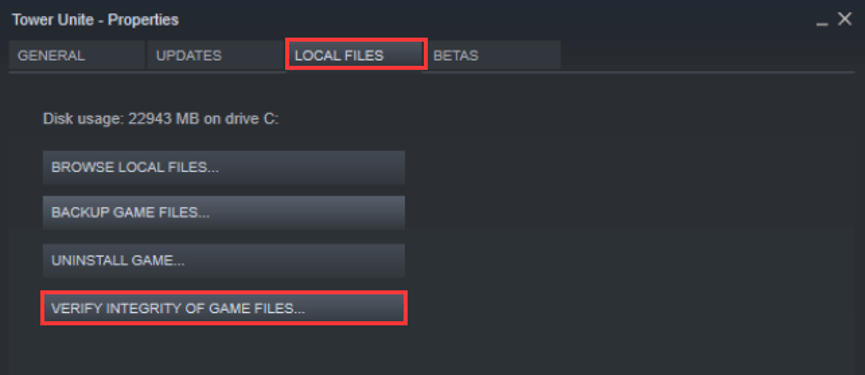 You need to wait for the validation to complete. Then, exit the window and launch your game to check if the mentioned error is resolved.
Fix 5: Update Your Device Drivers
An outdated device driver is another reason for failed to install BattlEye Service error. So, you should spend some time updating your drivers, especially these marked with exclamation in Device Manager.
Step 1: Right-click Start button and choose Device Manager.
Step 2: Find and right-click the driver you want to update or which needs to be updated, and then choose Update driver from the context menu.
Step 3: Choose Search automatically for updated driver software to continue and wait for the process to complete.
You can update other drivers as your needs referring to these steps. After updating device drivers, restart your computer and you should be able to launch your game without any problem. Of course, you can also use third-party software like Driver Easy Pro to detect problematical drivers, and then search, download, and install the latest driver version with just one click. Here is the guide:
Step 1: Install Driver Easy and launch it. Click the Scan Now button.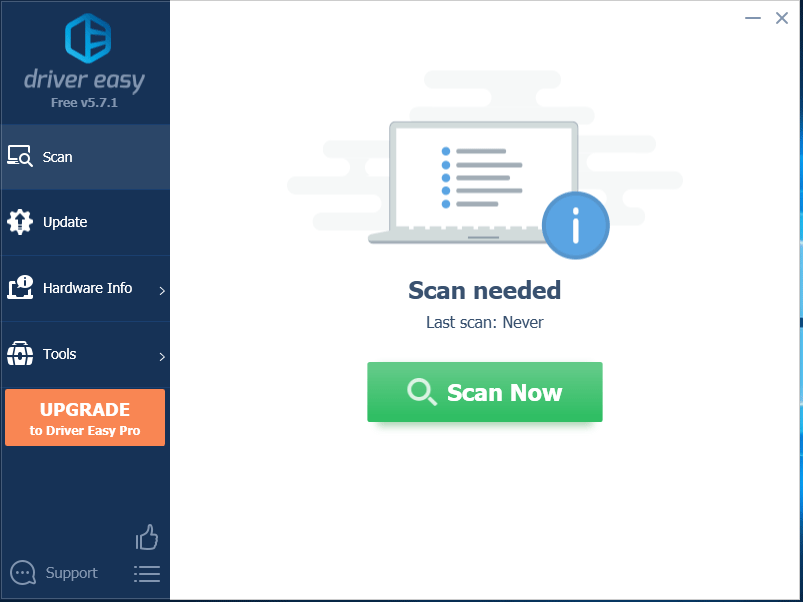 Step 2: After the scanning process is completed, click the Update All button to download and install the latest drivers for all devices with outdated drivers.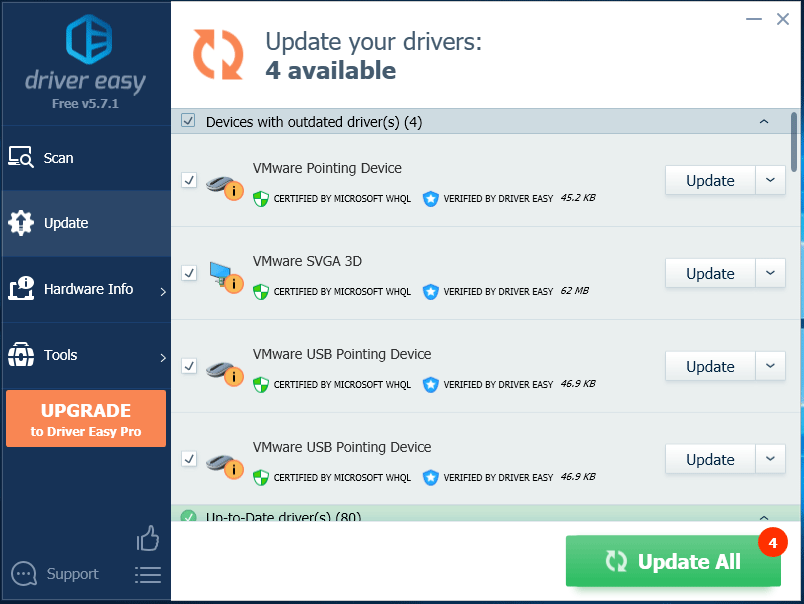 Fix 6: Scan for Virus and Malware
If all the methods above fail to fix the issue, you might need to consider performing a full scan for your computer to remove the threats from viruses and malware. You can use your trusted antivirus program or the built-in Windows Defender tool.
To scan with the latter tool, just follow the instructions below:
Step 1: Press Windows + I to open Settings app.
Step 2: Go to Update & Security > Windows Security > Virus & threat protection.
Step 3: When you enter Windows Defender Security Center, click Run a new advanced scan. Then, choose Full scan and click Scan now button in the new interface.