Summary :
Jade Empire is supported on many platforms, including Xbox, Windows PC, macOS and mobile phones. Some Windows users complain that they receive an error message "failed to find Steam" after they download the game from Steam. To solve the problem, MiniTool introduces some solutions here.
Jade Empire is an action role-playing game, popular among game lovers. It's developed by BioWare and originally published by Microsoft Game Studios as an Xbox exclusive. As more and more players are playing this game, it's supported on various platforms now, such as Microsoft Windows PC, mac OS and mobile platforms.
However, many Windows users have reported that they couldn't play this game normally as they got an error message which shows that Jade Empire failed to find Steam. In the following contents, some solutions reported by users who have solved this issue are listed and you can try them one by one if you're bothered by the same problem.
Solution 1: Change the Steam.dll File Path
Jade Empire failed to find Steam error might happen as your Steam path settings are messed up, especially when your Steam folder is located in a different drive from your Steam library. In this case, what you need to do is to place the Steam.dll file in the game's directory.
Step 1: Right-click the Steam shortcut on desktop and select Open file location to navigate to the Steam's installation folder.
Tip:
If you don't have a shortcut, you can navigate to the installation folder manually. Just press Win + E to open
File Explorer
and then find the folder where your Steam is installed. By default, it's in
Local Disk C
>
Program Files
/
Program Files (x86)
.
Step 2: Copy Steam.dll file and paste it to the library folder where your Jade Empire is located. By default, it's in Steam > steamapps > common.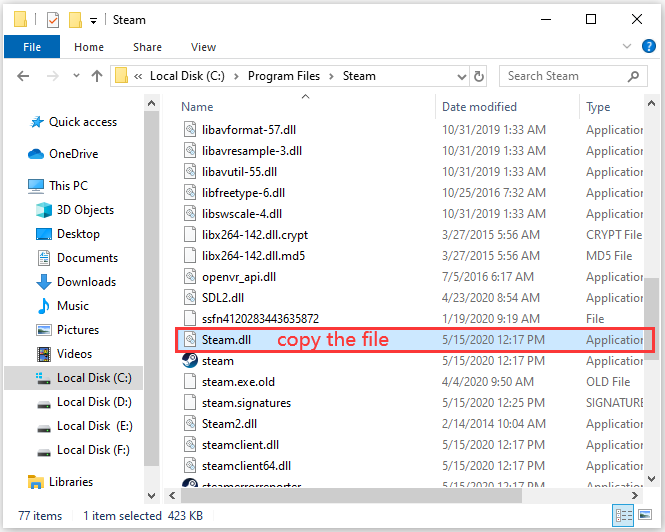 Tip: If you have multiple libraries and you can't find the Jade Empire folder, you can launch your Steam client and go to LIBRARY. Then right-click your Jade Empire and select Properties. Select LOCAL FILES tab and click BROWSE LOCAL FILES option to navigate to Jade Empire folder quickly.
Then you can try launching Jade Empire from Steam again and check if it works properly.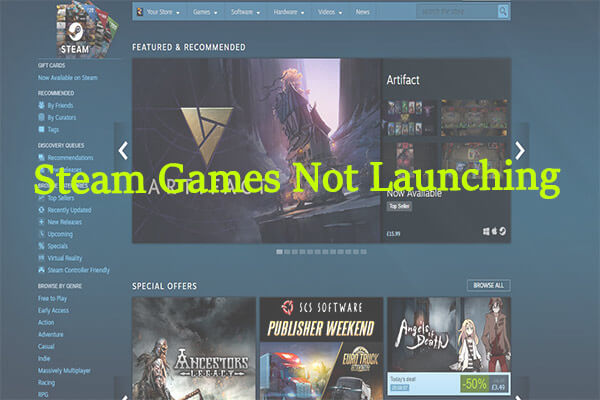 Are you experiencing Steam games not launching issue? Don't panic. Here are 4 methods you can take to get rid of Steam not launching games problem.
Solution 2: Restart Steam as an Administrator
Another way to fix Jade Empire failed to find Steam error is to restart Steam as administrator. It's easy to operate and you should have a try.
Step 1: Completely exit Steam.
Step 2: Right-click the shortcut or executable of Steam and select Properties.
Step 3: Switch to Compatibility tab and check Run this program as an administrator under Settings section.
Step 4: Click Apply and OK to save the changes you have made.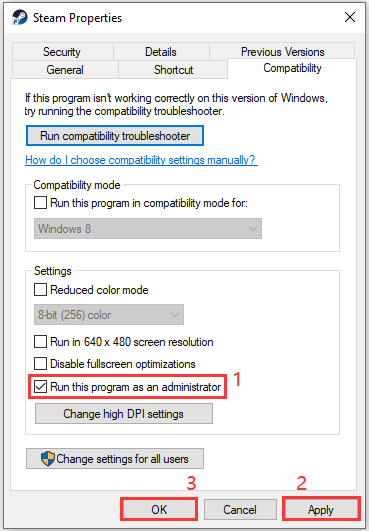 Now you can double-click the Steam shortcut to run it and try to open your Jade Empire. If it still fails to launch due to the message "failed to find Steam", you need to move on to the next solution.
Solution 3: Lower the Security of UAC
There are some cases where the User Account Control (UAC) cases problems with third party executables when it tries to overprotect your computer from malware attacks. Some users have fixed Jade Empire failed to find Steam error by lowering the UAC. Here is how to do it.
Step 1: Press Win + S to open Search utility. Then search for Control Panel and open the app.
Step 2: Change the View by option to Large icons and then select User Accounts.
Step 3: Click Change User Account Control settings hyperlink.
Step 4: In the pop-up window, try decreasing the UAC value by one and click OK. Then check if the problem disappears. If it still exists, you might need to repeat the process or even turn off the UAC.