A great many people are confused about Cloudflare DNS. If you are also trying to figure it out, this post of MiniTool is worth reading. It introduces the definition, status check, speed test, login, and setup of Cloudflare DNS servers in detail.
About Cloudflare DNS
Before you switch to the Cloudflare DNS servers, it's necessary to have an overall understanding of this DNS server. Here we will explain it from the aspects of definition and DNS settings.
What Is DNS
DNS refers to Domain Name System that can translate the domain names you typed in a browser to the IP addresses asked to access those sites. It allows your device to access the internet that you would like to. When you connect to a internet, ISP will assign you DNS servers.
A good DNS server can help you get faster internet speeds, access to region-blocked content, and obtain enhanced protection. There are many different DNS servers in the market like Cloudflare, OpenDNS, Google Public DNS, Alternate DNS, etc. Here we will focus on Cloudflare DNS.
What Is Cloudflare DNS
What is Cloudflare DNS server? Cloudflare DNS is an enterprise-grade DNS server that should be on the top rank of the web security and web performance industry. With the Cloudflare login, you can enjoy an impressive performance, unparalleled redundancy, fastest response time, and airtight levels of privacy.
Cloudflare collaborates with multi-national accounting organization (KPMG) to audit systems annually, which make sure the the Cloudflare DNS insists on its commitment. In addition, the primary Cloudflare DNS servers are regarded as the fastest DNS service in the world and will never sell your data to target ads and never log your IP address.
What Are Cloudflare DNS Settings
Before you switch to this DNS server, it's necessary to figure out the Cloudflare DNS settings. What are Cloudflare DNS configurations? The answer varies depending on you are using IPv4 or IPv6 DNS address. Here we summarize them as follows:
Cloudflare IPv4 DNS:
Primary DNS server: 1.1.1.1
Secondary DNS server: 1.0.0.1
Cloudflare IPv6 DNS:
Primary DNS: 2606:4700::1111
Secondary DNS: 2606:4700:4700::1001
How to Check Cloudflare Status
Is Cloudflare down? Sometimes you may experience some errors and issues like "Error 523 Origin is unreachable" due to Cloudflare internet outage/down. Under this circumstance, you need to check the Cloudflare DNS server that is in charge of your area. To check the Cloudflare status, you can visit the official Cloudflare System Status webpage.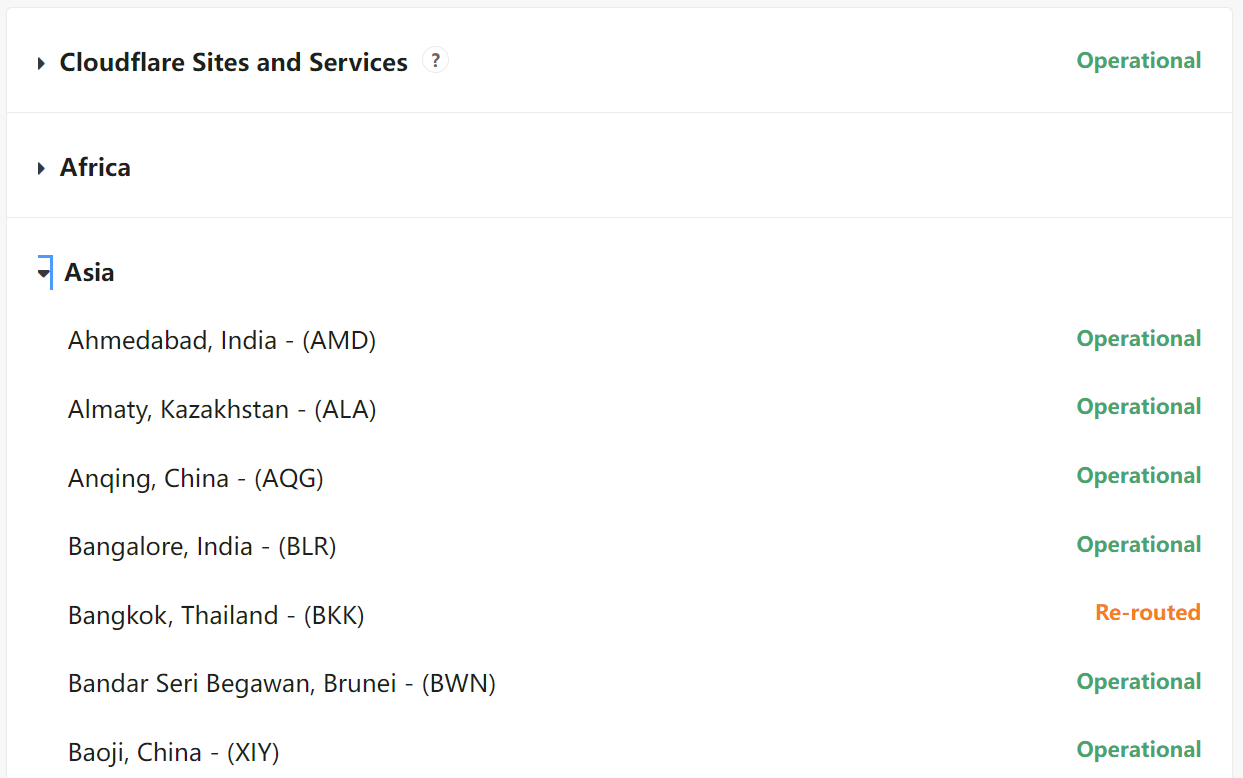 If the Cloudflare status of your location displays Re-routed or Inactive instead of Operational, it might be an indication of Cloudflare internet outage and you need to wait until the developers fix the server issue.
How to Log in Cloudflare DNS
Where and how to log in to Cloudflare DNS? Many people are confused about the Cloudflare login procedure. First of all, you need to register a Cloudflare login account. To do so, you can visit the "https://dash.cloudflare.com/login" site and click on Sign up, and enter a valid Email address and >Password, and confirm it. Then you can start using it to protect your internet or devices.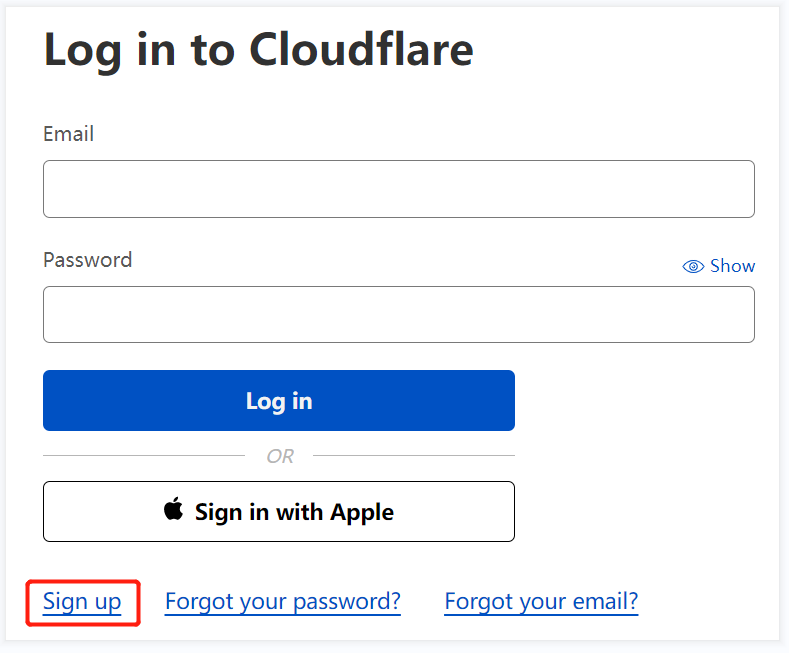 If you already have an Cloudflare account, you can visit the Cloudflare login site, enter your email and password, and click on Log in to use this service directly. Alternative, you can sign in with your Apple account if available.
Is Cloudflare DNS Fast
Is Cloudflare DNS fast? Of course, yes. It's regarded as the fastest DNS service in the world. If you want to perform a Cloudflare speed test, the simple way is to visit the "https://speed.cloudflare.com/" site which will show you the Internet speed, Upload speed, ping, server location, download speed, and IP address of your internet.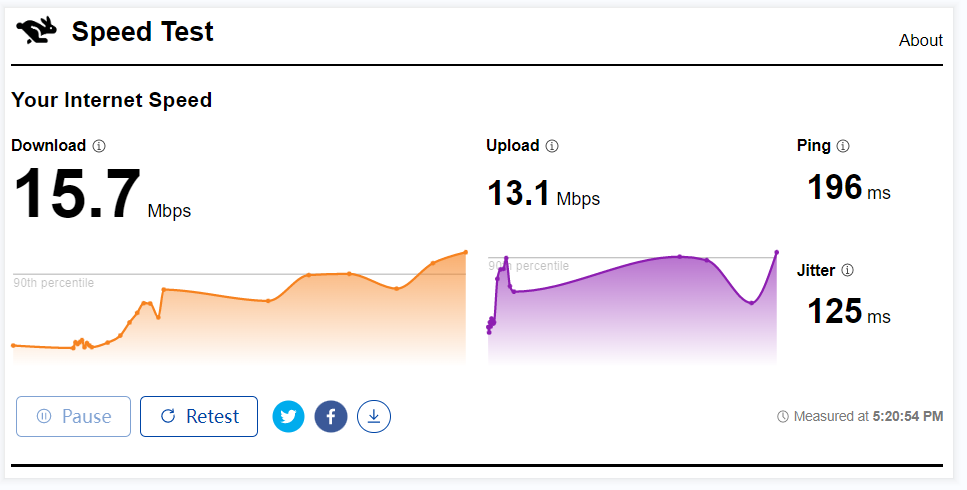 How to Set up Cloudflare DNS Servers on Windows 10/11
If you are experiencing some lagging or stuttering issues, you can try switching to the Cloudflare DNS servers, which can help you speed up the download/upload speed. Here's how to configure Cloudflare DNS settings on Windows 10/11.
Step 1.  Open your Control Panel from the Start menu.
Step 2.  Change the View by type to Category, and then navigate to Network and Internet > Network and Sharing Centre > Change adapter settings.
Tips:
On Windows 11, you need to open Network and Internet window, scroll down to the DNS server assignment and click on Edit. Then select Automatic (DHCP) > Manual and set up the Cloudflare DNS settings for IPv4 or IPv6 as the same procedure as on Windows 10.
Step 3.  Right-click the Ethernet or WiFi network and select Properties.
Step 4. Navigate to the Networking tab, and then select Internet Protocol Version 4 (TCP/IPv4) and click on Properties.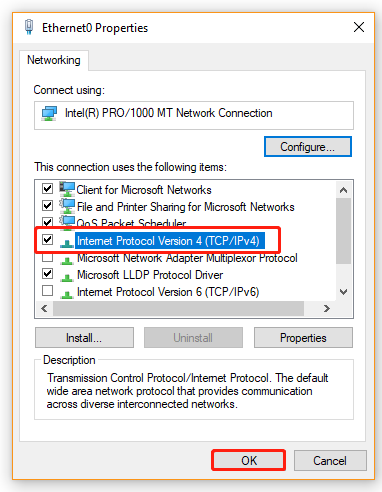 Step 5. Select the Use the following DNS server addresses option, and then set the Preferred DNS serverand Alternative DNS server to the following addresses. After that, click on OK to save the changes.
1.1.1.1
1.0.0.1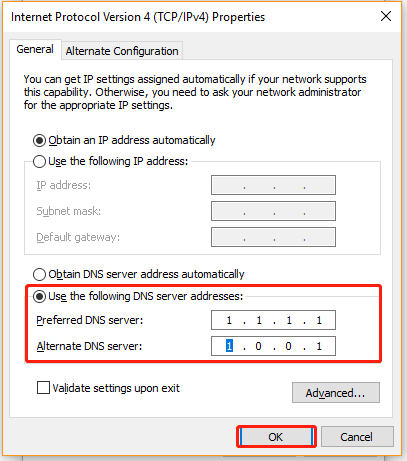 Step 6. Go to the Ethernet Properties window like Step 4 and select Internet Protocol Version 6. Then click on Properties > Use the following DNS server addresses and set the Preferred DNS server and Alternative DNS server to the following addresses. Then click on OK.
2606:4700:4700::1111
2606:4700:4700::1001
Further Reading: Do you want to manage your partition and disk on Windows effectively? MiniTool Partition Wizard is a good choice that can help you extend/resize/delete partition, convert a disk to MBR/GPT, migrate OS, etc.