Summary :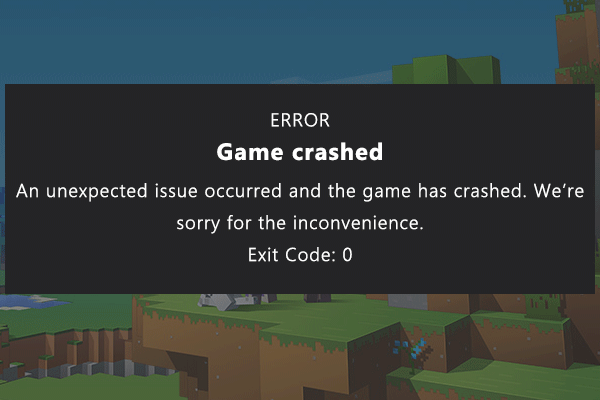 Minecraft is a popular video game around the world. Unfortunately, many players encountered exit code 0 in Minecraft. To solve the problem, MiniTool Partition Wizard puts together some solutions.
Minecraft, a sandbox video game developed by Mojang, is one of the best-selling video games. In this game, users can play as a single-player or cooperate with other players in the same world. It provides several game modes and attracts a lot of game lovers.
It is annoying to encounter problems while playing a game. Unfortunately, if you see the following error message in Minecraft, you might be upset:
ERROR. Game crashed. An unexpected issue occurred and the game has crashed. We're sorry for the inconvenience. Exit Code: 0.
Don't worry. The problem could happen due to several factors and here are some solutions for you.
Solution 1: Update Java
If you are playing the Minecraft Java version, you need to make sure your Java program is updated. It could improve your gaming experience and solve a lot of common issues.
If you don't know how to update Java, click here to get the tutorial.
Solution 2: Update Your Graphics Card Driver
An outdated or corrupted graphics card driver could cause exit code 0 in Minecraft. To solve the problem, you should update your graphics card driver.
You can use a professional and reliable third-party program or visit the official website of the manufacture to get the latest driver software. You can also follow the steps below to update it.
Step 1: Right-click the Start button and select Device Manager.
Step 2: Expand the Display adapters category. Then right-click your graphics card and select Update driver.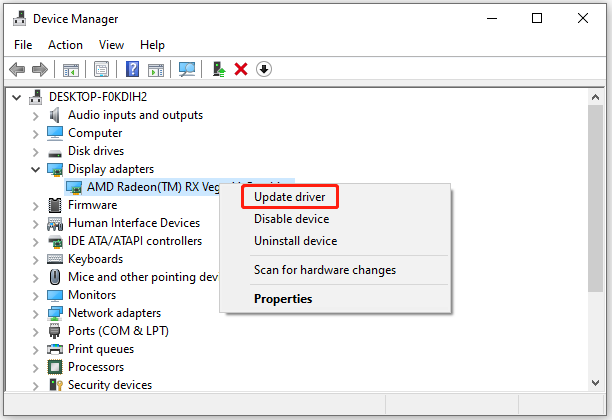 Step 3: In the pop-up window, select Search automatically for updated driver software.
Follow the on-screen instructions to finish the process. Then restart your computer and check if the Minecraft exit code 0 disappears.
Solution 3: Remove Modes
You could also encounter Minecraft exit code 0 if some modes are outdated or conflicting with the game. To solve the problem, you can try removing all of your Minecraft modes.
You just need to press Win + E to open the File Explorer and navigate to the Mod folder. Then delete all files in it. After that, restart your computer and run Minecraft to check if it works properly.
If you want to get your mods back, you can install them one by one until you figure out the problematic one that causes the issue. To make sure your game runs without problems, don't use the problematic mode.
Solution 4: End Conflicting Programs
Some programs are not compatible with Minecraft. If there is any such software running in the background while you are playing Minecraft, Minecraft exit code 0 could happen.
Therefore, you'd better open press Ctrl + Shift + Esc to open Task Manager and end background processes. If the problem appears after you installed a certain application, try uninstalling it to solve the problem.
If you are not sure whether you have conflicting programs, you can try performing a clean boot to figure it out.
Solution 5: Reinstall Minecraft
If all the above solutions failed, you might need to reinstall your game. Before that, you can back up your game files to a USB drive, and you just need to:
Press Win + R. Then type %appdata% and press Enter.
Copy the .minecraft folder and paste it to your USB drive.
Now, you can follow the steps below to reinstall Minecraft.
Step 1: Open Control Panel.
Step 2: Select View by Category and click Uninstall a program.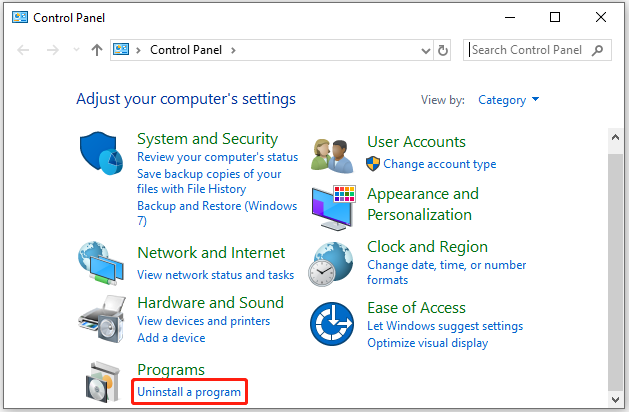 Step 3: Right-click Minecraft and select Uninstall.
Step 4: Download and install Minecraft from its official website.
You can also uninstall the game via a reliable third-party uninstaller.