Summary :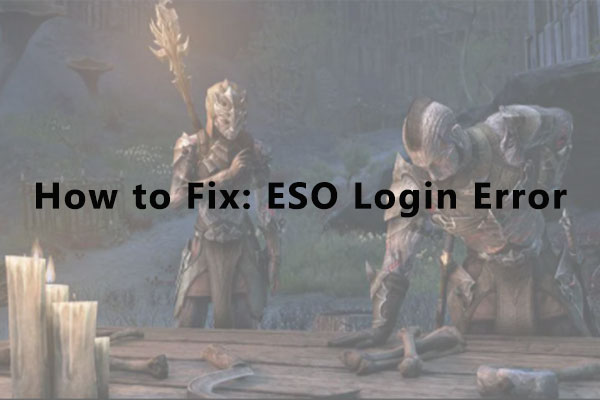 When you try to play Elder Scrolls Online, you might encounter the ESO login error. Don't be upset. In this post, MiniTool Partition Wizard introduces some possible fixes to solve the problem.
The Elder Scrolls Online is a massively multiplayer online role-playing game published by Bethesda Softworks. It is available on various platforms, including Microsoft Windows, macOS, PlayStation 4, Xbox One, and Stadia. In June 2021, it will be released for PlayStation 5 and Xbox Series X/S if everything goes well.

The game is quite popular among game lovers. However, some of them reported that they encounter ESO login error while trying to play the game on Windows PC. They received different error messages, such as:
An unexpected internal error has occurred. Please contact customer service at help.elderscrollsonline.com

ESO error 108 login failed

ESO error 200 login failed

ESO error 201 login failed
The issue could be caused by various factors. In the following contents, you can get some solutions. Please try them one by one until the error disappears.
Tip: Before you try the following fixes, you can shut down your computer, unplug the Ethernet cable, wait for a few minutes, and then turn on your computer after connecting the Ethernet cable. Sometimes it can help solve simple errors.
Fix 1: Change the Steam Server
If you encounter ESO login error on PC while launching the game from Steam, it might happen due to server issues. By default, Steam uses the server that is nearest to your location. If the server doesn't work properly, you can try changing to another server to solve the problem. Here are the detailed steps.
Step 1: In Steam, click Steam > Settings.
Step 2: In the left pane, select Downloads. In the right pane, find the Download Region section and replace your current server with another one.
Tip: To avoid excessive lag, you'd better select a server from your neighbor country.
Step 3: Click OK to save the changes you have made.
Then you can check if you are able to play the game without the ESO login error. If the problem still exists, you should move on to the next solution.
Fix 2: Try Another Launcher
If you receive the ESO login error again, you might need to try running the game by launching its executable file.
You just need to press Win + E to open File Explorer and find the executable file which is located in the installation folder of ESO. By default, it's in Steam > steamapps > common > Zenimax Online > The Elder Scrolls Online > game > client. Then right-click the eso64.exe and select Run as administrator.
If it doesn't solve the problem, you can also try running the game from Bethesda.net Launcher, the default launcher of The Elder Scrolls Online.
Fix 3: Flush DNS
The ESO login error on PC could also happen due to network issues. To solve the problem, you can try flushing DNS, and here is the step-by-step guide.
Step 1: Press Win + R to open the Run window. Then type cmd in the box and press Shift + Ctrl + Enter to run Command Prompt as administrator.
Step 2: Input the following commands and press Enter after each.
ipconfig /flushdns

ipconfig /registerdns

ipconfig /release

ipconfig /renew

netsh winsock reset
Then reboot your computer and check if the ESO login error has been fixes.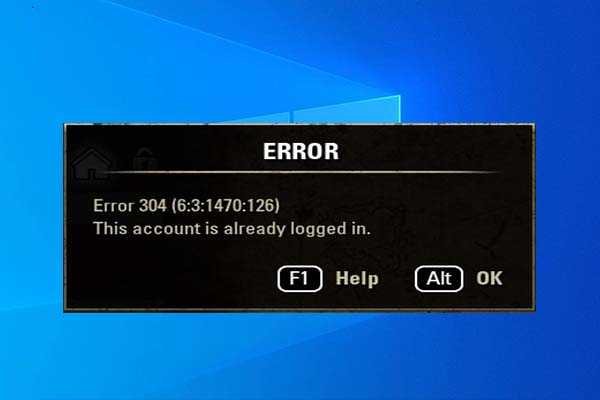 Many people recently are bothered by ESO error 304. What causes this error and how to troubleshoot it? This post shows you the answers.