When you are trying to access a website via Google Chrome, it's possible to experience the error code out of memory. Do you know how to fix this error? In this post, MiniTool Partition Wizard introduces several solutions to this error. You can have a try.
When the error code out of memory shows up in Google Chrome, the page you want to browse may load slowly or fail to load at all. It's troubling. Fortunately, we summarize a couple of effective solutions to this error. Just follow them to work your problem out.
Method 1: Restart Your PC
Usually, you can repair the error code out of memory Chrome by performing a simple restart on your PC. If the error persists after you restart the computer, you should go on with more advanced solutions.
Method 2: Check Your Internet Connection
The poor and unstable Internet connection you are using may lead to the Chrome error code: out of memory. Therefore, when you are facing this error, it's also necessary to check your network quality. To improve your Internet connection, you can try restarting your router.
Method 3: Try Incognito Mode
To get rid of the Chrome error code: out of memory, it's recommended that you try opening the specific page in an incognito window. By doing so, all the added extensions on your browser will be disabled. To enter the Incognito window, you should click the three-dots icon at the top-right corner of Google Chrome and select New Incognito window. Alternatively, you can press Ctrl + Shift + N at the same time.
If you can open the problematic webpage in Incognito mode, it may indicate there is something wrong with the extensions added to Google Chrome. To find out the extension causing the error, you can disable all the extensions and then enable them one by one. Once you find the problematic extension, remove it from Chrome. 
Method 4: Update to the 64-bit Version of Chrome
The 64-bit version of Chrome enables you to use more memory. Hence, once the Chrome error code out of memory happens, you can try to solve it by updating your browser to 64-bit. If you don't know which version your Chrome is, you can read this post: What Version of Chrome Do I Have | How to Check
Method 5: Clear Your Cache and Cookies
Clearing the cache and cookies of your browser may also help you solve the "Chrome out of memory" error. To execute the operation, follow the steps below.
Step 1: Click the three-dots icon at the top-right corner of your browser and select Settings.
Step 2: Go to Privacy and security and then select Clear browsing data from the right side.
Step 3: In the Basic section, Set Time range to All time and check all the listed options. Then click Clear data.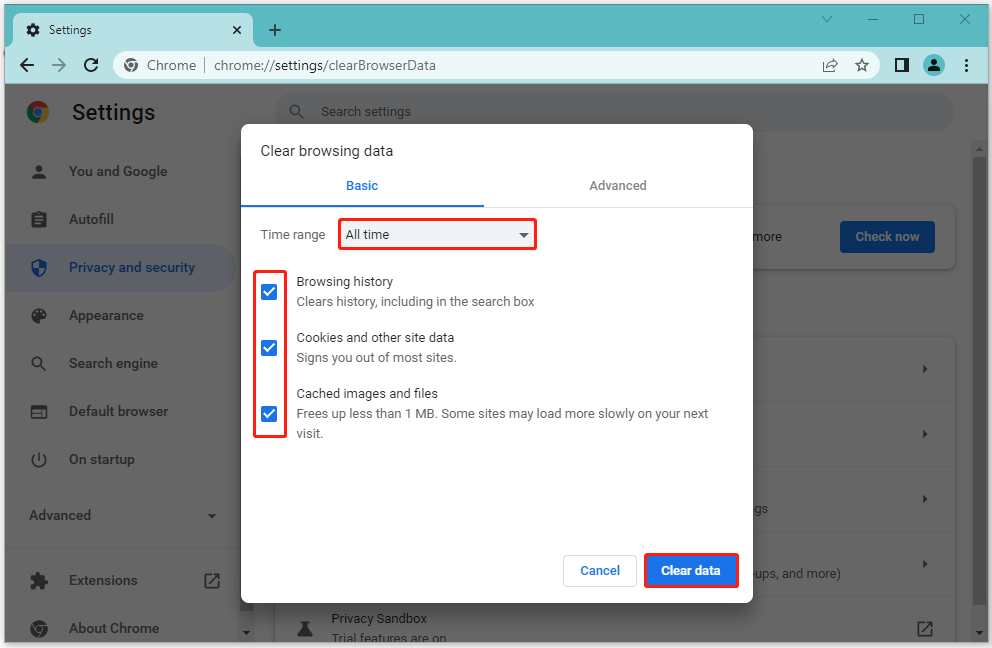 Method 6: Clean Temp Files
Another solution to the error code out of memory Chrome is to clean the temporary files in your system. If you have no clue how to perform this operation, you can follow the step-by-step guide: How to Access or Delete Windows Temporary Files Windows 10
In addition to the above solutions, you are likely to solve the Chrome out of memory error by the following two methods as well.
Are you looking for effective methods for fixing the Chrome error code out of memory? If so, this post is worth reading. You can try the above methods one by one until you solve your issue. If you have any other solutions to this error, you can share them with us in the comment part below.
In some cases, you may encounter certain issues while managing your partitions and disks on your PC. At this moment, we highly recommend you use the third-party partition manager – MiniTool Partition Wizard. It's a comprehensive program that offers a wide range of functions to help you handle partitions and disks with a few clicks. To learn more about this app, you can visit its official website.