Summary :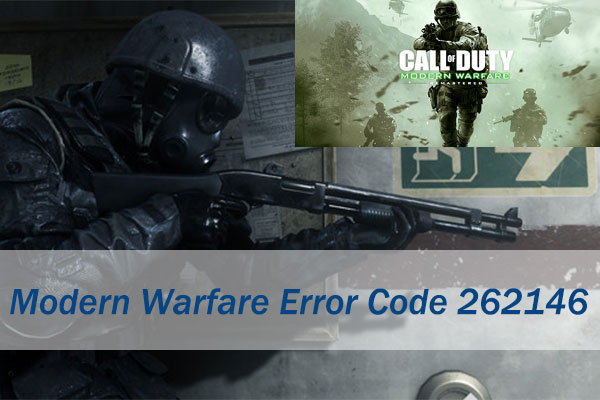 Call of Duty: Modern Warfare error code 262146 is common to see on platforms including PC, Xbox and PS4. It prevents a large amount of game lovers from playing the game. If you receive the same error code, don't worry. MiniTool Partition Wizard provides some solutions to solve the problem.
Call of Duty: Modern Warfare is a first-person shooter video game developed by Infinity Ward and published by Activision in 2019. It is one of Call of Duty series and available on many platforms, including Microsoft Windows, PlayStation 4 and Xbox One.
It is a popular game. Recently, some PC users report that they encountered Modern Warfare error code 262146 on PC. The message which comes with the error code shows as below:
You have been disconnected the Call of Duty: Modern Warfare servers. Please try again or visit https://support.activision.com/mwstatus for updates.
Actually, the error code also appears on Xbox One and PS4. If you are bothered by the same problem, you should check for server issues at first whether you're using which platform. You just need to launch your browser and visit the official Online Services website. Then select your platform and check the status page.
If it's not reporting any issues, you need to fix the issue by yourself with the following fixes.
Tip:
You can also try rebooting or resetting your
router
to check for network issues.
How to Fix Error 262146 on PC
If you encounter Call of Duty: Modern Warfare error code 262146 on PC, your firewall might be overprotective, which prevents the game from connecting to the online server. You can try whitelisting the game in Windows Firewall or disabling Windows Firewall temporarily to solve the problem.
Note: Remember to turn on Windows Firewall after fixing the issue. Otherwise, your computer might face a risk of being attacked.
Whitelist your Modern Warfare in Windows Firewall
To whitelist the game, you can follow the steps below.
Step 1: Press Win + S to open Search utility. Then type control and select Control Panel from the search results.
Step 2: Select View by: Category from the upper right corner and click System and Security. Then click Windows Defender Firewall.
Step 3: Select Allow an app or feature through Windows Defender Firewall. Then click Change settings button. Click Yes if the User Account Control window pops up.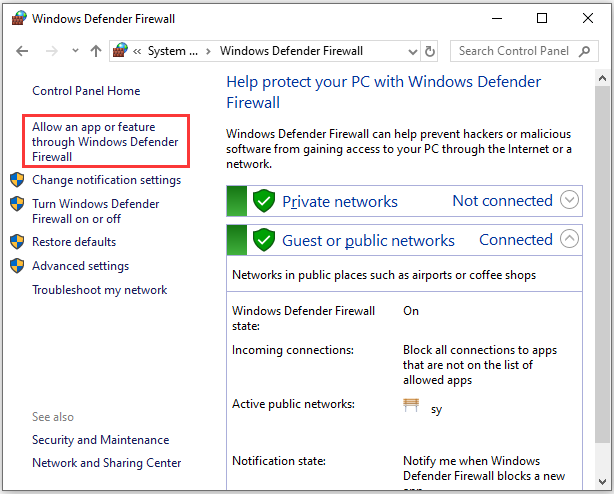 Step 4: Scroll down to find all the apps or features related to your game and its launcher (Steam, Battle.net, etc), and then check both Private and Public for them.
Tip: If you don't find the game or its launcher in the list, you can click Allow another app to add them to the list.
Step 5: Click OK to save the changes you have made.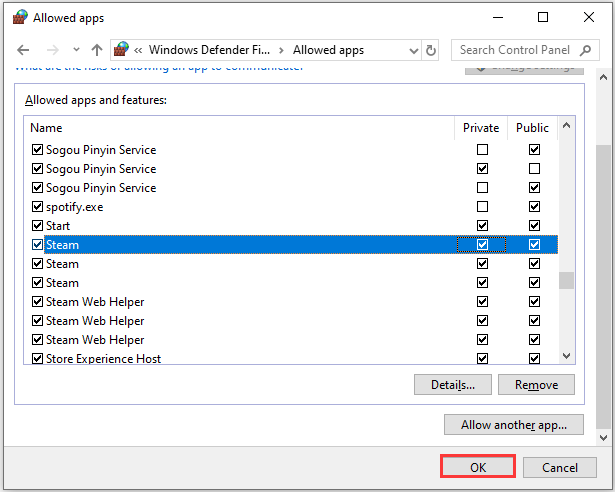 Disable Windows Firewall Temporarily
The detailed steps to disable Windows Firewall temporarily are listed below. If you still encounter error 262146, you can follow them to fix the problem.
Tip: If you're using any third-party firewall software, you should also disable it.
Step 1: Press Win + I to open Windows Settings. Then go to Update & Security > Windows Security. In the right pane, select Virus & threat protection.
Step 2: Under Virus & threat protection settings section in the pop-up window, click Manage settings. Then turn off Real-time protection.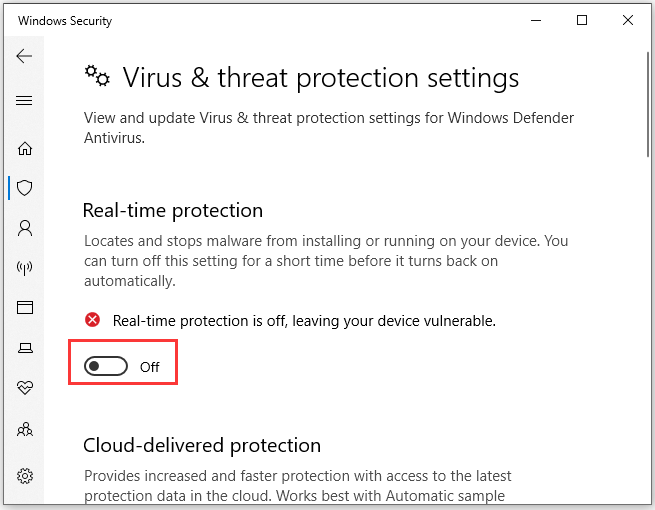 Step 3: Go back to Windows Security settings and select Firewall & network protection. Then choose the network you're using currently and toggle of the option Windows Defender Firewall in the following window.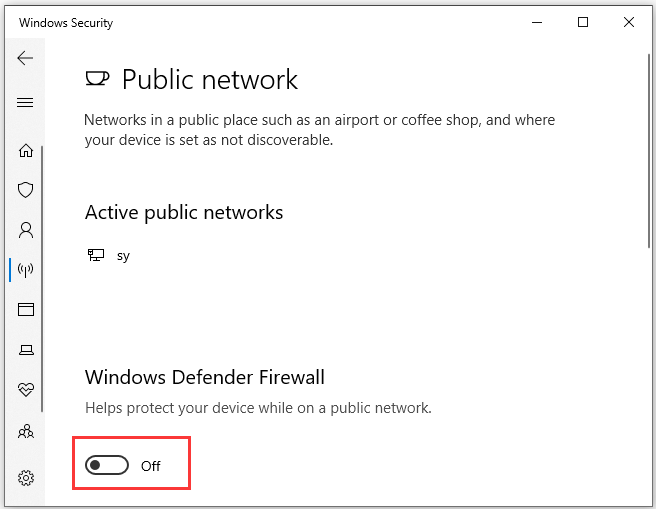 After that, you can launch Call of Duty: Modern Warfare to check if error 262146 has been fixed.
Recommended article: Different Types of Firewalls: Which One Should You Choose
How to Fix Error 262146 on PS4
To remove Call of Duty: Modern Warfare error code 262146 on PS4, you can try power cycling PS4.
Step 1: Press the PS button on the console and hold until the Power Options menu appears. Then select Turn Off PS4.
Step 2: Wait for a while. When it shuts down completely, disconnect the power cable.
Step 3: After 30 seconds when the power capacitors are drained, plug everything back and turn on your PS4.
When the console starts, you can launch the game again to check if it works properly.
How to fix Error 262146 on Xbox One
If you are playing Call of Duty: Modern Warfare on Xbox One, you can also try power cycling the console to solve the problem. And you need to press and hold Xbox button on your console for at least 10 seconds or until you see the LEDs turning off. Then unplug the power cable and wait for about 30 seconds.
After that, you can connect the power cable and boot your console. Then check whether you can play the game on Xbox One without error code 262146.
Read more: Call of Duty: Modern Warfare Crashing on PC? Here Are Some Fixes