Are you facing Windows update error 8007000E? If this error appears, you will fail to search, download or install the Windows update, which is really annoying. Don't be worried. MiniTool Solution offers you 5 solutions to the problem. You are free to try them one by one.
While trying to update Windows, you might receive the error 8007000E. Error 8007000E often comes with a message that "Windows could not search for new updates", "Windows Update failed to install some updates for your computer", or "Windows Update encountered an unknown error".
Keep reading to get the ways to fix the problem.
Solution 1: Disable Third-party Security Programs
Sometimes, third-party antivirus and anti-malware applications may clash with Windows update and lead to error 8007000E.
In this case, you need to disable or even uninstall all third-party security programs installed on your computer.
Then check whether you get rid of this problem. If not, try the next solution.
Solution 2: Rename the SoftwareDistribution Folder
When you are facing Windows update error 8007000E, there may be any corrupted or damaged files/folders in SoftwareDisrtibution folder. You can rename the folder with Command Prompt to fix the issue.
Step 1: Press Win + R to pen Run window. Then type cmd and press Shift + Ctrl + Enter to run Command Prompt as administrator.
Step 2: Input the following command and press Enter to rename the SoftwareDisrtibution folder to SoftwareDistribution.old: ren %systemroot%SoftwareDistribution softwaredistribution.old.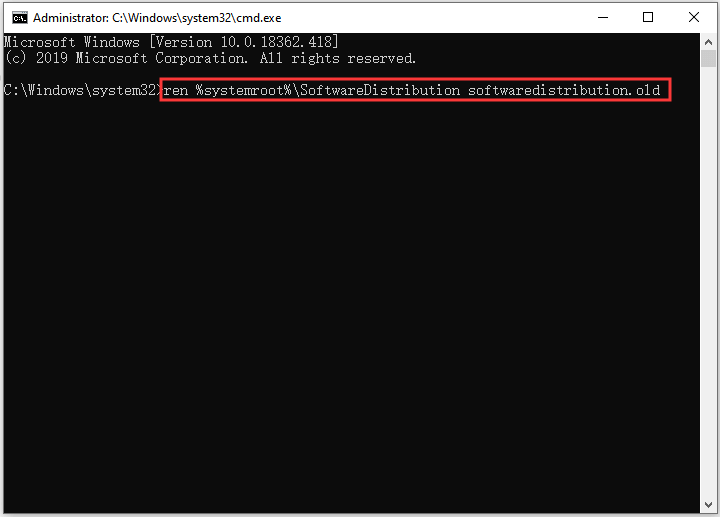 Step 3: Once the command has been executed, type Exit and hit Enter to close Command Prompt.
Then restart your computer and try updating Windows again to see if the error 8007000E has been removed.
Solution 3: Rename Spupdsvc.exe to Spupdsvc.old
Similar to Solution 2, some users have fixed Windows update error 8007000E by renaming Spupdsvc.exe. You can also have a try.
In Run dialog, input the following command and press Enter: cmd /c ren %systemroot%System32Spupdsvc.exe Spupdsvc.old.
Then restart your PC and check for Windows update. If this solution doesn't work, keep trying the next one.
Solution 4: Remove Junk Files from Your Computer
To solve 8007000E, you can also remove junk files with Disk Cleanup, a built-in tool that deletes temporary and unimportant files.
Step 1: Run Command Prompt with administrative privileges.
Step 2: Input cleanmgr into the prompt and press Enter.
Step 3: In Disk Cleanup: Drive Selection, select C drive and click OK.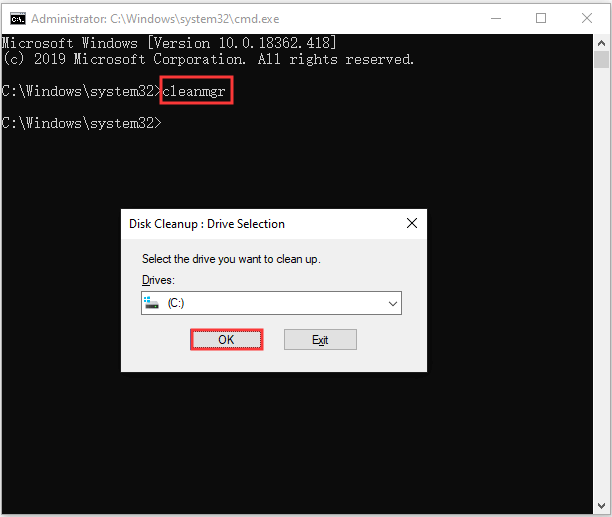 Tip: After you run the command, Disk Cleanup will calculate how much space you will be able to free on the disk. It may take a few minutes to complete. Please be patient.
Step 4: In Disk Cleanup for C:, check all the items and then click OK to delete the junk files and free up the disk space.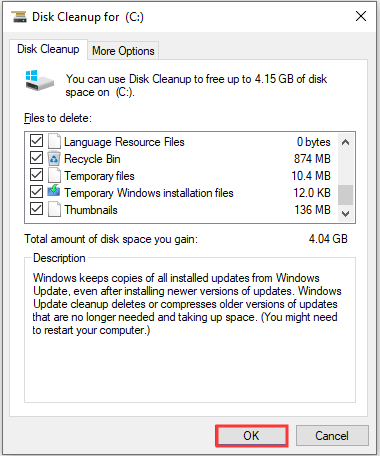 Solution 5: Run SFC Scan
SCF refers to System File Checker, which is a utility designed to analyze Windows operating system for corrupted or damaged system files and then repair or replace them.
If error 8007000E happens due to corrupted system files, running SFC scan will be a nice solution.
You just need to run Command Prompt as administrator. Then type sfc /scannow and hit Enter to run the command.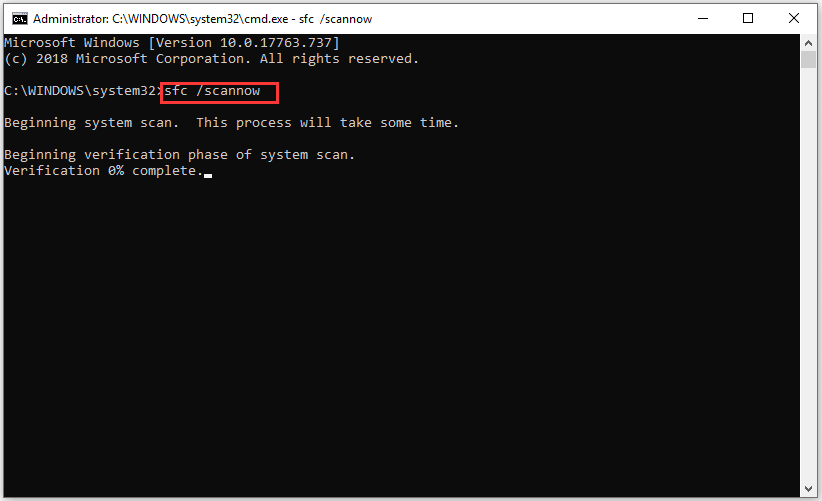 The process may take you much time so you have to wait patiently.
Once it's 100% completed, you can restart your computer and see if the error has been removed.