Many users encountered the ERR_CONNECTION_ABORTED problem in Chrome on Windows 10/11. This error code prevents you from visiting the website. If you are also one of them, then you can refer to this article from MiniTool Partition Wizard. It can help you solve this issue.
Google Chrome is one of the most widely used browsers for Windows users, but the error ERR_CONNECTION_ABORTED occurs when users try to launch any webpage in Chrome. The full information is displayed as: "This site can't be reached. The webpage at might be temporarily down or it may have moved permanently to a new web address. ERR_CONNECTION_ABORTED".
The cause of this error may be a bug that occurs because the site does not support SSLv3 (Secure Sockets Layer). This can also be caused by browser extensions and Windows Firewall blocking access to the website.
Before trying any fixes, try accessing the same website from a different browser, preferably a different connection. However, if you still encounter this error, here are several ways you can do to fix it.
Way 1: Disable SSLv3 in Chrome Browser
Since the most common reason for the ERR_CONNECTION_ABORTED issue is that the website does not allow the SSLv3 protocol, you need to disable SSLv3 in your web browser and force Chrome to use the TLS1.0 protocol.
To do so, here is the guide.
Step 1: Right-click on the Chrome shortcut. Then select Properties from the list.
Step 2: In the Google Chrome Properties box, go to the Shortcut tab.
Step 3: Add the following line at the end of the Target box: –ssl-version-min=tls1.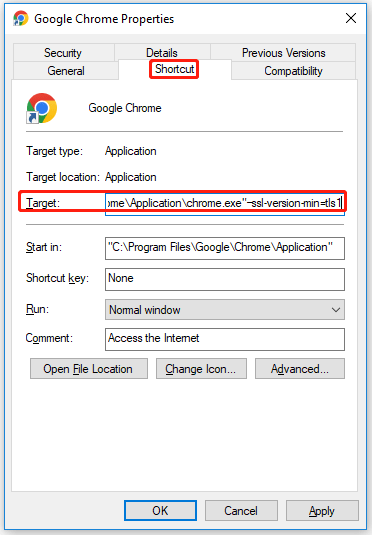 Step 4: Finally, click on Apply and then click on OK.
Way 2: Disable Antivirus and Firewall
Warning:
Disabling antivirus protection can expose your computer to malicious software programs. Therefore, try this method only if you are sure that the website you are trying to visit is a reputable website.
In the system tray in the upper right corner of the taskbar, right-click the icon for your antivirus software, and then click the option to temporarily disable antivirus protection. If prompted, set the duration to disable antivirus according to your choice.
If you're using Windows Defender on Windows 10, you can temporarily disable it.
Now you can check if your issue is resolved.
Additionally, you can disable Windows Firewall protection. This is because Windows Firewall monitors and authorizes or denies incoming or outgoing connections from your computer.
Way 3: Check System File
Sometimes the ERR_CONNECTION_ABORTED problems can be caused by corrupted system files. So, run System File Checker (SFC) to repair corrupted system files. To do so, here is the guide.
Step 1: Type command prompt in the Search box. Then right-click the result and select Run as administrator.
Step 2: In the Command Prompt window, type sfc/scannow and press Enter.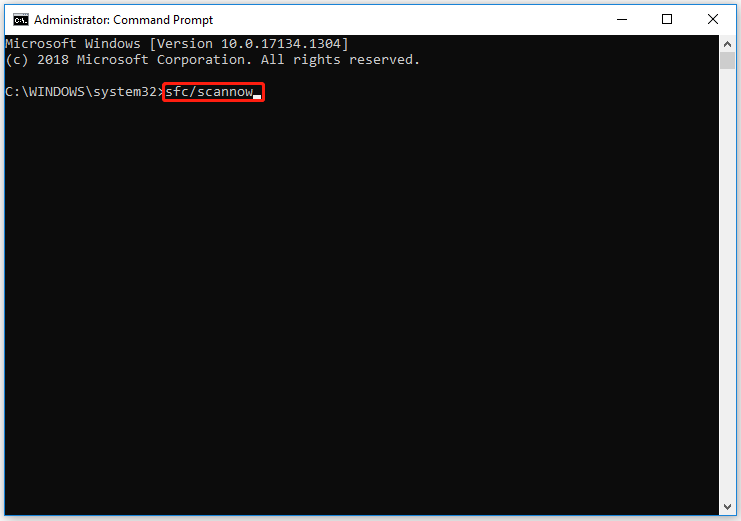 After that, this will initiate a system scan that may take a while. Once done, it will repair corrupted system files that could be causing the error.
Way 4: Reset Google Chrome
If the above fix doesn't work, you can reset Google Chrome to its default state.
Tips:
Resetting Google Chrome will delete all bookmarks, pinned and startup tabs, and clear all cookies.
Step 1: Open Google Chrome on your computer.
Step 2: Once open, copy and paste this line into that Chrome window and press Enter.
Chrome://settings/resetProfileSettings
Step 3: Click on Reset Settings to reset the browser.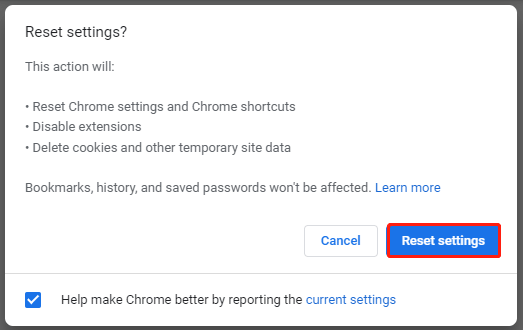 After that, restart your browser and try to visit the website. The ERR_UNSAFE_PORT problem should be solved.
If you've tried the solutions above and the problem persists, we recommend reinstalling Google Chrome. To do this, you need to completely remove the application from your PC.