Do you know what an EML file is and how to open this file? Well, this article from MiniTool Partition Wizard describes the different programs to open the EML file and convert to PDF file type.
What Is an EML File?
Files with the .eml file extension are email messages saved by email applications such as Microsoft Outlook or Apple Mail. It contains the content of the message, as well as the subject, sender, recipient and date of the message. EML files can also store one or more email attachments, which are files that are sent with a message.
Due to its widespread adoption in email clients, EML has become one of the most common email formats. How to save emails as EML files? There are two common email applications that can save messages as EML files including Microsoft Mail and Apple Mail:
Microsoft Mail: Open an email, click the three-dot action icon, and select Save As.
Apple Mail: Open an email, click File > Save As... and select Raw Message Source in the Format drop-down menu.
Then, how to open an EML file? Please keep reading.
How to Open EML Files on Windows 10?
How to open EML file? The following guides show you how to open EML file on Windows 10.
If you have multiple EML viewers installed on your computer and you want to choose which program to open it. Here's how to open an EML file:
Step 1: Press the Win + E key to open Windows File Explorer and locate the EML file you want to open.
Step 2: Right-click the EML file and select Open with.
Step 3: Select Mail, Outlook or Thunderbird. Then the file opens in the Windows email program.
You can also open EML files with various web browsers, including Google Chrome, Microsoft Edge, and Internet Explorer, as their format is similar to .MHT files. You can change the .eml file extension to .mht and open it directly with a web browser.
Since EML files are partially saved as plain text, you can open them with plain text editors such as Microsoft Notepad and Apple TextEdit. However, you may need to change the .eml file extension to .txt. Keep in mind that text editors don't natively display EML files like email applications do.
How to Convert EML File to PDF?
To convert an .eml file to PDF, you need to download a free PDF printer application. You can convert multiple .eml files or files with attachments using the EML Viewer Pro software. After downloading this program, export and select the files you want to convert to PDF. Then, save all converted files to your device.
Change the Default Program to Open EML Files in Windows
Windows lets you choose which program double-clicking will open the EML file. This method is useful if you always want EML files to open in the same program. The following steps are as follows:
Step 1: Type default in the Windows Search box. Then select Default app settings.
Step 2: Select Choose default apps by file type. Then in the list of file types, locate EML file.
Step 3: In the list of programs, choose Mail or Outlook to set as the default.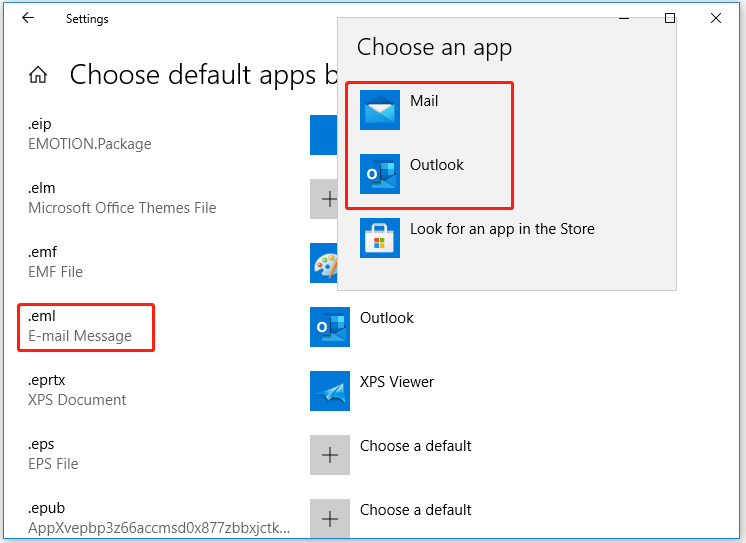 Bottom Line
In this article, we have introduced what the EML file is and how to open EML files on Windows 10. We hope this simple guide can help you know more about the EML file. If you have some questions about this article, please contact us and we will answer them as soon as possible.