A great many players encounter the "double NAT detected" error when playing games on Xbox One. Why double NAT Xbox error occurs? How to fix double NAT? If you are also trying to resolve the problem, this post of MiniTool is what you need.
As a big fan of Xbox One, you may encounter various kinds of Internet connection errors such as UPnP not successful, Xbox One installation stopped, and the one discussed here. The double NAT detected error often occurs when playing games out of nowhere.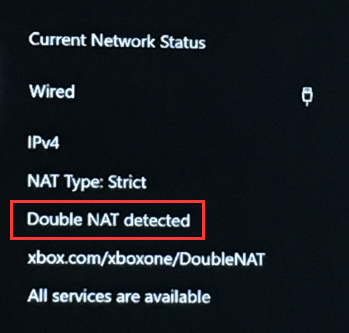 "I looked through the sub to see if anything could help me with this and searched around the internet but nothing is working for me. Recently, I have been trying to play Black Ops with my friends, and out of nowhere, I have not been able to connect with them. I looked into what a double NAT was and it says this normally happens when you have two networks trying to assign NATs. What should I do?"

https://www.reddit.com/r/xboxone
Why Double NAT Xbox Error Occurs
It is known that NAT (Network Address Translation) can enable lots of devices to share one public IP address when connecting to the Internet. For many multiplayer games like Minecraft, Overwatch, and Call of Duty, NAT plays an important role in building connectivity. However, it causes many vexing problems for game players.
What causes the Xbox One double NAT detected error? According to a survey, Xbox double NAT error is often caused by multiple routers of gateways that establish the connection between your Xbox and the Internet. This error will prevent your device from building a steady connection for gaming.
Now, let's see how to fix double NAT Xbox One error.
How to Fix Double NAT Detected Error on Xbox One
To get rid of the Xbox double NAT error, you need to remove one NAT device from your network. This is because your Xbox One is connected to another router or gateway. The following 3 troubleshooting methods are explored based on your network.
If you are not sure whether your device network is a gateway or a modem, you can refer to the rules below:
Check the manufacture information or model number on the back of your device.
If there's a wireless signal from the device to access the Internet, it is very likely that you have a gateway.
If there are multiple ports on the device, it indicates that you have a gateway.
Fix 1. Fix Double NAT Xbox Through the Gateway
If you are using a gateway, you can fix the double NAT Xbox One issue by changing the Internet into Bridge Mode. Here's a quick guide for you:
Step 1. Open your browser and go to the Router login page.
Tip: You should visit the official website and search for the guide related to your specific model
Step 2. Log in to your router through the required credentials.
Step 3. Then go to the wireless options on the router's page and enable the Bridge Mode.
Step 4. Click on Apply to save the changes.
Fix 2. Fix Double NAT Xbox Through the Router
If the Bridge Mode is not supported by your gateway, you can configure the router as an access point (AP) mode and then eliminate one NAT device. For that:
Step 1. Open the Router login page again and log in to your router with the required credentials.
Step 2. Go to the Wireless options tab at the left side, and then enable the Access Point Mode.
Step 3. Save your changes and exit.
Now, you can restart your Xbox One and see if the Xbox One double NAT detected error is resolved or not. If the above methods still can't work, you'd better ask Internet service provider or network administrator for help.